Larry Elder appeared to predict his own defeat in the California recall election even before in-person voting got underway.
Visitors to the Republican challenger's official website have been directed to an election fraud page that pre-empts that "instances of undocumented ballots have been discovered," ahead of Tuesday's vote.
Another passage on the website said: "Statistical analyses used to detect fraud in elections held in third-world nations (such as Russia, Venezuela and Iran) have detected fraud in California resulting in Governor Gavin Newsom being reinstated as Governor."
That is despite the election not having concluded and the results of the recall still being unknown. The link was live on Elder's campaign site as early as Monday, according to NBC News.
The website "Stop Ca Fraud," which is partly paid for by Elder's campaign team, asks visitors to sign a petition "demanding a special session of the California legislature to investigate and ameliorate the twisted results."
The California Secretary of State told Newsweek it considered Elder's claims to be "baseless."
In a statement, the spokesperson said: "The California Secretary of State is comprised of hardworking Californians who have dedicated their lives to the important work of protecting our elections.
"California leads the way in election security and work to infuse transparency into every step of the process by making our election processes open to the public, every step of the way.
"To counter baseless claims like these, our office and county elections officials work day in and day out to provide accessible, accurate information to the public to protect voters from misinformation and unsubstantiated allegations of 'fraud' that might lead them to believe their vote doesn't matter—when it does."
Newsweek has contacted Elder's campaign for comment.
Last week, Newsom dubbed Elder's talks of voter fraud as an "extension of the Big Lie and 'Stop the Steal.'"
On Friday, the governor told reporters "we're four days out, the election hasn't even happened, and now they're all claiming election fraud. I think that's important to highlight that."
Elder, 69, has previously expressed support for former President Donald Trump's unfounded claims that massive voter fraud swung the 2020 presidential election in Joe Biden's favor.
The conservative radio host has also refused to comment on whether he would accept the results of the recall election should he lose.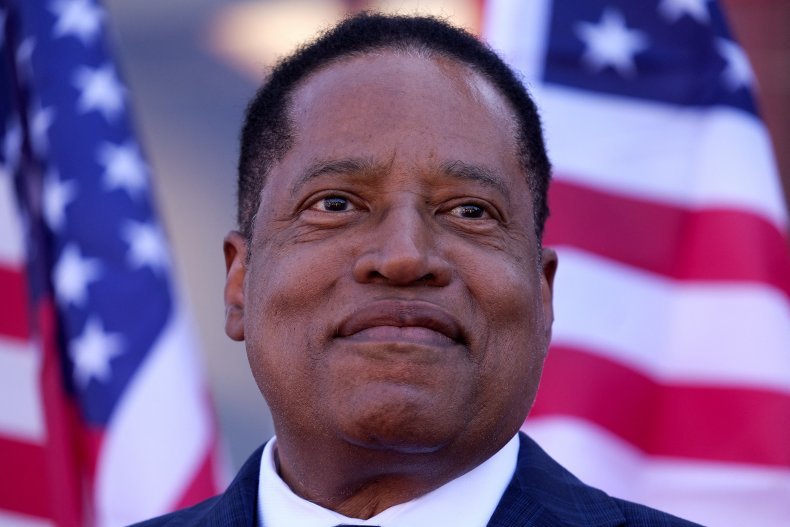 Speaking with MSNBC's Jacob Soboroff on Monday, Elder said: "I think we all ought to be looking at election integrity.
"No matter whether you're a Democrat, an independent or a Republican. Let's all make sure that the election is a fair election. So let's all work together. No matter what the results are, to make sure that the results are valid and legitimate and everybody who voted should have voted."
Elder then ignored Soboroff's follow-up questions about whether he would accept the results of the election.
Lee Drutman, a senior fellow at the New America think tank, has said Republicans have been increasingly utilized baseless claims of election fraud.
He told NBC News: "This is really becoming the standard GOP playbook. This is democracy 101. If you don't have elections that are accepted and decisive, then you don't really have a democracy, because the alternative is violence or authoritarianism."
Bookies and pollsters have tipped Newsom to survive the recall attempt, with the Democrat enjoying an average poll lead of 16.6 percent, according to analysis site FiveThirtyEight.
The last time Republicans controlled the governorship of California was when action movie star-turned-politician Arnold Schwarzenegger won a recall election against Democrat Gray Davis in 2003.