Convicted Pedophile Larry Nassar Says He Was Beaten Up Hours After Arriving at Prison
Disgraced sports physician Larry Nassar said he was assaulted within hours of arriving at prison following his conviction of sexually abusing young girls and possessing child pornography, according to reports.
A court filing, obtained by The Detroit News, claims the former USA Gymnastics and Michigan State University doctor was attacked when he was released into the general population at the high-security United States Penitentiary, in Tucson, Arizona, in May.
The claim was made in a document filed at Ingham County Circuit Court in Michigan, where Nassar is attempting to be resentenced.
According to lawyers Jacqueline McCann and Malaika Ramsey-Heath, the assault occurred as a result of the rhetoric of Ingham County Circuit Judge Rosemarie Aquilina, who allowed more than 150 victims to appear in court to testify against Nassar.
The documents accused the judge of allowing the proceeding to "devolve into a free-for-all," with some even wishing physical harm on Nassar.
"Judge Aquilina made numerous statements throughout the proceedings indicating that she had already decided to impose the maximum allowed by the sentence agreement even before the sentencing hearing began," McCann wrote. "Thus, from the defendant's perspective, the sentencing hearing was just a ritual.
"Instead of a proceeding to assist the judge in reaching a fair and just sentencing decision the judge used the nationally televised proceeding as an opportunity to advance her own agenda, including to advocate for policy initiatives within the state as well as the federal legislatures, to push for broader cultural change regarding gender equity and sexual discrimination issues and seemingly as a type of group therapy for victims."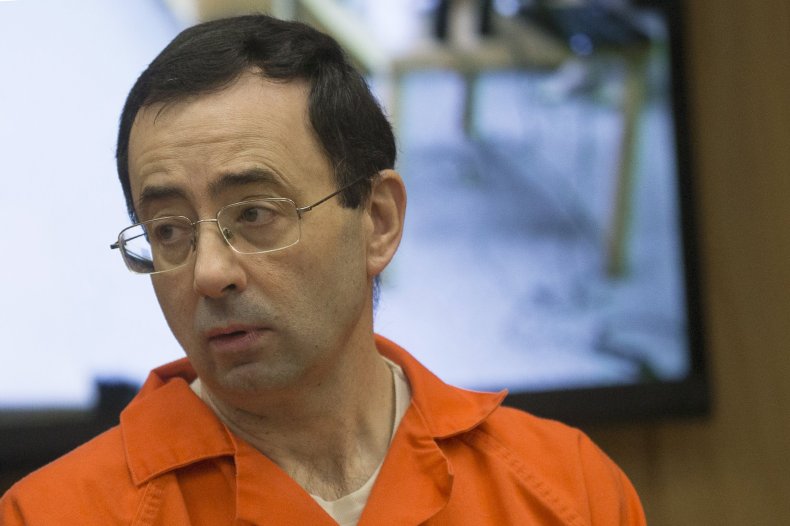 During the proceedings, Randall Margraves, father of three daughters who were abused by Nassar, ran across the court room floor and lunged at the doctor after asking the judge for "five minutes in a locked room" with him.
Aquilina was praised for her role during the sentencing and for allowing each victim to speak. She also told the court she would allow someone "to do to him what he did to others" if the Constitution allowed it, reported The Associated Press.
Aquilina also criticized Nassar for writing a letter in which he complained about how he would not be able to take hearing the statements from his victims. "This isn't worth the paper it's written on," Aquilina said as she tossed the letter away.
John Manly, a civil attorney for roughly 200 of the victims, tweeted following news of Nassar's appeal: "Blaming the judge for his attack is an outrageous allegation. That sounds like something a convicted predator would say. Not an officer of the court. Shame on them."
Nassar will serve a 60-year federal sentence for possessing child pornography. In the unlikely event he lives beyond that sentence, the 54-year-old will move to another prison to serve a 40 to 175 year sentence after pleading guilty to a combined 10 counts of sexual assault against girls and young women dating back decades.