Las Vegas Raiders owner Mark Davis said he would rather play games without fans than operate stadiums at reduced capacity in the upcoming season. He said allowing only a small set of fans into venues would lead to "terrible optics."aa
Should the NFL season begin as scheduled on September 10, the league is expected to follow the example set by the major European soccer leagues—which the MLB will adopt when it resumes its season this week—and play games behind closed doors because of the novel coronavirus pandemic.
In some quarters, it has been suggested that a small number of fans could be allowed inside stadiums and the NFL has left the final decision to individual teams and local municipality guidelines.
Davis, however, is a firm believer stadiums should keep their doors locked if they can't welcome crowds of the usual size.
"No one fan is more important to me than another, no matter if they paid for a $75,000 PSL [personal seat licenses] or a $500 PSL," the Raiders owner told ESPN on Sunday night.
"They're all Raider fans to me. My mindset today is no fans [should attend games]. I don't even know if it's safe to play. 'Uncertainty' is the word."
One of the contingency plans suggested to allow stadiums to operate at reduced capacity would see fans from the bottom sections relocated elsewhere, to ensure they are not in close proximity with the field.
For the Raiders, however, that option is a non-starter as they have sold out their season tickets at the 65,000-capacity Allegiant Stadium, which is due to be inaugurated in September as the franchise begins his first season in Las Vegas.
"That [the bottom section of Allegiant Stadium] is the Black Hole," Davis explained. "It's the people that want to be in the front row. Boisterous fans [...] now I've got to tell 8,000 people that helped build this thing that they can't come to a game? I don't have 8,000 seats to move them to. We're sold out.
"The optics are terrible: advertising on top of seats belonging to people you're telling they can't come to the game. I'd rather have everybody pissed at me than just one person. I've got to make it up to them, and I will. This is all about safety and equity."
Playing out the inaugural season in a new city and in a new stadium in the midst of a global pandemic is clearly not how the Raiders planned to launch their stay in Las Vegas and Davis hinted the franchise may opt for a "soft opening" this season, with a far bigger celebration in store for next year as long as the COVID-19 outbreak has subsided by then.
In May, Miami Dolphins owner Stephen Ross suggested spectators may be allowed in the stadiums by the time the NFL season kicks off and Ohio State's athletic director Gene Smith suggested the Buckeyes could welcome between 20,000 to 22,000 fans while adhering to social distancing measures put in place by the U.S. Centers for Disease Control and Prevention (CDC) and up to 40,000 to 50,000 spectators if "guidelines are relaxed."
Experts believe reality will be drastically different.
"It is going to be many months and potentially not until next year that we will have fans attending sporting events," Dr. David Hamer, a professor at the Boston University School of Public Health and infectious disease physician at Boston Medical Center, told Newsweek last month.
Given the size of the crowds and the duration of games, football, more than other sports, represents fertile ground for COVID-19 to spread.
"Full stadiums would be far too risky in the U.S. this fall given current levels of virus circulation," said Jennifer Dowd, an associate professor at Oxford University.
"Sadly this is a perfect recipe for super-spreading events. Not only would super-spreading events be dangerous and lead to more hospitalizations and deaths, but bigger outbreaks could require a need for return to stricter measures and delay our ultimate return to normal life."
As of Monday morning over 3.7 million cases of coronavirus had been reported in the U.S., by far the highest tally of any country in the world.
Of the over 606,000 deaths recorded worldwide so far, more than 140,500 have been in the U.S., according to Johns Hopkins University, which has been tracking the outbreak using combined data sources.
There have been over 14.5 million confirmed cases globally since the outbreak of coronavirus was first identified in Wuhan, a city located in China's central Hubei province, late last year.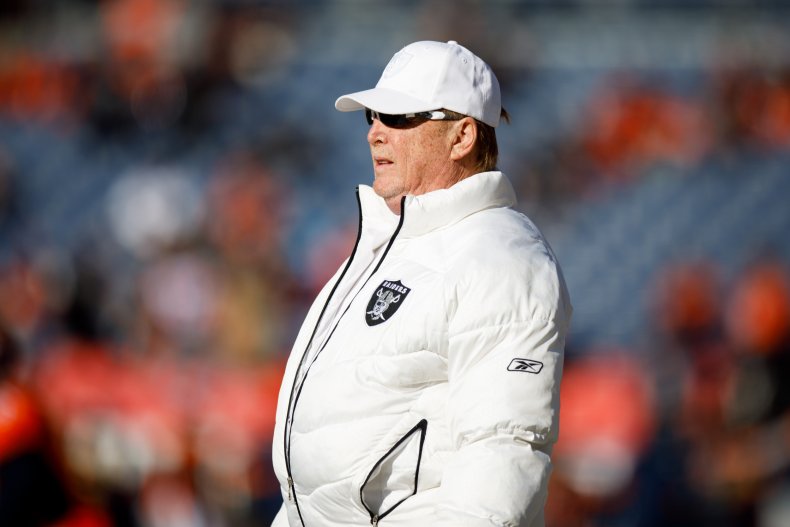 Uncommon Knowledge
Newsweek is committed to challenging conventional wisdom and finding connections in the search for common ground.
Newsweek is committed to challenging conventional wisdom and finding connections in the search for common ground.
About the writer
Dan Cancian is currently a reporter for Newsweek based in London, England. Prior to joining Newsweek in January 2018, he was a news and business reporter at International Business Times UK. Dan has also written for The Guardian and The Observer.