Las Vegas Shooting Police Turn On Public, Ask How No One Came Forward Over Paddock's Plans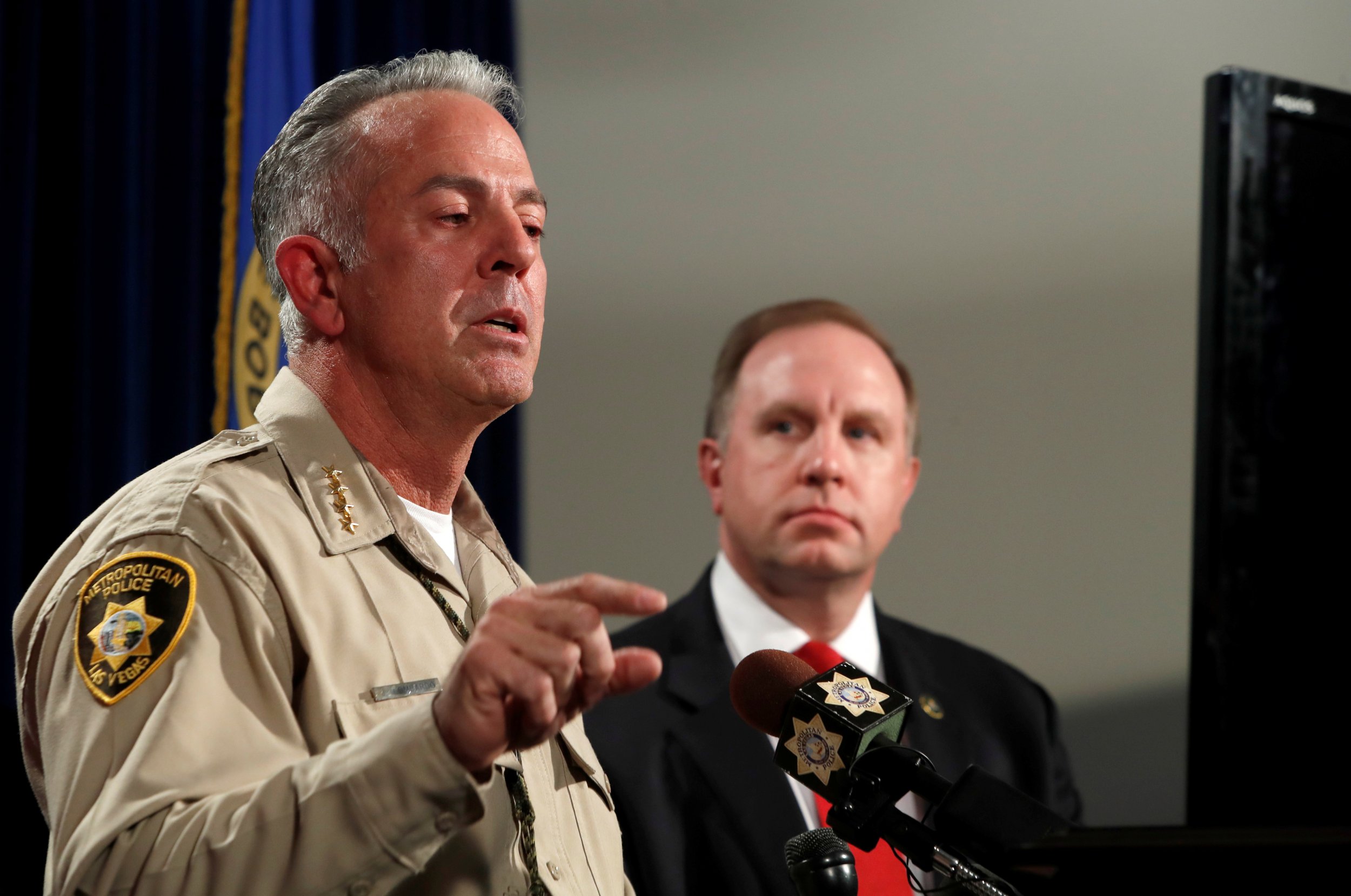 Las Vegas authorities have complained that no members of the public have come forward to help shed light on the motives behind Stephen Paddock's killing of 58 people in the worst mass shooting in U.S. history on Sunday.
Clark County Sheriff Joe Lombardo said at a press conference yesterday that it was unusual, given the amount of preparation required by Paddock to carry out his grisly plan, that no one foresaw what could happen and had alerted authorities.
"The fact that he had the type of weaponry and the amount of weaponry in that [hotel] room—it was pre-planned extensively," Lombardo said according to NBC news. "I'm pretty sure he evaluated everything that he did in his actions," he added.
Read more: Vegas Shooter's Girlfriend: Who is Marilou Danley, Stephen Paddock's 'Female Associate'?
Lombardo said it was "troublesome" that someone had likely noticed the gunman's suspicious behaviour and done nothing. He complained that police also "can't be at all places at all times," adding if anyone sees anything suspicious they should alert the authorities.
"We act on that," he said. "Quite often, what we experience in our line of work [is] a citizen thinks it's trivial and they say, 'Nah, I don't want to bother the police.' We ask you to bother the police."
Further information emerged over the course of yesterday of the extent of Paddock's plans and the weapons cache he had amassed.
The Bureau of Alcohol, Tobacco, Firearms and Explosives said Tuesday that 47 shotguns, rifles and pistols had been recovered from three locations: the hotel suite at the Mandalay Bay Hotel from which he had carried out the massacre on Sunday night as well as two other properties in Nevada.
Paddock had devices attached to 12 weapons permitting semiautomatic rifles to simulate automatic gunfire. Investigators could not confirm whether Paddock had any firearm training.
Lombardo also hit out at the media over its handling of the shooting, criticizing a German newspaper over its decision to publish photos from Paddock's hotel room. In the photos, police tape can be seen over a bullet-marked door which has a room service trolley pushed up against it.
Clark County Undersheriff Kevin McMahill said that at a press conference yesterday that investigations were still underway, leaving more questions than answers. "I need patience. This is an investigation [that] is far from being concluded… The investigation is ongoing and I don't have a lot of answers yet. We have the responsibility to get it right so we're going to take some time," he said.
Authorities are still investigating Paddock's motive for the attack.