Last Male Northern White Rhino Dies, Leaving Just Two Living Females
Updated | The last male northern white rhino has died at a conservancy in Kenya, leaving just two females in the world as the subspecies faces extinction.
Sudan, aged 45, died following a recent bout of age-related illness including an infection in one of his legs. Soon, Sudan's illness left him unbale to stand, with a veterinarian team deciding that euthanizing him was the best option.
"We at Ol Pejeta are all saddened by Sudan's death," said Ol Pejeta Conservancy CEO Richard Vigne. "He was an amazing rhino, a great ambassador for his species, and will be remembered for the work he did to raise awareness globally of the plight facing not only rhinos, but also the many thousands of other species facing extinction as a result of unsustainable human activity."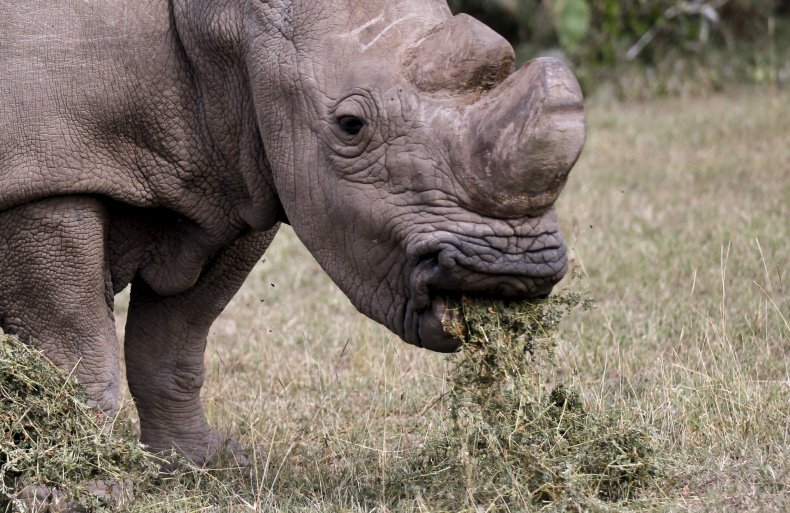 Concerns surrounding Sudan were raised when officials at Ol Pejeta Conservancy described how "his future is not looking bright" because of his ailing health. Despite initial reports of a recovery, Sudan died nine years after he was moved to Kenya from the Dvůr Králové Zoo in the Czech Republic.
Sudan's death leaves just two female northern white rhinos alive; his daughter Najin and her daughter Fatu, who remain at Ol Pejeta. The only hope of preserving the subspecies is by developing in vitro fertilization (IVF) techniques using eggs from Najin and Fatu and stored northern white rhino semen samples from other now-deceased males, and combining them surrogate southern white rhino females.
A spike in poaching fueled by demand for rhino horn in traditional remedies in countries such as Vietnam and China has seen a dramatic fall in rhino population down the years. The poaching crisis of the 1970s and 80s saw the northern white rhino wiped out in Uganda, Central African Republic, Sudan and Chad.
Other factors, including civil war in countries such as the Democratic Republic of Congo (DRC), also accelerated the decline in numbers. By 2008, the subspecies was considered extinct in the wild.
Still to this day, poaching has a huge effect on rhino population, with South Africa losing more than 1,000 rhinos each year, according to Ol Pejeta Conservancy .
There are currently around 30,000 wild rhinos remaining among five species in the world.
"We can only hope that the world learns from the sad loss of Sudan and takes every measure to end all trade in rhino horn. While prices of rhino horn are falling in China and Vietnam, poaching for horn still threatens all rhino species," said WildAid CEO Peter Knights.
Sudan made world headlines in 2017 when he was named "The Most Eligible Bachelor in the World" by Tinder as part of a joint fundraising campaign by the dating app and the conservancy in a bid the protect the animal from extinction.
He arrived in Kenya from the zoo in the Czech Republic with the two surviving females and another male, Suni, who died of natural causes in October 2014.
This article has been updated to correct a reference to species, rather than subspecies, of wild rhinos in the wild.