Last-minute Fantasy Football Tips for the NFL Season
We got our first taste of NFL football Thursday night with the Falcons vs. Eagles season opener.
But that was just a morsel of what's to come. The amuse-bouche. A little dip into the free bread basket. A single grab from those silver trays that waiters walk around with at parties and really, yes, you would like another mini-quiche but you already had two mini-quiches and you're worried that taking three mini-quiches is too many mini-quiches but ah what the hell get the third mini-quiche.
So... the NFL's back and Sunday it's back in full—in other words, the moment for mini-quiches is over... it's time to feast on football. And so returns the thing that runs most fans' lives during the regular season: fantasy football.
And if you're anything like me, you really like mini-quiches. Also if you're anything like you me, you've probably had to do some last-minute scrambling to give yourself a fighting chance in the fantasy season.
And while I can't fix your draft—that's definitely already done—I can give some tips for surviving the year. Because I'm nothing if not devoted to Newsweek's loyal readers. Here goes:
1. Look at your roster and decide on your weakest positions. Then, look up rankings—I typically go with ESPN. Check out players with decent rankings who are still on waivers—if you're in a league with fewer teams, you'll probably be surprised at some of the guys who are left—then use your league's watch-list function (most leagues have it) to keep an eye on guys who might be an upgrade down the line.
2. When it comes to gameday trash talk you've really got three options. First, you can stay out of it, above the fray—but come on, it's just fantasy football and you don't need to go all Switzerland about something so dumb. Second, you can wait until after the games are final to trash talk so you don't look like an idiot if you ultimately lose. (The coward's choice.) Or you come in guns blazing and unapologetic. Just let it rip, is my advice. And if you lose, shrug it off and don't be the jabroni who complains and whines—just laugh and do it all again next week.
3. Set a reminder on your phone to double-check your lineup. You don't want to get caught starting someone who isn't playing. Now, granted, I am the worst at this and my league threatens to kick me out every offseason but the cowards would dare.
4. When you're stuck between starting two players, my advice is typically to go with the guy you think is going to get more reps (e.g. rushes or targets). Sometimes it's tempting to pick the player who can go off for big plays but that often burns you if it isn't his best week. It's pretty simple, the more touches a guy gets, the more guaranteed points in your coffers.
5. Aaron Rodgers is pretty darn good so that's nice if you have him.
6. Ditto for Antonio Brown. He, too, is good.
7. Oh, oh, oh! Todd Gurley. Good at football.
8. These are gems you should write them down.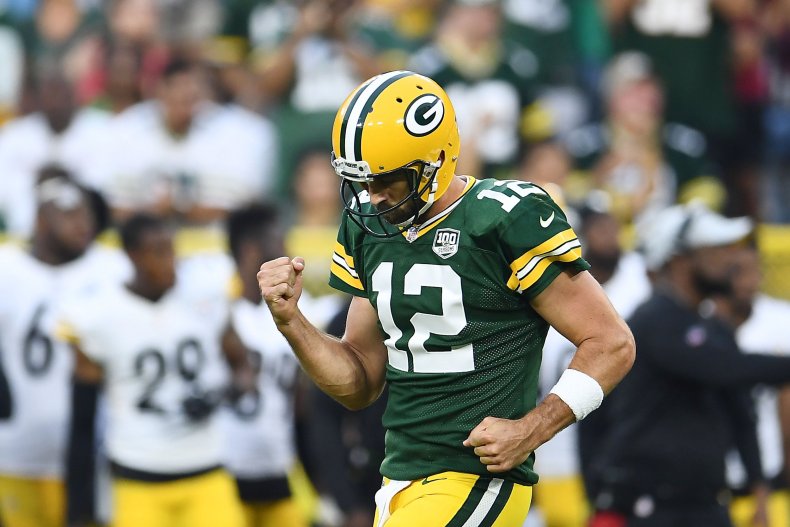 9. Sometimes you get saddled with a guy you don't love. Maybe it was a panic pick or a selection where you felt like you would be dumb if you didn't take that guy, even though you're kind of meh on him. Shop him after Week 1, especially if they've had a decent week. Trust your gut that he's not that good. People in your league are going to get antsy, especially if they lost. It's probably your best time to get good value and fleece someone on a trade they wouldn't have agreed to on draft night. One week is too little time for anyone to know anything but people—all of us—are dumb and overreact to a small sample size. Take advantage of that.
10. I know I said to trash talk but don't say anything that's, like, too offensive. Just rib your friends and bloviate about how good your squad is. Don't be the person who says wildly inappropriate things over fantasy football. That person is never as funny as they think they are. They're not funny at all.
11. If you're in a PPR league, pay attention to the wide receivers getting a lot of targets on bad teams. They often get overlooked because their quarterback is awful but the ball has to go somewhere and they often rack up lots of yardage playing for a team that's trailing.
12. San Francisco 49ers running back Matt Breida is still owned in just 60 percent of ESPN leagues, despite the fact that the 49ers' starting back Jerick McKinnon went down with a season-ending injury. If your league is in that 40 percent where he's available, you might want to pick him up. Breida will probably get a decent amount of carries/targets and the 49ers offense is expected to be pretty decent.
13. If you, like me, are likely to be drinking beer on Sunday, start with something light. You don't want to be all bloated and beer-drunk by the night game. If you want a beer that's both tasty and low ABV, the Lagunitas DayTime Ale is a good choice. (This isn't sponsored content or an ad for Lagunitas, it's just the beer that's in my fridge right now and it's good.)
14. If you're in a PPR league, it's often smart to start a receiver at the flex position. It's tempting to pick a running back—and, hey, trust your gut—but a flex-level running back likely isn't a bellcow back. But a flex-level receiver is typically a second option in the passing game, which means a decent amount of targets.
15. If you're at a football party and for some reason they have mini-quiches... just get the third damn quiche. It's all in your head and nobody cares how many quiches you eat.