'The Last of Us' Sparks Debate Over Ellie and Riley Romance: 'Woke BS'
The Last of Us introduced an important part of Ellie Williams' backstory in its seventh episode, titled "Left Behind" after the game's downloadable expansion pack that it is based on.
In the episode, set three weeks before the main events of the show, Ellie (Bella Ramsey) is surprised by her best friend, and first love, Riley Abel (Storm Reid) who had disappeared for days but returned to enjoy one last evening with her before she goes off with the rebel group, the Fireflies.
The pair enjoyed an outing to the dilapidated mall which had been sealed off by FEDRA. Their outing saw them play video games, use a photobooth and also share their first kiss. Unfortunately, the pair are attacked by a Runner and both are bitten in their fight against the Infected.
Viewers of the show took to Twitter to share their thoughts on the episode, with some heaping praise on Ramsey and Reid, while others complained about other aspects of the storyline.
'The Last of Us' Sparks Debate Over Ellie and Riley Romance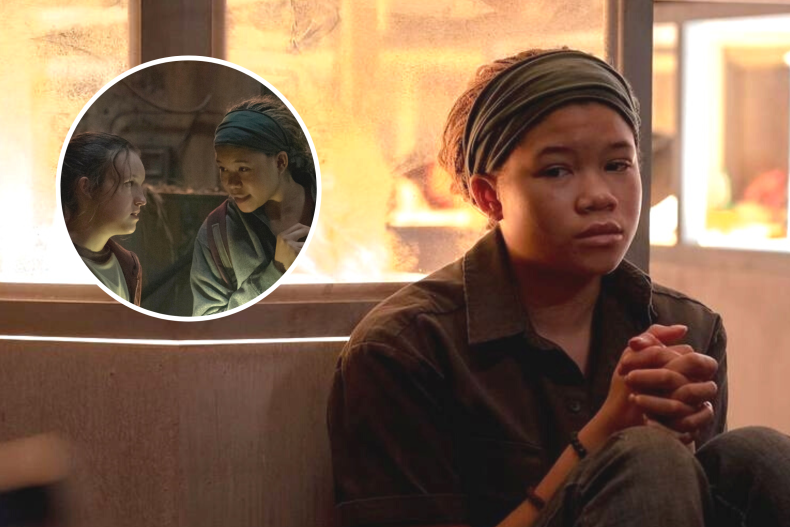 Episode 7 is based on The Last of Us Part I's downloadable expansion pack to the original 2013 game. It was released in 2014 and centered on two storylines: Ellie's past with Riley, and her quest to find medicine to save Joel (Pedro Pascal).
The game progresses in much the same way as it does on the show, with Ellie and Riley sharing a kiss before both are bitten by Infected.
It is this event that saw Ellie learn she is immune to the Cordyceps Brain Infection but it also saw her lose a loved one, and it illustrates exactly why she is so desperate to save Joel from death.
Despite the storyline, and Ellie's sexuality, having been a main feature of The Last of Us franchise since its inception a decade ago, there appeared to be a minority of viewers online who criticized the episode for being "woke."
One person wrote: "The #lastofus gets worse with every episode..the woke BS never stops"
Another person said: "Woke HBO made Ellie gay—absolutely disgusted. That seals the deal. I've been an HBO fan since 2006 and a subscriber since 2008. I officially will not be renewing my subscription nor will I ever watch on TV ever again. I am going to Apple TV now."
One person also tweeted: "I'm going to call #TheLastOfUs The Woke Walking Dead... it's still solid tho...."
This is not the first time that the show has been criticized for having LGBT representation as the third episode was reportedly review-bombed for focusing almost entirely on the romance between Bill (Nick Offerman) and Frank (Murray Bartlett).
On IMDb, the episode has an eight-star rating out of 10, with 54 percent of viewers giving it 10 and 26.5 percent, the next highest percentage total, giving it one star.
After the release of Episode 7, some viewers commented on how the episodes that feature LGBT characters are the ones that have received the most backlash.
One wrote on Twitter: "The fact that Episodes 3 and 7 of #TheLastOfUs are being hated by certain viewers as 'woke' for the sheer fact that gay people exist in this universe is not only homophobic, but it genuinely makes me wonder if these supposed 'fans' even played the games they claim to love."
Another anticipated the "woke" criticism to Episode 7 by adding: "Me waiting for the inevitable anti-woke and homophobic comments from the usual suspects. #TheLastofUs ep 7"
While one user added: "Anyone who calls tonight's perfect adaption of #TheLastofUs video game gay soap opera/woke trash/whatever BS they are peddling obviously did not play the video game...where this dlc is crucial to what will become the very heart of Part 2. They are telling on themselves. Ignore it!"
It's not just viewers who have called out homophobic backlash to the show, as both Ramsey and Reid have shared their thoughts on the importance of LGBTQ representation in the show.
In an interview with GQ earlier in February, Ramsey said: "I know people will think what they want to think. But they're gonna have to get used to it.
"If you don't want to watch the show because it has gay storylines, because it has a trans character, that's on you, and you're missing out. It isn't gonna make me afraid. I think that comes from a place of defiance."
While Reid added in an interview with Entertainment Weekly, which came out on Sunday: "It's 2023. If you're concerned about who I love, then I need you to get your priorities straight.
"There's so many other things to worry about in life. Why are you concerned that these young people—or anybody—love each other? Love is beautiful, and the fact that people have things to say about it, it's just nonsense."
The original game, and its add-on content, made no secret of Ellie's sexuality or her relationship with Riley and, in Part II, her romance with Dina.
The Last of Us: Part II came out in 2020, and the game proved to be divisive among fans for various factors such as antagonist Abby and the inclusion of LGBTQ characters like Ellie and Dina. Backlash towards the game resulted in it being review-bombed on Metacritic at the time of its release, per Forbes.
Other criticism of the episode was less focused on the LGBTQ romance and more on the fact that the episode seemed to slow down the overall pace of the show.
One person said: "Episode 7 is, let's be real, filler. I liked it, and I'm not mad at the show runners for including the Ellie and Riley centric episode, but it didn't have the same necessary feel as Bill and Frank. Bella crushes it as normal though. Onto Troy next week. Rating: 7/10. [sic]"
Another person added: "So. my only downside to this episode, is that i found it a little underwhelming. i had high expectations and they were dashed a high amount. bella ramsey? phenomenal actress! ellie x riley? beautifully sad. but the episode it lacked something, it felt dry??"
A majority of viewers heaped praise on the show for executing another storyline with two gay characters like it had done with Episode 3, while others shared how much they enjoyed Ramsey and Reid's performances.
Another viewer particularly praised guest star Reid by saying: "Storm Reid was perfectly cast as Riley, her and Bella Ramsey have great chemistry. The Ellie & Riley relationship is integral to understanding Ellie as a character and they both nailed it."
One person went on: "This is another origin story where the complexities of relationship is shown in such a calmer way. Riley's last minutes with Ellie just hits hard. Ellie sewing up Joel's wound had me in the moment [heart emoji] What a masterpiece of a Show its turning out to be !"
The Last of Us airs Sundays on HBO and HBO Max at 9 p.m. ET.