Late Stage Kidney Patient Randomly Tackled by Hospital Guards: Lawsuit
A kidney patient was detained and violently interrogated by staff at the very hospital that was treating him, a lawsuit has claimed.
Hughie Robinson, 52, was a patient at Barnes-Jewish Hospital in St. Louis, Missouri. He was dying of stage 4 renal failure. In April 2021, he spent four days in the hospital, being drugged and prepared for a possible kidney transplant that never came. In a weakened and disoriented state, Robinson was sent home, according to the lawsuit filed in St. Louis Circuit Court.
After he left, the hospital called to say that he had forgotten his wallet. They directed him to park in the garage on Euclid Avenue and Forest Park Parkway. Robinson returned and retrieved the wallet but forgot where he left his car, as he usually parked in a different garage. The confused, wandering patient was spotted by hospital security guards.
Surveillance footage from the hospital showed the armed guards charging at Robinson and forcing him to the ground. Despite his parking garage ticket and patient bracelet, they accused him of looking to steal cars, the lawsuit said.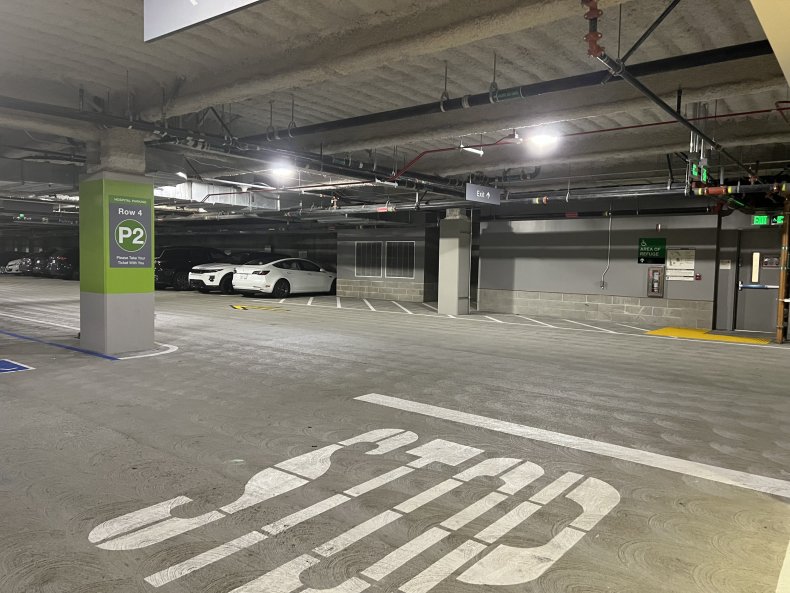 Since suing last year, Hughie Robinson has died of his illness. His daughter Chelsea Robinson will now be representing him in the lawsuit against Barnes-Jewish Hospital for assault, battery, and false imprisonment.
"It traumatized him," Chelsea told Newsweek. "I've always known him as the tough cookie, you know, he's the man of the house. Of course he would push and keep moving on. But you know, I'm his daughter—you know those things. You can tell when the person you care about the most is sad."
After the guards "tackled and beat" Robinson, the complaint said, "Barnes kept Hughie handcuffed in an interrogation chamber in the basement of the hospital. In this windowless room, one of the Barnes guards, a tall, heavy-set man with a buzz cut, smashed Hughie's head into the wall with his forearm."
In surveillance footage of the interrogation room, two guards beat Robinson and he cried out that they were hurting him. One of them replied, "Good."
Even after the staff discovered that Robinson was a patient and not stealing cars, they mocked him for driving an older Buick, according to the lawsuit. They threatened that if he was ever "anywhere on the property again," they would "do this whole thing again."
Robinson had to return regularly for his kidney condition. Fearing another beating, he frequently asked his lawyer Rick Voytas to accompany him to appointments.
"I already knew he was in pain because of the whole dialysis thing, but he most definitely was in a lot more pain after that incident happened," Chelsea said. "They really messed him up."
Robinson described the arrest in a Facebook post on April 13, 2021.
"Check this out," he wrote. "After I left the hospital I forgot what part of my car at in the garage I'm walking through the garage looking for my car I was suspicious the police came I'm just at the hospital you know it's crazy I'm seeing red now."
A second post said, "I'm in the office in the back room at Barnes hospital handcuffed for no reason except being profiled and lied on."
Chelsea said it was hard not to imagine that racial profiling played some role in the way her father was treated.
"He's a Black male searching for his vehicle," she said. "I don't want to point fingers, I just want justification of the fact that they put their hands on my father and nothing happened. They got away with it."
According to Chelsea, the security guards were never fired or suspended. A spokesperson from Barnes-Jewish Hospital told Newsweek, "We do not comment on current litigation."
Eight in 10 Black Americans believe race impacts the quality of their health care, according to a survey from the Pulse of Black America. Another study in April claimed there was "deeply rooted anti-Black racism" in the field of academic medicine. And last month, a study in Jama Pediatrics revealed that race was "frequently used" in clinical practice guidelines in a way that "could negatively affect health care inequities."
Updated 07/11/2022, 7:04 p.m. ET: This story has been updated with comments from Chelsea Robinson and a spokesperson from Barnes-Jewish Hospital.