Laughter as Beagle Steals Owner's Bagel Mid-Bike Ride: 'Subtle'
Some dogs will do anything for snacks, as one hungry beagle proved.
Footage of the sneaky pup stealing his owner's bagel mid-bike ride has taken over TikTok, with users jokingly calling the move "subtle."
Shared by Manon, Menting (@gappie_the_beagle), the cute clip shows the dog riding in the basket attached to her bike.
Suddenly, the 2-year-old beagle gets a whiff of the tasty treat, and reaches over the handlebars to nab it with his mouth.
Dog lovers were impressed by Gappie's willingness to risk life and limb for a baked good, with the hilarious video receiving more than 1.3 million views and more than 100,000 likes.
How to Stop Your Dog From Stealing Your Snacks
From tantrums over a plate of spaghetti to running off with an entire rotisserie chicken, there are few foods that dogs won't pilfer if given the chance.
But how do you stop your dog from stealing your food? According to the American Kennel Club (AKC), it's a combination of training techniques and avoiding temptation.
If your dog is a "counter-surfer," make sure you don't leave food unattended while cooking. If your dog is a snack-stealer who will take food right out of your hands, then commands might work better.
The AKC recommends teaching your dog the "leave it" command. To do this, put a treat in your fist and let your dog attempt to get the food out of your hand.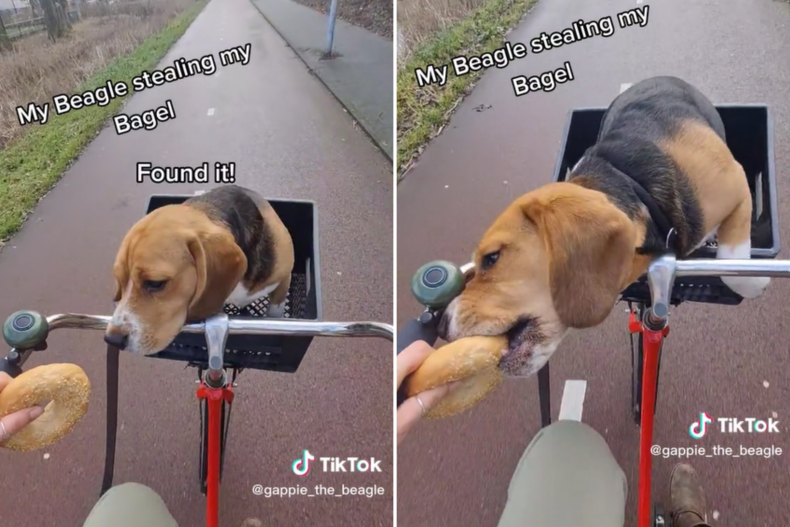 Once he stops trying, mark the occasion with praise. Next, open your hand to show the dog that not taking the treat is what will earn them a reward.
It will likely take several attempts for your pooch to get the message, but once they start ignoring the treat, wait a moment or two and offer the snack to them.
To test how well they've learned the command, place the treat on your palm. If your dog tries to eat it, close your hand into a fist again. When your dog begins to ignore the treat, open your hand up and feed it to them.
'Meals on Wheels'
Fellow beagle owners could relate to the poster's struggle, with alc82 calling the breed: "walking stomachs with floppy ears."
Bryttersbear agreed, writing: "Beagles are nothing but noses with legs."
"My beagle would definitely do this," said Idontcare464446.
"They're brave when food is involved!" commented Melissa.
"Meals on wheels," wrote Syd Sadeda Burnell.
"He's so subtle with it as well," joked michael hartman, to which @gappie_the_beagle replied: "his second name is Mr. subtle."
While blonde_moment_ho said: "normally something like this would irritate me but i cant even be mad at him for it."
Newsweek reached out to @gappie_the_beagle for comment.
Do you have funny and adorable videos or pictures of your pet you want to share? We want to see the best ones! Send them in to life@newsweek.com and they could appear on our site.