Laura Ingraham Says 'Foreign-Born' Voters and George Soros to Blame For GOP Virginia Losses
Laura Ingraham pinned major Republican losses in Virginia state elections this week on "foreign-born" voters, suburban women and George Soros, during her show last night.
The Fox News host said "demographic changes" had changed Virginia from a cente-right voting bloc to a "petri dish" for radical leftism and claimed it was a "fact of life" that immigration pulled the commonwealth to the left.
Ingraham also blamed the Republican losses in Virginia commonwealth attorney races on large donations coming from the liberal billionaire George Soros—a hate figure on the right.
Speaking on The Ingraham Angle yesterday, the host said: "The road to Democrat dominance in the commonwealth was paved long before Trump took the presidency. The undeniable fact is demographic changes throughout the state, but especially in northern Virginia, have altered what was once a moderate to right-of-centre state.
"It made it really a petri dish for radical, left wing ideas. Virginia's foreign-born population nearly doubled from 2000 to 2017, and these immigrants are mostly concentrated in northern Virginia."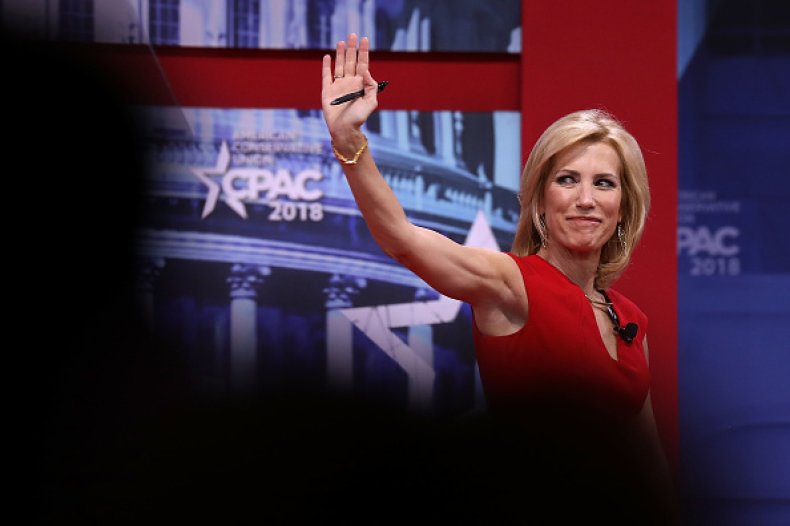 After referring to a Washington Post editorial reporting that a third of Fairfax County's population was foreign-born, Ingraham said: "Since immigrants are more likely to vote Democrat, well this of course has dragged the electorate to the left. It's just a fact of life."
The Fox News host also suggested suburban women may have swung the vote in favour of Democrats, adding that Trump "absolutely needs to pay attention" to that demographic—a comment she did not make about foreign-born voters.
George Soros was also pulled into Ingraham's monologue on the Republican defeats in Virginia on Tuesday.
The philanthropist and founder of the Open Society Foundations, the international liberal group, poured a lot of money into the Virginia elections. The Washington Post reported that he spent more than $2m on Democrats in the state's commonwealth attorney races alone; money that was used for polling and other campaign materials.
"George Soros pumped millions in to elect commonwealth attorneys who pledged to radically change how we prosecute crime in the commonwealth," Ingraham said. "Prioritising so-called social justice concerns over public safety."
Ingraham's remarks yesterday were not the first time she has complained about demographic changes on-air. In August last year, the Fox News host came under fire for saying "the America we know and love doesn't exist anymore" because immigration had changed the make-up of the country.
Her latest comments on demographics followed high-profile local election defeats on Tuesday that were widely celebrated by liberals.
Democrats in Virginia flipped both the State House and Senate after twenty years of Republican majorities in both chambers, winning 21 seats in the Senate and 50 in the House of Delegates.
Republicans had 39 delegates elected to the State House and won just 16 seats in the State Senate by comparison.
But the picture for the GOP was less stark in Kentucky, where the party's candidate for state attorney general Daniel Cameron performed well, even while the unpopular incumbent Republican Governor Matt Bevin was ousted.
Cameron became the first black person to secure the Virginia attorney general's office, winning a convincing 58 percent of the vote.
Laura Ingraham Says 'Foreign-Born' Voters and George Soros to Blame For GOP Virginia Losses | U.S.