Donald Trump Re-election Campaign Sponsored Laura Ingraham's Podcast, Fox News Made Its Position Clear: 'We Have Nothing to Do With Its Sponsorships'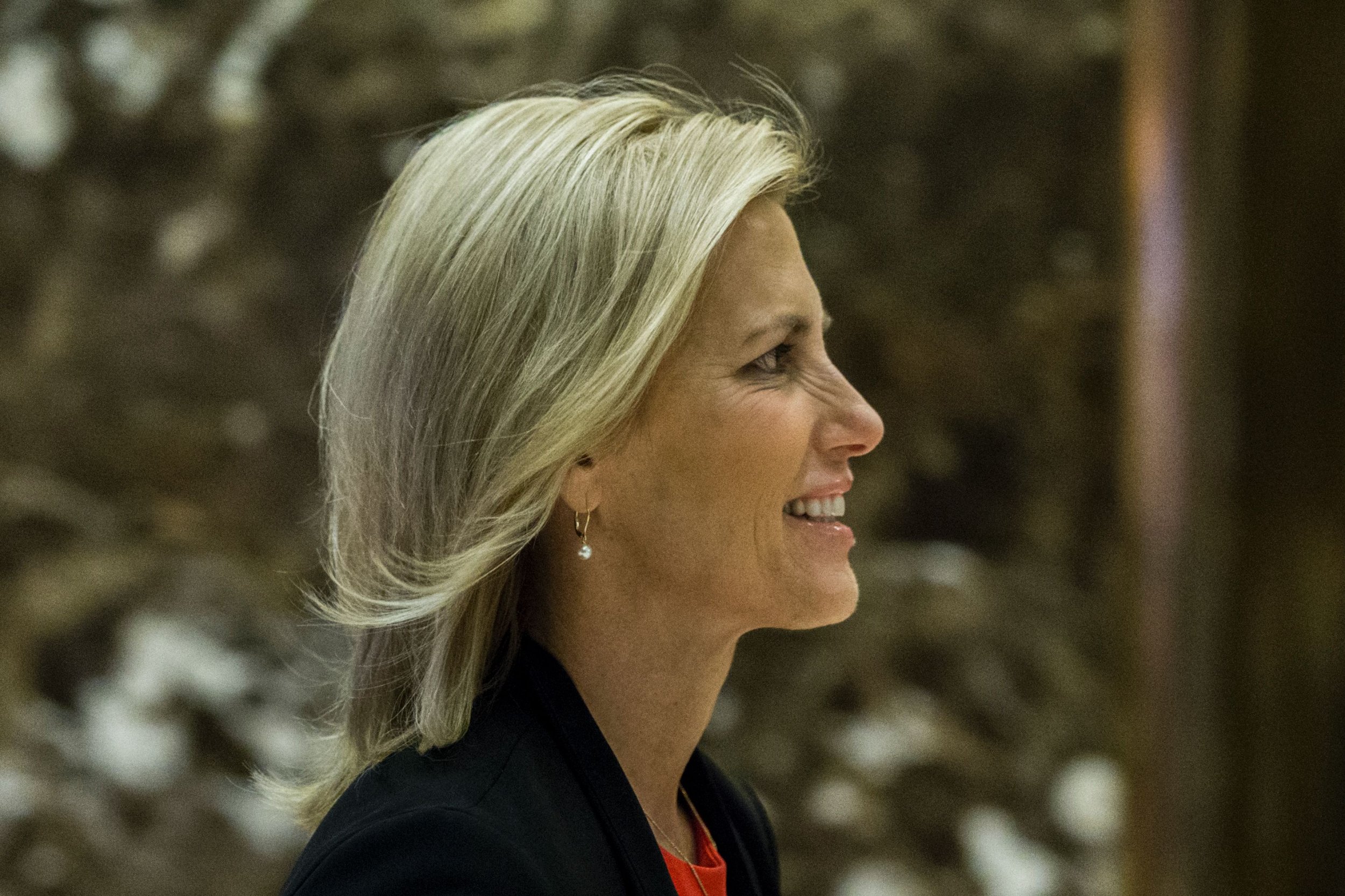 Conservative talking head Laura Ingraham's latest podcast featured a shout-out to President Donald Trump's re-election campaign.
The presenter thanked the Trump Make America Great Again Committee for its sponsorship at the end of Tuesday's episode of The Laura Ingraham Podcast, hosted by PodcastOne. It was not mentioned as a sponsor in March or April, according to The Hollywood Reporter.
The fundraising platform is comprised of Donald J. Trump for President, Inc and the Republican National Committee. The majority of donations made to the committee fund the president's 2020 primary and general election bid, according to its website. The remaining quarter of funds raised go to the RNC's operating account.
Ingraham made her name hosting a daily radio show—The Laura Ingraham Show— from 2001 to 2018. But in 2019, she moved to a daily podcast on PodcastOne. She is also well known for hosting Fox News show The Ingraham Angle.
Fox News was quick to distance itself from Ingraham's podcast, telling The Reporter on Tuesday: "Laura Ingraham's podcast is run independently of Fox News and we have nothing to do with its sponsorships."
The network has come under fire for featuring numerous opinions hosts that espouse overtly pro-Trump views. According to progressive watchdog Media Matters for America, some of the network's news hosts have also featured at conservative events.
Commentators from other networks, including CNN's Christ Cuomo, have previously blasted the network as "state TV." Fox News anchor Sean Hannity, in particular, took flak when New York Magazine reported he engaged in regular late-night phone calls with the president. In November, he appeared onstage with Trump at a Missouri rally, after promising his viewers he would not.
Back in October, Fox & Friends co-host Brian Kilmeade made headlines when he "inadvertently" donated to the Trump campaign by purchasing MAGA hat-inspired Christmas ornaments.
Ingraham's podcast features politically-charged discussions between Ingraham and guests. Tuesday's episode included British politician Nigel Farage, whose newly launched Brexit Party gained 32 percent of the U.K. vote in last week's European elections. Farage, a friend of Trump, has been campaigning for Britain's exit from the European Union for years, many of them spent with the United Kingdom Independence Party (UKIP).
Earlier in May, a protestor threw a milkshake at the populist politician.
Previously on her show, Ingraham and guest Victor Davis Hanson described their anger at Spanish-speaking migrants they accused of dropping trash in the streets.