Lauren Boebert Says 'Facts Will Be Released' To Disprove 'Sexist' Rumors
Colorado rep. Lauren Boebert has said information will soon be released which will disprove the "absolutely false" allegations that she previously worked as an escort and had two abortions.
Speaking on Tomi Lahren's Fearless show, the GOP congresswoman hit out at the allegations released earlier in June by the American Muckrakers PAC, an activism group co-founded by former North Carolina state Senate candidate David Wheeler.
The group, which previously released information about outgoing North Carolina congressman Madison Cawthorn, alleged Boebert had worked as an escort for a website entitled SugarDaddyMeet.com, and had one of two abortions "due to her work" with a client on the site.
Boebert dismissed the allegations as "totally false" and plans to sue, noting that a woman in a picture who an unnamed source texted the PAC to back up the claims was not her.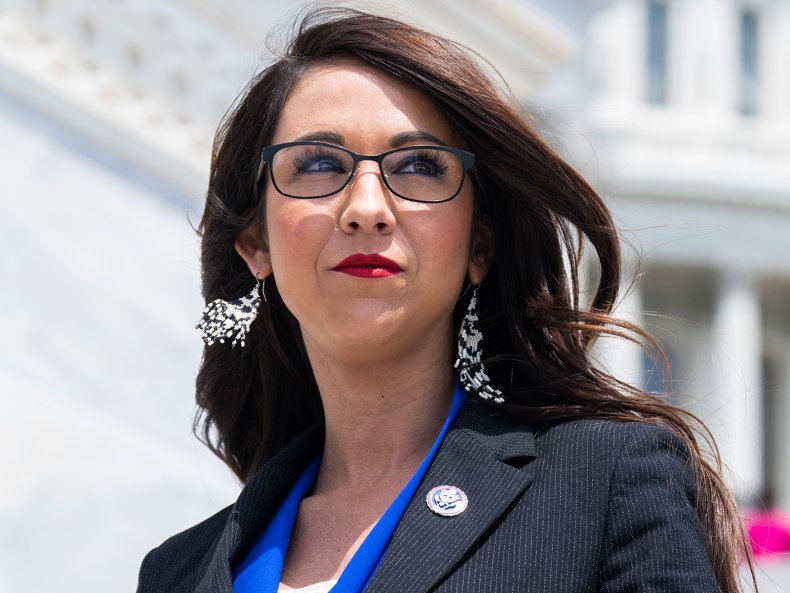 The photo of the woman sitting on a bed is believed to be of Melissa Carone, a witness cited by Rudy Giuliani in 2020 over alleged voter fraud claims. The picture was later removed from the American Muckrakers PAC's website.
Speaking to Lahren, Boebert reiterated that the claims against her are not true and that she will soon present evidence to show this.
"These are all lies, and isn't it interesting that this came from the party of 'believe all women,'" Boebert said.
"Even Mother Jones, a far-left leaning publication, called these sexist and disgusting claims. Conservative women are targets of the mainstream media, but that makes us so much stronger.
"I've never had two abortions, I've never had any abortion. I've never been an escort, I've never been a drug addict as they claim, a stripper or whatever else they want to add to that," Boebert said. "Verifiable facts will be released that proves what I said, that proves that these allegations are absolutely false."
Boebert said that even though she will be able to prove the claims are false, the "damage has already been done" because they have been spread online and across social media.
Boebert added that she is suing the PAC which released the claims as she "won't allow the illegal behavior to continue to happen" against her or others.
"They lied about me and they knew they were lying, and that is absolutely illegal," she said. "Just like a bully on the playground. When they can't win, they punch you in the face, but I'm fighting back."
In a previous statement to The Daily Beast, Wheeler claimed the PAC has more potentially damaging information on Boebert, but may turn their attention to another GOP lawmaker.
"We may have done everything we can do in Colorado at this point," Wheeler said.