Lauren Boebert Accidentally Accuses Trump Administration of Being Lazy
Colorado congresswoman Lauren Boebert accidentally slammed the Trump administration while trying to take shots at Biden's team on Thursday, as she confronted the Director of the U.S. Office of Personnel Management (OPM) Kiran Ahuja about the number of federal employees who fail to log into work.
Citing evidence contained in a leaked document, the MAGA-leaning politician accused federal employees of abusing remote work policies, but was quickly shut down by Ahuja when this reminded her that the data did not refer to employees in the Biden administration, but was coming from a Trump-era document.
"You're not aware of any employee taking something that one would consider a vacation time, and bringing their computer and maybe logging in just a portion of that time or not at all? We have more than 25 percent of federal employees not logging into work, and they're teleworking," Boebert asked Ahuja during an Oversight Committee hearing, as can be seen in a clip by The Recount made available on Twitter.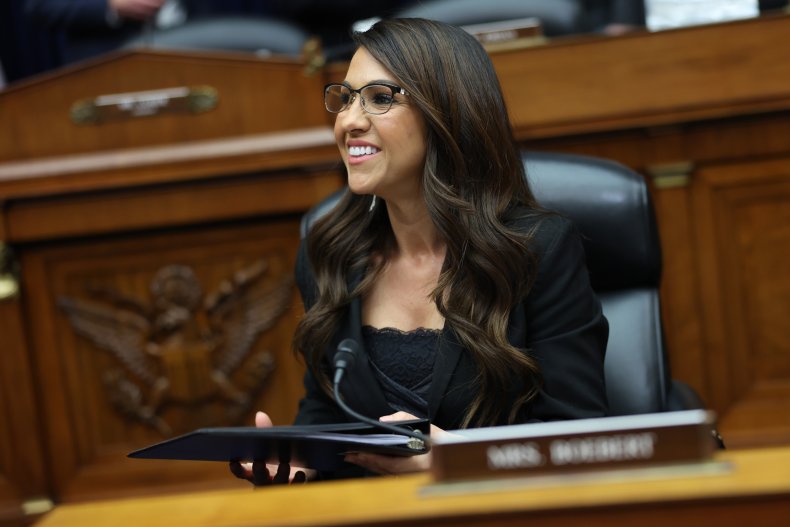 "Congresswoman, I do take issue with the characterization that 25 percent of individuals are not logging in," Ahuja responded.
"It's in this leaked document right here that we just submitted into the record," Boebert replied.
"You're basing that from 2020, which is in the last administration, and I can't speak to that."
The document mentioned by Boebert is an internal Department of Health and Human Services report leaked by The Washington Free Beacon last summer which shows that a quarter of HHS employees failed to log on into Office 365—used for conference calls, emails, and workfiles—between March and December 2020.
Boebert's misstep on Thursday followed another attempt by a MAGA Republican to attack the Biden administration, which then backfired against Trump and his administration.
During a Homeland Security Select Committee hearing last month, Georgia congresswoman Marjorie Taylor Greene falsely accused the Biden administration for the fentanyl deaths of 20-year old Caleb Kiessling and 18-year-old Kyler Kiesling. The two brothers died from fentanyl poisoning after taking what they thought were Percocet pills.
"This government has failed you, and it's failing American families. Most of all it's failing our children and our young people," Greene responded to a heartfelt statement made by the two young men's mother, Rebecca Kissling.
But the two brothers died in July 2020—while Trump was still in office.
Greene's mistake was corrected by President Joe Biden in a later statement during an event in Baltimore, where he said: "I've read she was very specific recently saying that a mom, a poor mother who lost two kids to fentanyl, that I killed her sons. Well, the interesting thing: that fentanyl they took came during the last administration."
While speaking at a Democratic conference, Biden couldn't resist making note of her error. He also said the Georgia Republican is helping Democrats recruit GOP support.
Newsweek has emailed Boebert's team for comment.