Lauren Boebert Took Steak Photo to Taunt Bill Gates Without Permission, Butcher Says
Rep. Lauren Boebert has mocked philanthropist Bill Gates' wish to move toward a future in which people eat only synthetic meat—by sharing an image of a steak that a New York butcher claims was lifted from its website.
The billionaire co-founder of Microsoft has called on wealthy countries to stop eating beef because of the environmental cost of its production.
In an interview this week to promote his new book, How to Avoid a Climate Disaster, Gates told the MIT Technology Review: "I don't think the poorest 80 countries will be eating synthetic meat. I do think all rich countries should move to 100 percent synthetic beef.
"You can get used to the taste difference, and the claim is they're going to make it taste even better over time," he added.
Rep. Boebert, a Republican from Colorado, begged to differ, tweeting an image of a raw steak with the message: "Come and take it, Bill."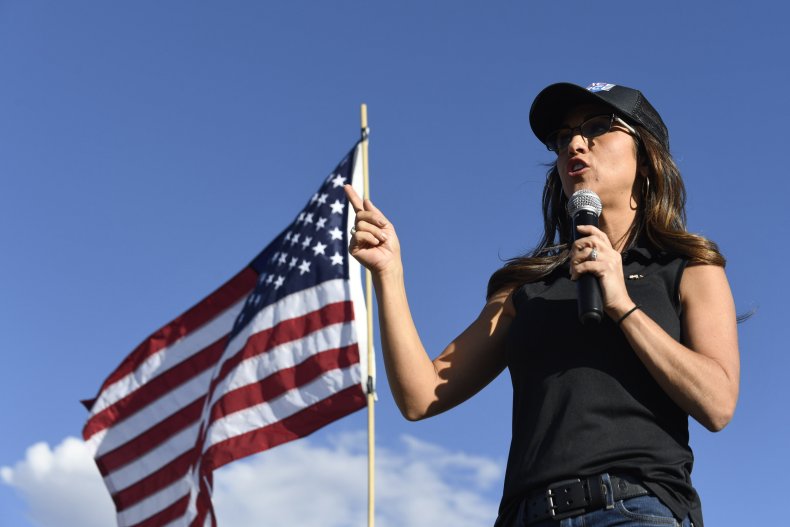 Some social media users noticed that the image was the same as one on the website of Lobel's of New York, a butcher that has been in business for nearly 180 years.
The Lobel's site describes the cut as a "USDA prime dry-aged bone-in rib steak" that provides "full-bodied flavor" as well as "old-world character." The steaks are available on the website in 16oz to 28oz cuts, with prices ranging from $56.95 to $98.95.
On Wednesday, Lobel's tweeted: "We've reached out to Lauren about the unauthorized use of our photo, but we haven't heard back yet," adding that the social media platform did not "seem to have a way to report a post for copyright violation."
Twitter guidelines state that it will respond to reports of alleged copyright infringement, such as "the unauthorized use of a copyrighted image as a profile or header photo."
However, it adds that "not all unauthorized uses of copyrighted materials are infringements" and "fair use" could be argued for some uses of images.
"There is no clear formula to determine whether a use may be found to be fair," the Twitter guidelines state.
Newsweek has contacted Twitter, Boebert's office and Lobel's for comment.
This week, Boebert questioned whether Congress should consider revoking the law that protects big tech companies from being sued for content posted by their users, Section 230 of the Communications Decency Act.
She said she was concerned at Instagram's announcement it would target hate speech in direct messages, telling Newsmax: "We have to see if this is something that is the government's role to continue to protect."
Since she was elected last year, Boebert, a conservative Republican and gun rights advocate, has been criticized for various comments, including a tweet mocking Parkland school shooting survivor David Hogg.