Lauren Boebert Blames Biden 'Projecting Weakness' for UFOs Over U.S.
Representative Lauren Boebert has hit out at President Joe Biden, suggesting him "projecting weakness" has led to flying objects being located in the skies above the U.S.
In a series of tweets, the Colorado Republican hit out at Biden and appeared to be astonished that so many were being located.
She said that Biden and Canadian Prime Minister Justin Trudeau's perceived weakness had given adversaries a sense they could get away with launching equipment into North America.
Boebert posted: "With leaders like Biden and Trudeau, it should be no surprise foreign adversaries are invading our skies. Projecting weakness has consequences."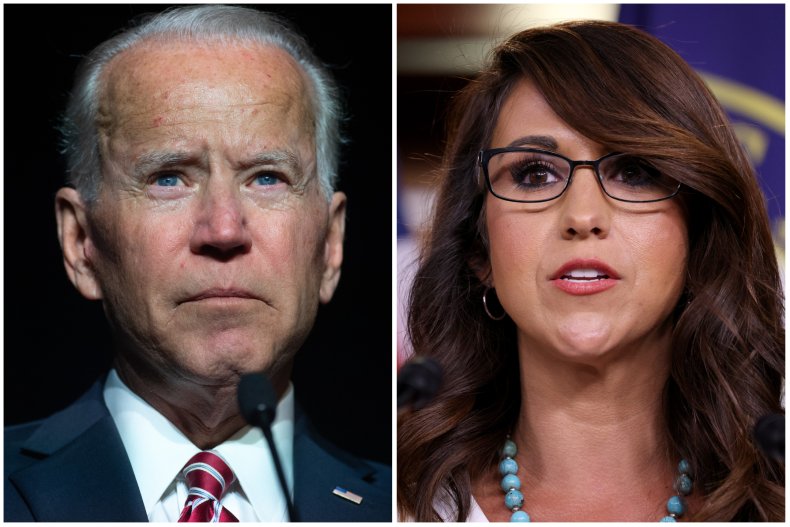 In a follow-up tweet, Boebert reacted to the revelation that another object had been shot down, adding: "A third unidentified flying object has been shot down."
The posts combined have been viewed more than 2.3 million times and liked on some 40 thousand occasions.
Biden ordered the Pentagon to shoot down one alleged Chinese spy balloon last week, which eventually happened when it was off the coast of South Carolina and away from people who might have been at risk.
Another flying object was shot down over Alaska on Friday night and Trudeau confirmed yet another had been downed on Saturday in Canada's Yukon territory. It is not immediately clear what the objects were or where they may have come from.
Officials in South America also said that a Chinese spy balloon had been sighted in Colombia. China has denied the balloons had any military capability and were merely monitoring the weather.
Boebert's comments reflect the Republican anger over the Chinese balloon saga and the Biden administration's apparent reluctance to shoot them down quickly.
Representative Marjorie Taylor Greene (R-GA) earlier addressed a room with several supporters where she described the Biden Administration's briefing about the balloons as b*******.
She said: "You sat by and allowed this Chinese spy balloon that could have contained a bioweapon, like COVID, it could have contained a nuclear bomb an EMP (electromagnetic pulse) attack, or hypersonic missiles, like the Chinese government - the CCP - has shown their own people of these weather balloons dropping hypersonic missiles.
"They show those on video. Absolutely, this is a common thing. I said, 'you allowed this to go across the country and then you want to stand up here and give us our excuses, your excuses about you're gathering 'intelligence,' or you didn't want to risk endangering anyone's lives. I said, 'that is the biggest bunch of b*******."
Greene's claim that COVID-19 is a bioweapon is unfounded, although Chinese state-controlled TV has shown weather balloons capable of carrying hypersonic missiles.
While the Republicans have blamed Biden's apparent weakness as a reason for the balloon entering U.S. airspace, defense officials said one passed over Hawaii and Florida in 2019, during former President Donald Trump's time in office.
An unnamed senior official told the Associated Press that there were three occasions during the Trump administration, and one previous case during Biden's time in office, where Chinese balloons moved over the U.S.
Newsweek has contacted the White House and Boebert's office for comment.