Marjorie Taylor Greene Reveals Her Angry Response to Spy Balloon Briefing
Representative Marjorie Taylor Greene (GA-R) has revealed her furious response to a briefing about the Chinese spy balloon.
In a video shared by commentator and critic of MAGA Republicans Ron Filipkowski on Saturday, February 11, Greene could be seen addressing a room with several people supportive of her comments.
Greene referred to a briefing in which she had heard about the Chinese spy balloon and shared her criticism of explanations given about why the Pentagon didn't order it to be shot down earlier.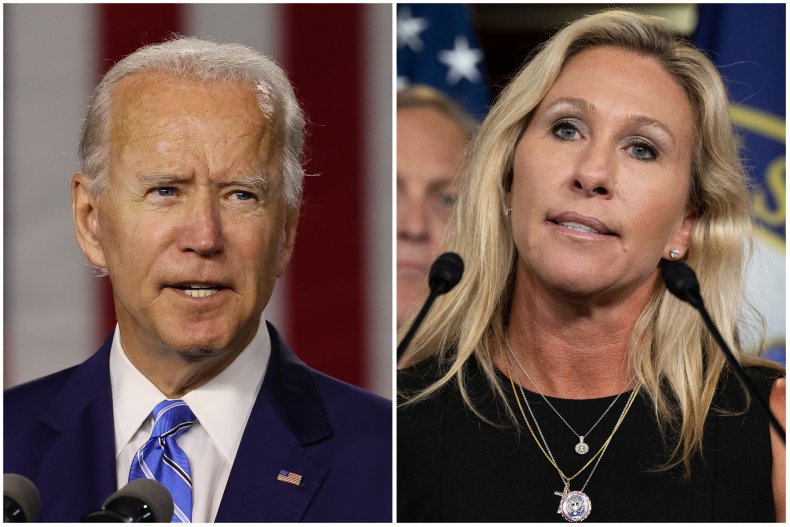 She said: "You sat by and allowed this Chinese spy balloon that could have contained a bioweapon, like COVID, it could have contained a nuclear bomb an EMP (electromagnetic pulse) attack, or hypersonic missiles, like the Chinese government - the CCP - has shown their own people of these weather balloons dropping hypersonic missiles.
"They show those on video. Absolutely, this is a common thing. I said, 'you allowed this to go across the country and then you want to stand up here and give us our excuses, your excuses about you're gathering 'intelligence,' or you didn't want to risk endangering anyone's lives.
"I said, 'that is the biggest bunch of ********."
Since being shared on Twitter, the video has been seen on more than 1 million occasions.
While the origins of COVID are under investigation by the U.S. government and other nations, there is no proof that the virus was ever intended to be a bioweapon. But Greene's comments that the Chinese had tested to see whether hypersonic missiles could be launched from balloons is supported with evidence.
In 2018, Chinese state broadcaster CCTV showed balloons being used as weapons that could fly faster than the speed of sound.
The first spy balloon was detected in the U.S. on January 28 and it was revealed it had passed over Alaska and Canada before it came back into the country and was spotted in the sky above Idaho.
Secretary of State Anthony Blinken postponed a visit to China over the balloon incident and refuted Beijing's claim it was being used to monitor the weather.
Beijing's foreign ministry claimed the balloon deviated from its planned course and that it didn't pose a significant threat.
The Biden administration thought differently and ordered the balloon be shot down. It was ultimately brought down off the coast of South Carolina.
A second Chinese spy balloon was spotted in the skies above Latin America, with Colombian officials commenting that it was being monitored.
On Saturday, February 11, a third unidentified, high-altitude object, was shot down over northern Canada.
Canadian Prime Minister Justin Trudeau said: "I ordered the takedown of an unidentified object that violated Canadian airspace. @NORADCommand shot down the object over the Yukon. Canadian and U.S. aircraft were scrambled."
Newsweek has contacted Greene's office for comment.