Representative Lauren Boebert, a Colorado Republican, said the "woke" U.S. military was to blame for the F-35B fighter jet that went missing over the weekend.
"The military is asking for the public's help in finding an F-35 jet that went missing," the congresswoman wrote on X, formerly Twitter, on Monday morning. "We're talking about an $80,000,000 jet. This is what happens when military leaders are more focused on woke ideology than actually running a competent military."
Military officials with the Joint Base Charleston in South Carolina said Sunday that personnel from the base and the Marine Corps Air Station Beaufort (MCAS Beaufort SC), were "responding to a mishap involving an F-35B Lightning II jet from Marine Fighter Attack Training Squadron (VMFAT) 501 with the 2nd Marine Aircraft Wing."
"The pilot ejected safely and was transferred to a local medical center in stable condition. Emergency response teams are still trying to locate the F-35. The public is asked to cooperate with military and civilian authorities as the effort continues," the military base wrote in a Facebook post. "If you have any information that would assist the recovery teams, please call the 2nd Marine Aircraft Wing Public Affairs Office at 252-466-3827."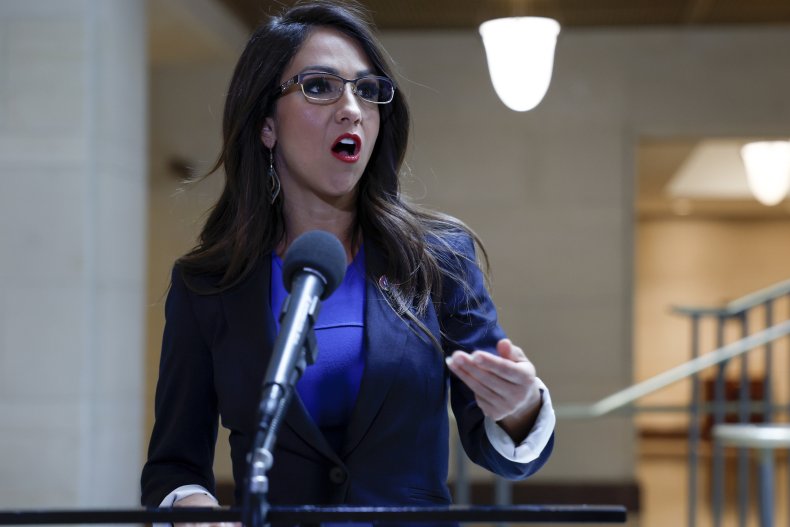 According to experts, the missing F-35B fighter jet, which was made by Lockheed Martin, could travel for hundreds of miles on autopilot after its pilot ejected mid-flight.
A spokesperson for Lockheed Martin told Newsweek that they were "aware of the mishap involving an F-35B from Marine Corps Air Station Beaufort and are thankful the pilot ejected safely."
"The aircraft is stealth, so it has different coatings and different designs that make it more difficult than a normal aircraft to detect," Jeremy Huggins, a spokesperson at Joint Base Charleston, told The Washington Post on Sunday.
The jet's transponder, which would help officials find the aircraft, was not working "for some reason that we haven't yet determined," Huggins added.
Meanwhile, following the announcement by the Joint Base Charleston of the missing aircraft, many social media users questioned how this piece of equipment could disappear.
"How in the hell do you lose an F-35? How is there not a tracking device and we're asking the public to what, find a jet and turn it in?" Representative Nancy Mace, a South Carolina Republican, asked on X on Sunday evening.
Conservative commentator Rogan O'Handley posted to X on Monday morning, "America's military was the most feared and respected in the world under President Trump. Now we have trans leaders losing F-35 jets under Biden while he checks his watch at soldier funerals."
Newsweek reached out to Boebert's press office and the Joint Base Charleston via email for comment.
Over the past few months, Republican lawmakers have criticized the U.S. military by claiming it is "woke." Alabama Senator Tommy Tuberville has recently blocked several military promotions over issues relating to abortion policies within the Pentagon that he disagrees with.
In July, Boebert praised Tuberville's stance on blocking military promotions saying that the Alabama senator is "dealing devastating blows to the Biden regime's woke military...I am proud to stand with his efforts and I know the American people will stand with him as well."
A month prior in June, the Colorado congresswoman made comments accusing the military of being "woke" when she wrote, "Apparently the Pentagon thinks I'm a security threat because I oppose Biden's plans for a woke military. Call me whatever you want, but I'm not backing down today or ever."