Lauren Boebert Faces Backlash After Repeating Ilhan Omar Elevator Barb
Republican Representative Lauren Boebert is facing backlash after she made reference to her previous controversial comments, where she suggested Democratic Representative Ilhan Omar had been mistaken for a terrorist in an elevator on Capitol Hill.
Boebert spoke to commentator Tim Pool on his "Timcast" podcast show on Wednesday and made a joking reference to a story about Omar that the Republican had apologized for in November 2021.
While discussing the fact that Omar has been stripped from her position on the House Foreign Affairs Committee by the new Republican House Majority, Boebert joked about her previous comments.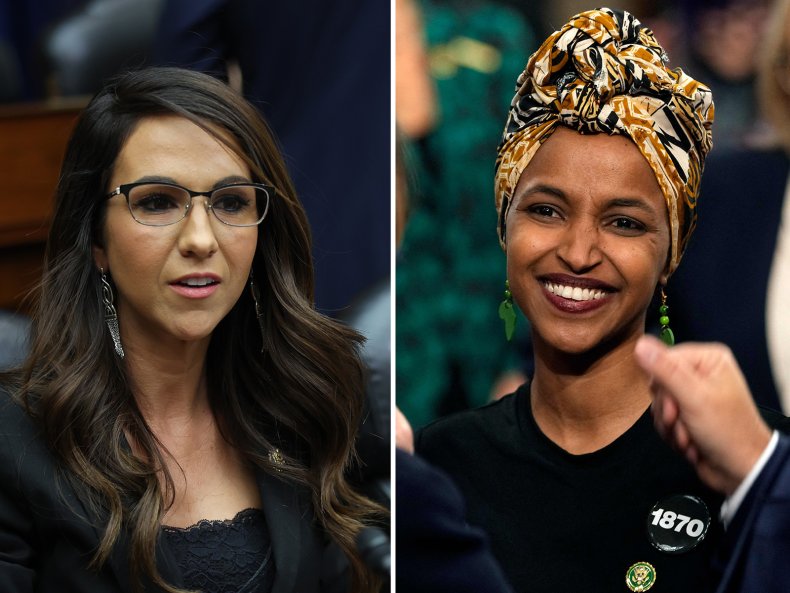 "Are you friends with the Squad members?" Pool asked, referring to Omar and a group of other progressive Democrats.
"I pretty much have to take the stairs now because I'm not allowed in elevators with her," Boebert said.
"Wait, what, really?" Pool asked.
"No," Boebert joked.
A video clip of her comments to Pool was shared to Twitter on Wednesday by PatriotTakes, which describes itself as "Dedicated researchers monitoring and exposing right-wing extremism."
Boebert's joke was a callback to her controversial remarks to a group of supporters at an event in November, 2021—comments that she later apologized for making.
"So the other night on the House floor was not my first jihad squad moment," Boebert said at the time, in a video also shared to Twitter by PatriotTakes. "I was getting into an elevator with one of my staffers and he and I were leaving the Capitol, we're going back to my office and we get in the elevator and I see a Capitol Police officer running hurriedly to the elevator."
"I see fret all over his face. And he's reaching. The door is shutting. I can't open it," Boebert continues. "I look to my left and there she is, Ilhan Omar, and I said, 'Well she doesn't have a backpack, we should be fine.'"
Those comments went viral again earlier this month when PatriotTakes shared the video in response to a tweet Boebert had written about Omar's removal from the House Foreign Affairs Committee.
Omar responded to the claims on Twitter on November 25, 2021 saying "this buffoon looks down when she sees me at the Capitol, this whole story is made up. Sad she thinks bigotry gets her clout."
Boebert issued an apology on Twitter on November 26, 2021.
"I apologize to anyone in the Muslim community I offended with my comment about Rep. Omar. I have reached out to her office to speak with her directly. There are plenty of policy differences to focus on without this unnecessary distraction," she said.
However, her remarks to Pool on Wednesday have led to renewed criticism.
"This doesn't sound like someone who is truly sorry for making anti-Muslim comments," PatriotTakes tweeted.
MSNBC host Mehdi Hassan shared PatriotTakes' video and tweeted: "Pure, unadulterated, open racism and Islamophobia from Boebert. But she'll face no consequences, no penalties, from a GOP that has embraced Islamophobia and racism, and much of our media which grades the GOP on a curve."
Newsweek has reached out to Boebert and Omar's offices for comment.