Lauren Boebert Fears Fox News Could Be Removed Next by DirectTV
Conservative firebrand Lauren Boebert has expressed her worry that Fox News and other TV channels could be culled as part of a perceived liberal agenda, after Newsmax was dropped from cable by DirecTV.
The Colorado Republican representative was among several GOP members of congress to make floor speeches criticizing the move on Tuesday, with several arguing that it was part of a move to silence free speech—a claim the cable provider has denied.
"Americans are tired of cancel culture," Boebert told the House. "Conservatives are not being treated fairly."
Newsmax ceased to air on DirecTV at 11:59 p.m. ET on January 24, after a dispute over a new broadcasting deal went unresolved.
AT&T's DirecTV said it would have liked to continue offering the channel to its cable viewers, but that Newsmax had demanded a carriage fee—as other major channels do—to supplement advertising revenue.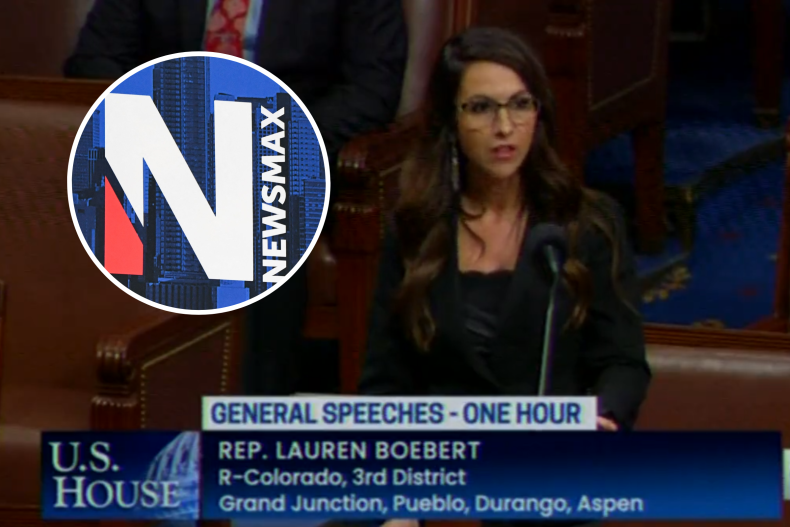 DirecTV cited Newsmax's low viewer ratings compared with other news channels, including conservative outlets, as part of its reasoning. Newsmax has an audience of 113,000 according to USTVDB figures, compared with its mainstream rival Fox, which has an audience of over 2.2 million.
"According to Nielsen, nationwide Newsmax's average household audience is only 101,000 households, representing less than 0.1 percent of total TV households," Michael Hartman, DirecTV's chief external relations officer, wrote in a letter, seen by Newsweek, to a GOP representatives, including Boebert, on January 23.
"That is 92 percent lower than Fox News," he added.
In her floor speech, Boebert repeated the claim that the One America News network had been "de-platformed" by DirecTV—something stated by other GOP representatives and Newsmax itself.
"This is not the first time we've seen this and I'm afraid it won't be the last time that we are seeing this here in our great country," she feared.
"So what's next?" Boebert pondered. "Fox News? Will the weather channel be canceled next if they refuse to bow to the left's altar of climate change? What about the History Channel? We see on a regular basis the left wants to erase history and deny truth.
"How about [Trinity Broadcasting Network]? There has definitely been an increase in disdain and intolerance by many liberals for Christian—simply by saying 'we love Jesus'. So is TBN next?"
While Newsmax's exit from cable TV has been pounced upon by conservatives, DirecTV has stressed that it would welcome Newsmax back on the prior deal between the two firms.
But Newsmax has previously argued that "liberal-leaning" channels, some of which have fewer viewers than Newsmax, receive carriage fees from DirecTV.
"In no way is DirecTV working to limit conservative viewpoints," Hartman wrote in his letter to GOP representatives.
He suggested it was Newsmax that was willing to give up its free streaming services—which it said transmitted to 55 million U.S. households compared with 101,000 cable viewers—to go to cable in exchange for more fees.
Hartman also noted that without Newsmax, DirecTV's customers "still have access to their clearly preferred conservative news channel, Fox News, which has more viewers than MSNBC, CNN and Newsmax combined."
Speaking to Newsmax on Tuesday, Boebert said "lobbyists" from corporations such as AT&T are "going to start coming into our offices soon, and they better believe that this is the one and only thing that I want to discuss with them."
"There are certainly a lot of things that need to be answered," she added.
Newsweek has contacted DirecTV for comment.