Lauren Boebert Explains Husband's Public Indecency Charge in New Book
In her new memoir, Colorado Representative Lauren Boebert insists that her husband never exposed himself in a bowling alley, despite pleading guilty and serving jail time for the incident.
Boebert's book, My American Life, was released on Tuesday and discussed the incident that saw her partner, Jayson Boebert, arrested in 2004 for exposing his penis to two young women at a Colorado bowling alley. He pleaded guilty to public indecency and lewd exposure, and was sentenced to four days in jail with a subsequent two years of probation.
In the book, Insider reports that the Republican representative wrote that she blames the 17-year-old bartender at the Fireside Lane bowling alley in Rifle, Colorado, for repeatedly asking to see Jayson Boebert's "private" tattoo. Representative Boebert insisted that he did not expose his penis, but rather "acted like he was going to unzip his pants" while drunk.
She and Jayson Boebert were not yet married and the pair were out with friends and family at the time of the incident. Boebert wrote they "got to chatting over drinks" and the female bartender had heard "what a catch he'd be," according to the Insider report.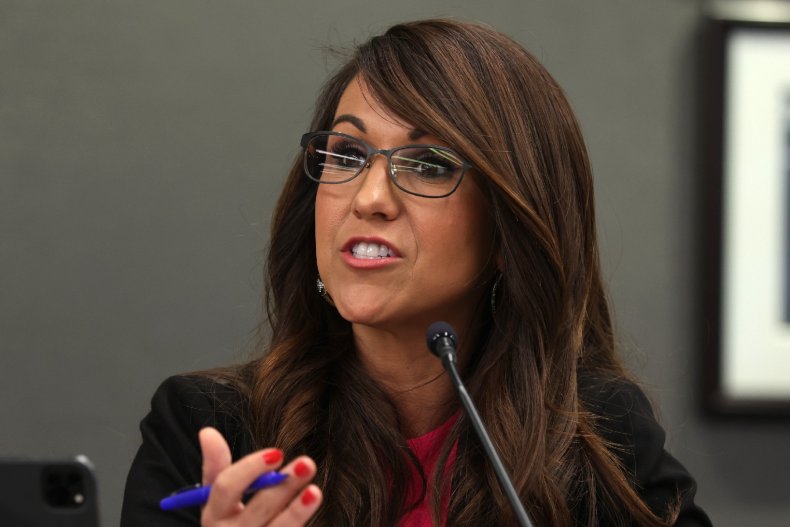 Jayson Boebert's friends "even teased her by saying he'd gotten a great tattoo in a private area, which made her curious, so she pressed Jayson to show it to her right there at the bar," Boebert wrote.
The bowling alley owner tried to kick him out after the incident but he didn't want to leave. The pair then got into an altercation and Jayson Boebert threw a basket of chips at the owner and the police were called.
The controversial congresswoman also wrote that her now-husband, "knew the truth, and the truth was, he didn't do what he was accused of."
"The entire experience opened Jayson's eyes to the reality that he needed the alcohol and anger management classes that came with the plea deal," she wrote.
An arrest affidavit highlighted the complaints made by the two women and the claims made by Jayson Boebert when confronted by the police. Garfield County Sheriff's Office Donivan Livingston wrote a summary of the incident in the affidavit and his interaction with the women, as well as Jayson Boebert.
"I did contact the victims...who advised me that they were standing at the snack bar talking about each others tattoos," the affidavit said. "Both parties advised me that Mr. Boebert was also standing at the snack bar several feet away from them.
"Both parties advised me that Mr. Boebert advised them that he had a tattoo on his genitals, at which time Mr. Boebert unzipped his pants, removed his genitals exposing the shaft, covering the head of the genitals with his hand."
The affidavit also noted Jayson Boebert's response after the officer confronted him.
"I did advise Mr. Boebert of my findings. Mr. Boebert advised me that he did not expose himself to either Ms. Wailes nor to Mrs. Coombs. Mr. Boebert advised me that he did unzip his pants and displayed his thumb pretending it was his genitals in a gesture of fun.
"I did observe that while in contact with Mr. Boebert that he did have an odor of an alcoholic beverage on his breath. Mr. Boebert advised me that he had had several drinks during the evening."
Newsweek reached out to Lauren Boebert for comment.