Lauren Boebert Interrupts Committee Hearing Over White Supremacist Comment
A U.S. House hearing on strategic petroleum reserves got off to a hot start after Representatives Cori Bush and Lauren Boebert sparred over alleged white supremacist views.
The heated debate came two came two days after Democratic Representative Jamie Raskin, ranking member of the Committee on Oversight and Accountability, sent a letter to GOP Chairman James Comer that called for Republicans to join Democrats in denouncing white nationalism and white supremacy.
More than two dozen Republicans refused to sign the letter.
Bush, a ranking member on the Subcommittee of Economic Growth, Energy Policy and Regulatory Affairs, opened Wednesday's hearing by essentially calling it a sham due to no real discussion about renewable energy.
The hearing was titled "Why Depleting the Strategic Petroleum Reserve is Not a Solution to America's Energy Problem" and included three witnesses. Bush said they were invited to promote fossil fuels that are "disproportionately harming and killing Black and Brown people."
"Future events can be best ameliorated or prevented by reducing our demand for and our reliance on fossil fuels," Bush said in her opening statement. "But my Republican colleagues have unironically invited for-profit think tank and oil titans whose expertise is in maximizing profits, especially at the expense of our Black, our Brown, our indigenous neighbors' health, safety and well-being."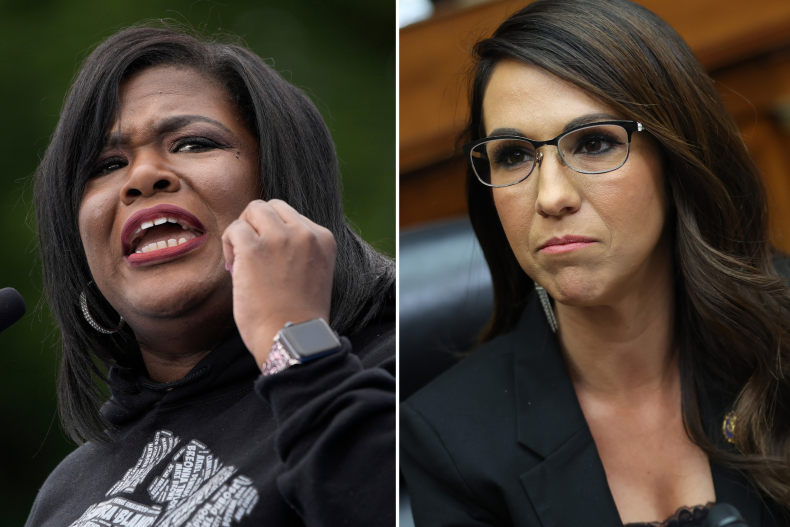 She then took aim at witness Alex Epstein, a philosopher and energy expert.
"One of these so-called energy experts is a philosopher who has previously espoused white supremacist views," Bush said about Epstein.
She began speaking about what Epstein allegedly wrote in his college newspaper in 2000 about African culture before Republican Congresswoman Lauren Boebert interrupted her.
"Mr. Chairman, I demand the gentlelady's words be taken down," Boebert interrupted. "She just called the witness a white supremacist."
"No, I referred to the words, not to the person—not to him, the words," Bush responded.
"The gentlelady is referring to the witness's statement and referred to him as a white supremist," Boebert said as part of the back and forth.
Bush denied Boebert's claim once more, prompting Boebert to call for a parliamentary inquiry to take down Bush's words "for insinuating that our witness made white supremist statements using his words."
Subcommittee Chairman Pat Fallon, a Texas Republican, replied, "The chair cannot take down words that are directed toward a witness only to other members." He gave the floor back to Bush.
Bush went on to reference Epstein's words on African culture being presented on equal footing as Western culture, which he allegedly thought was unjust.
"Rather than disavow them, [Epstein] doubled down on this narrative saying, 'It has nothing to do with skin color,'" Bush continued. "'I was arguing that those cultures overall are inferior to Western culture.'"
"We are not inferior to any culture, speaking as a descendant of one of those cultures," she said.
"Crazy day hearing today, which was supposed to be on the SPR," Epstein later tweeted. "Ranking member [Bush] devoted her opening to portraying me as a White Supremacist, and after I debunked that [Representative Melanie Stansbury] tried the same thing + lied about my relationship with industry (also debunked)."
When asked if he had a response to Bush, Epstein referred Newsweek to what he stated during the hearing.
"What I've argued for my entire adult life is that Western culture is superior in the sense that it promotes individualism and freedom," Epstein said Wednesday. "And I have fought my entire life for freedom around the world, including in Africa, including in Asia, including in India. And I want everyone around the world to have the same opportunities that I do in the United States."
He refused to apologize.
"The idea that this is associated with skin color is despicable and racist. Skin color has nothing to do with ideas. Where you came from geographically is irrelevant. What's relevant is what's true. So you can ask more about that, but that was an insane diversion from the truth."
Raskin's letter was described as a response to a committee hearing on the U.S.-Mexico border, and accusatory comments made by Republicans including blaming the Biden-Harris Administration for implementing a plan "to deliberately open our border" for purposes of "changing our culture."
It also denounced the "Great Replacement" conspiracy theory of non-white immigrants intentionally being brought to the U.S. to "replace" white populations.
"If Committee Republicans intend to continue examining the southern border and related policies, it is imperative for every member of this Committee to make clear to the American people that we speak with one voice to reject dangerous conspiracy theories and racist and antisemitic ideology in our Committee's deliberations and decision-making," Raskin said. "I feel certain—and I fervently hope—that you agree."
Boebert, among those who didn't sign the letter, in the past called Democratic Representative Ilhan Omar of Minnesota a member of the "Jihad Squad" and later apologized. It led to GOP infighting between Boebert, who at the time was backed by Marjorie Taylor Greene, and Republican Representative Nancy Mace.
A House Oversight spokesperson told Forbes in a statement that it's "shameful that Democrats are calling efforts to protect the American people from the worst border crisis in history racist."
Newsweek reached out to Bush and Boebert for comment.