Lauren Boebert Mocked After Making Biden Plane Jibe
Colorado Republican Lauren Boebert was mocked on social media after questioning how often Joe Biden had flown in economy class, with many pointing at the president's long history of traveling by train.
"When was the last time Joe Biden flew coach?" Boebert tweeted on Tuesday after Biden's State of the Union address, during which he mentioned policies aimed at making airlines show customers the full price of tickets and upfront and refund bookings if the flights get canceled or delayed.
Boebert's question was likely meant to be a provocation by the controversial congresswoman and received a flurry of responses from her critics.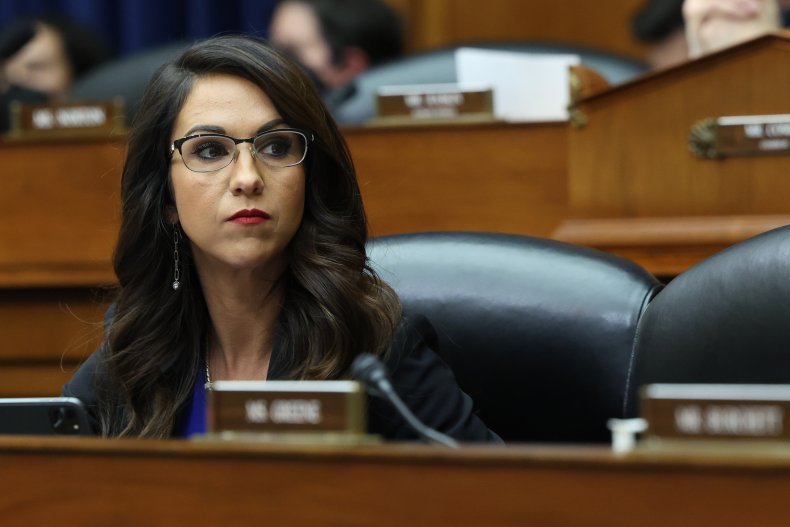 "The President flies U.S. Air Force," replied defense journalist Kevin Baron, referring to a standard practice for all U.S. presidents. For reasons of defense and security, Biden is required to fly on Air Force One.
Many also pointed out that Biden has never been one to snub more grounded ways of traveling.
"What a stupid tweet! He's President. Years on Amtrak before that," Robert Schrum, the director of the USC Center for the Political Future tweeted.
"He literally took Amtrak trains for the majority of the time he was in the Senate. When was the last time you took a train?," tweeted social media personality Ed Krassenstein.
"Biden took Amtrak from Delaware to DC and back every day when he was a senator," Colorado Public Radio host Vic Vela tweeted.
"He literally rode a damn train to work for 40 years, genius," tweeted Lawrence County, Tennessee commissioner Chris D. Jackson.
Biden has long advocated traveling via train, so much so that he eventually gained the nickname of "Amtrak Joe" after commuting for decades between Delaware and Washington using the company's railroad while sitting in the Senate.
In a 2020 interview with CNN, Biden estimated that he took roughly 8,200 round trips on the same Amtrak route when he was a senator and vice president to spend time with his family. On his final day as vice president for Barack Obama, Biden traveled home by train.
Amtrak even renamed the Wilmington station in Delaware in his honor.
Boebert's comment was also quickly turned against her, with many asking when was the last time she flew in economy class, or when Donald Trump did the same.
Boebert's team told Newsweek when reached for comment: "The Congresswoman flies economy every flight to and from DC."
The Colorado congresswoman was among the many Republicans who mocked and booed Biden during his speech on Tuesday. In a series of tweets published during the address, Boebert accused Biden of "finishing off whatever is left of the middle class" and of "hating" American energy production.
Update, 02/08/23 9 a.m. ET: This article was updated with comment from Boebert's team.