Lauren Boebert Says Claims She Gave Rioters Capitol Tour Are 'Categorically False'
GOP congresswoman Lauren Boebert (R-CO) has rejected accusations she led a group through the Capitol before January 6, amid claims by the Democrats that the protesters had been helped by a "reconnaissance" trip ahead of the fatal unrest.
Rep. Steve Cohen (D-TN) told CNN on Monday that he and fellow congressman John Yarmuth (D-KY) saw the newly elected congresswoman "taking a group of people for a tour sometime after the 3rd and before the 6th."
He could not name the exact date and said he did not know if anyone in the crowd was involved in the attack on the building. He told the network: "But it's pretty clear her team, is the team, she's not on the home team. She was with the visitors."
Claims of so-called reconnaissance trips by the rioters are swirling around Congress but Cohen is the first congressman to specifically accuse another lawmaker of giving a tour of the Capitol before the unrest.
However, Boebert sent a strongly-worded letter to Cohen, who is on the house judiciary committee. In it, she said his claims that she gave a "reconnaissance tour" to rioters were "categorically false," and that his comments had threatened the safety of her, her staff and her family.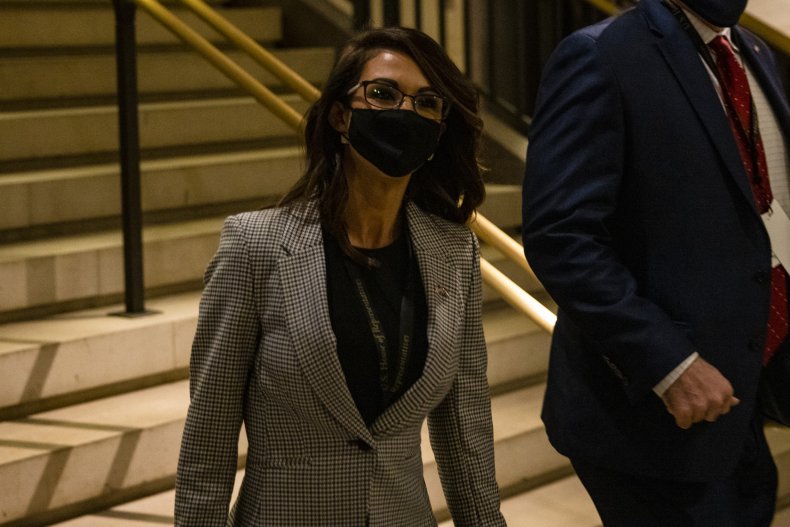 "I have never given a tour of the U.S. Capitol to any outside group," she said, adding that she brought her family to the Capitol on January 2nd for a tour and on the 3rd for pictures to commemorate the day she was sworn in as a Member of the U.S. Congress.
"I do not support unlawful acts of violence and support the rule of law," she said, adding, "Your false statements are extraordinarily irresponsible during this period in time."
"You went on CNN today and repeated irresponsible lies in order to elevate your own political relevance and to further fuel the division of our country. Your actions are irresponsible and dangerous," her letter said.
Last week, President Donald Trump was impeached by the House of Representatives for inciting the riots.
Some Democratic members have suggested that those involved in the unrest were given tours of the Capitol complex before January 6. Without naming anyone, Rep. Sean Patrick Maloney (D-NY) told MSNBC that GOP lawmakers gave tours to insurrectionists. Capitol Police and the FBI have not confirmed if they are investigating such claims, according to CNN.
Newsweek has contacted Capitol Police and Cohen's office for comment.
The graphic below, provided by Statista, shows how Americans feel about the use of violence to further political goals.