Lauren Boebert Takes on Biden at CPAC, Says GOP 'Don't Want Your Benefits' and 'Welfare'
Colorado Rep. Lauren Boebert took on President Joe Biden's coronavirus pandemic policies at the Conservative Political Action Conference (CPAC) in Dallas, Texas on Saturday.
"We're here to tell the government we don't want your benefits, we don't want your welfare. Don't come knocking on my door with your Fauci ouchi, you leave us the hell alone," Boebert told the CPAC crowd.
In March, Congress passed Biden's $1.9 trillion American Rescue Plan, which provided $300 weekly enhanced unemployment benefits until September 6 and an extension to the CARES Act's Pandemic Unemployment Assistance and Pandemic Emergency Unemployment Compensation.
But at least 17 Republican governors—including West Virginia's Jim Justice, Arizona's Doug Ducey and South Carolina's Henry McMaster—have announced that those benefits will be ending early in their states to encourage people to return to work.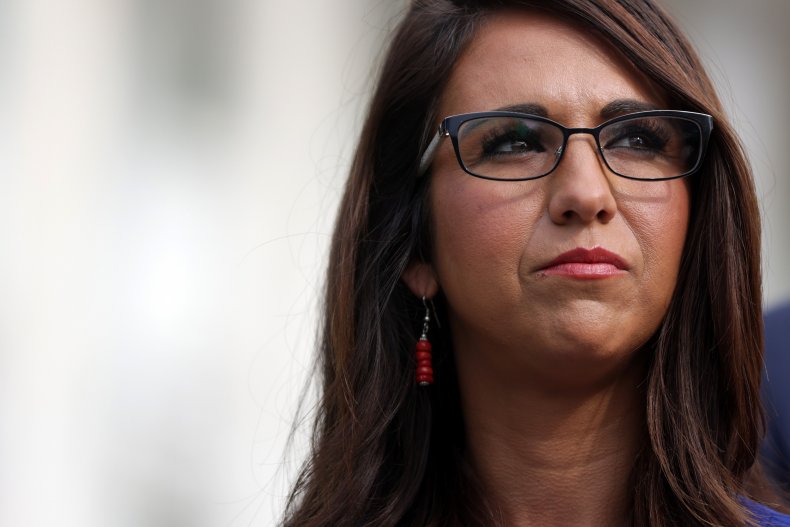 The Colorado lawmaker also accused Democrats of using coronavirus lockdowns to keep Republicans from gathering.
"We've been living under tyrannical rule that wants to keep us separated. Keep us isolated. Keep us locked down and muzzle our children," she said. "That is not the American dream and we are fighting to expose their agenda and make sure we have these God given rights that's guaranteed to us not by corrupt politicians but by God almighty."
Boebert, a staunch opponent to pandemic restrictions, courted controversy on Thursday by comparing Biden's "surge response teams" to the dictatorial tactics of Hitler's Germany.
"Biden has deployed his needle Nazis to Mesa County. The people of my district are more than smart enough to make their own decisions about the experimental vaccine and don't need coercion by federal agents," she tweeted. "Did I wake up in Communist China?"
Her remarks came after the Biden administration fell short of his goal to have 70 percent of Americans vaccinated with at least one shot by the Fourth of July. As the more-virulent Delta variant continues to threaten progress in overcoming the pandemic, recent polls have shown a strong resistance among Republicans to the coronavirus vaccine.
Utah's Republican Governor, Spencer Cox, partly blamed partisanship for his state's below-average vaccination rate.
"Politics is becoming sport and entertainment in our country. That everything is political. It is a huge mistake, and it's caused us to make bad decisions during this pandemic and in other phases of our life as well. It is deeply troubling," he told CBS' Face the Nation last Sunday.
Newsweek reached out to the White House for comment. This story will be updated with any response.