GOP Representative Lauren Boebert has vowed to tweet "even more" about "groomers" after a report found that her Twitter account was the third most influential in the U.S. at spreading "the hateful groomer narrative."
The report, jointly produced by the Center for Countering Digital Hate and the Human Rights Campaign, was written as a response to "a growing wave of violence, hate and demonization targeting LGBTQ+ people in the United States." It focuses on "the false and baseless lie that LGBTQ+ people 'groom' children," which the authors said had "driven offline hate crimes."
The report listed the top 10 Twitter accounts that have promoted the "groomer narrative," with Boebert, a Colorado Republican, in third place. Her "top 50 most-viewed hateful tweets" were judged to have reached 7 million people.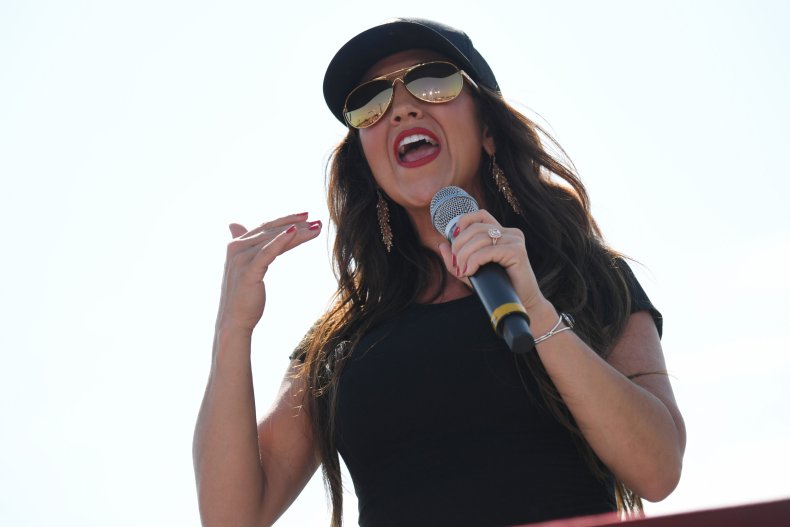 This put her behind only fellow House Republican Marjorie Taylor Greene and writer James Lindsay, who were estimated to have reached 17,954,000 and 11,792,000 people, respectively.
Earlier this month Lindsay, who rose to fame by getting hoax papers mocking the social justice movement published in peer-reviewed journals, had his Twitter account permanently suspended.
A screenshot of the list was posted by the controversial Libs of TikTok account, which came in fourth with 2,695,000 views. It tweeted: "Cool they made a handy chart for some of the best accounts on Twitter who speak out against child abuse."
Boebert retweeted the Libs of TikTok post and said, "My tweets about groomers are only third? Guess that means I have to tweet about these sick, demented groomers even more."
The post received more than 7,800 likes and 1,500 retweets. It also sparked a backlash, with other social media users posting news stories about alleged child abuse in Christian communities or about Jayson Boebert, Lauren's husband, who was arrested in 2004 for exposing himself to two women in a bowling alley and sentenced to four days in jail.
Jayson pleaded guilty in the case, but in Lauren's recently published memoir, My American Life, she said that he only "acted like he was going to unzip his pants" after a 17-year-old girl asked to see a "private" tattoo.
Between January and July, the new report found there was a 406 percent increase in tweets "containing slurs like 'groomers' or 'pedophiles' in the context of conversations about LGBTQ+ people."
It went on to explicitly link this rhetoric to real-world hate crimes, saying that a drag queen in the San Francisco Bay Area was attacked by the Proud Boys this June, with the far-right group's members using the same hateful slurs identified in the report.
"This abuse, like the attempted white supremacist attack on a Pride parade in Idaho and incidents involving Neo-Nazis in Florida, did not happen in isolation: extremist rhetoric and attacks against LGBTQ+ people have ramped up online and offline in recent months," the report said.
On Friday, Boebert had her microphone cut on the House floor after she was told five times to stop speaking after her time had elapsed. During her speech, she attacked the Democrats' recently passed Inflation Reduction Act, a massive climate, health care and tax bill that she called "insane."
Newsweek reached out to Boebert for comment.