Lauren Boebert's Apology to Omar Makes No Mention of 'Chest Feed' Remark Aimed at Buttigieg
Republican Colorado Representative Lauren Boebert has apologized for implying that Muslim Democratic Minnesota Representative Ilhan Omar is a terrorist. However, she hasn't apologized for her comment earlier this month that Secretary of Transportation Pete Buttigieg, who is gay, took paternity leave to try to "chest feed" his children.
On Friday, Boebert apologized to the Muslim community via Twitter after video circulated of her referring to Omar as part of "the Jihad Squad."
"I apologize to anyone in the Muslim community I offended with my comment about Rep Omar," Boebert wrote. She said her office had reached out to Omar's office to speak to her directly.
In the offending video, Boebert again used the "Jihad Squad" slur while sharing a story that a Capitol police officer seemed concerned as the two of them shared an elevator with Omar, but shouldn't have fretted because Omar wasn't carrying "a backpack."
Boebert's tweet marked one of the few times that she has ever apologized for insulting a Democratic official. She offered no such apology earlier this month after mocking Buttigieg for taking "maternity leave" to "figure out how to chest feed" his children.
In an early November video on her YouTube channel, Boebert criticized Buttigieg for taking paid parental leave amidst the ongoing supply chain crisis, which has been exacerbated by bottlenecks caused by a lack of workers at transportation centers.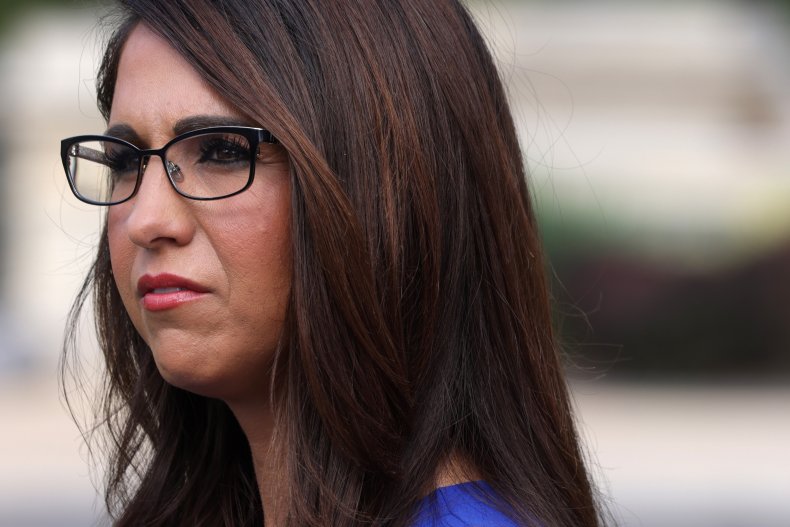 "The guy in charge of it all, Mayor Pete, was on a two-month—maternity, paternity, whatever the heck you want to call it—leave. Okay? The guy was gone. The guy was not working. Because, why?" Boebert asked in the video. "He was trying to figure out how to chest feed."
She also claimed that Buttigieg and his husband were "producing an R-rated movie" while she showed video of the fully clothed couple touching pinkies. The footage came from Mayor Pete, an Amazon documentary, which is rated-R for language.
Boebert's comment echoed a similar one made by Fox News host Tucker Carlson, who had said that Buttigieg and his husband were "trying to figure out how to breastfeed."
Buttigieg himself and other criticized the comments as homophobic and demeaning of the 228,000 same-sex couples raising children in the U.S., as estimated by the Williams Institute.
Buttigieg responded by saying that he had been caring for his children "at all hours of the day and night."
"I am not going to apologize to Tucker Carlson or anyone else for taking care of our premature, newborn infant twins," Buttigieg said on the MSNBC program Deadline: White House.
Newsweek contacted Boebert's office for comment.
Regarding Boebert's Islamophobic comments, Omar said that Boebert made up the entire story about a Capitol police officer suspecting her of terrorism. Omar referred to Boebert as "bigoted" and a "buffoon."
"Saying I am a suicide bomber is no laughing matter," Omar wrote in a Friday Tweet about Boebert's comments. "Normalizing this bigotry not only endangers my life but the lives of all Muslims."
Omar also called on Democratic House Speaker Nancy Pelosi and Republican House Minority Leader Kevin McCarthy to "take appropriate action" against Boebert. Commentators and Muslim advocates have also called for Boebert to face censure for her remarks.