Colorado Representative Lauren Boebert's past Twitter activity became subject to recent scrutiny on social media, as public calls for an investigation into her role in the Capitol assault continued to grow.
The Republican congresswoman, who was elected to represent Colorado during November's general election, began her first term in the U.S. House earlier this month. Alongside other elected officials who publicized baseless voter fraud claims ahead of the January 6 attack, Boebert is now facing widespread criticism over the ways in which her actions precipitated the siege.
Boebert's tweet history illuminates a pattern of inflammatory rhetoric.
The congresswoman's deleted tweets, of which there are hundreds dating back roughly six months, primarily consist of posts advocating for Second Amendment preservation—a pillar of Boebert's campaign and political platform—and backing Donald Trump's discredited claims related to election fraud.
Several additionally show her opposition to ongoing COVID-19 mitigation measures in place to reduce the country's worsening virus outbreak.
While Congress held joint sessions to certify President-elect Joe Biden's electoral victory on the first Wednesday of this month, a mob of Trump's supporters stormed the Capitol complex in a violent riot that resulted in five deaths and numerous injuries. One of the individuals who died was a Capitol police officer.
Rioters staged the assault as an act of protest against the presidential election's outcome, which Trump and his followers consistently claimed was illegitimate, despite no evidence to support their allegations. The House impeached Trump for inciting the insurrection last week, with 10 Republican representatives voting in favor of his forced departure from office. Boebert was not one of them. Politicians and members of the public additionally urged lawmakers who backed the sitting president's unfounded election fraud claims to resign from their positions.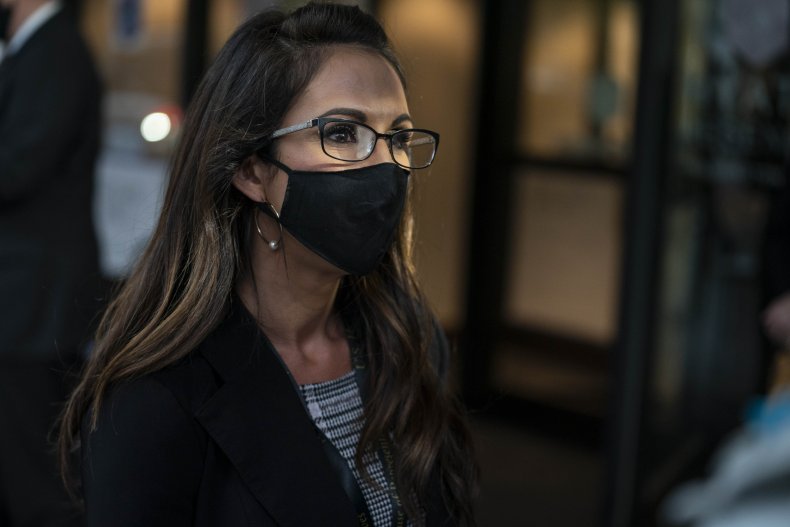 Boebert continued to promote Trump's unsubstantiated allegations about manipulated election results after the Capitol riot. On January 13, Boebert posted that her Twitter account was shut down, following a tweet she sent a few days prior in which she alleged election fraud.
She responded: "They do this to thousands of conservatives every single day. When the press reported the ban, it was lifted. What about the thousands of Americans who have been banned and are never heard from again?"
Twitter later told Newsweek the suspension was a mistake, as a spokesperson for the company said: "In this instance, our teams took the incorrect enforcement action. The Tweet in question is now labeled in accordance with our Civic Integrity Policy. The Tweet will not be required to be removed and the account will not be temporarily locked."
Recently, 68 elected officials in Colorado formally requested an investigation into Boebert's conduct prior to, and during, the Capitol attack in a letter to Pelosi last week. Some have accused Boebert of disclosing the movement of Democratic House Speaker Nancy Pelosi via Twitter as the riot was happening, a potential security issue.
On the day of the riot she also tweeted "Today is 1776," referring to the year of the American Revolution. That was seen by many as hinting at the need for revolution following what Trump supporters viewed as a stolen election.
Boebert's communications director, Ben Goldey, resigned Saturday from the role he had held for just a couple of weeks.
Newsweek reached out to Boebert's office for comment, but did not receive a reply in time for publication.