'Protect Our Children': 'Lavagirl' Taylor Dooley Joins Anti-Disney Protest
The Adventures of Sharkboy and Lavagirl star Taylor Dooley joined an anti-Disney protest in California to "protect our children," amid the company's support for the LGBTQ+ community.
Dooley, who starred in Netflix's most-watched film of 2021 We Can Be Heroes, shared a series of posts on Instagram that revealed she joined the rally outside Disney's headquarters in Burbank on Wednesday.
Rally organizer Sean Feucht told Fox News on Wednesday he believed Disney had "been hijacked by a bunch of woke, crazy people."
Dooley shared several posts where she encouraged others to join her at the rally and posted videos and photos of the small crowds who had gathered outside the Disney HQ.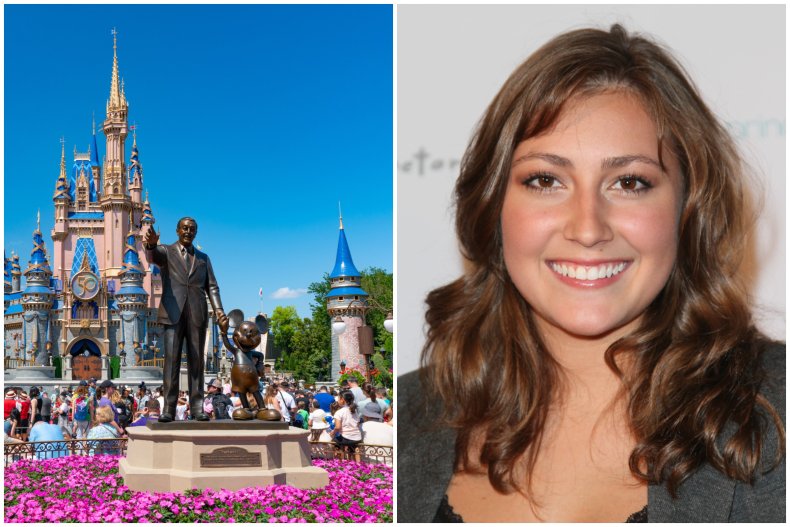 In one post, Dooley said: "Come join me in Burbank. Let's protect our children. Let's protect the next generation. In Jesus' mighty name, it's time to stand up for what is right…it's time to take back the family."
Another post included Feucht's Instagram account handle with the caption: "We are not going to be silent anymore."
Dooley also replied "yes" to one of Feucht's posts that read: "The sexualization and indoctrination of 4-year-old children should be a line in the sand for every sane person. You don't wanna be on the wrong side of this issue."
Videos taken at the protest showed hundreds of people had gathered outside with several holding signs that berated Disney over their stance to support the LGBTQ+ community.
Taylor has been linked with support for conservative movements in the past. In 2020, The Daily Dot reported Dooley had liked QAnon-related, pro-Donald Trump and Back The Blue tweets.
However, she has also actively supported the Black Lives Matter following the 2020 murder of George Floyd.
Newsweek has contacted Dooley and Disney for comment.
Republicans and conservatives have attacked Disney after the company shared concerns over Florida's "Parental Rights in Education" bill, also known as the "Don't Say Gay" bill.
Florida Governor Ron DeSantis signed the bill into law on Monday. It will prevent discussion of gender identity and sexual orientation among the state's youngest students.
The move led Disney to release a statement in opposition to the bill and called for it to be "struck down."
In a March 28 statement shared on its website, Disney said: "Florida's HB 1557, also known as the 'don't say gay' bill should never have passed and should never have been signed into law.
"Our goal as a company is for this law to be repealed by the legislature or struck down in the courts and we remain committed to supporting the national and state organizations working to achieve that.
"We are dedicated to standing up for the rights and safety of LGBTQ+ members of the Disney family as well as the LGBTQ+ community in Florida and across the country."
Several prominent Republicans have since threatened not to support Disney's upcoming efforts to renew the copyright on the original depiction Micky Mouse character and stop it from entering the public domain in January 2024.