The closure of slaughterhouses due to the novel coronavirus has created a need for-ever increasing numbers of pigs to be cleared from facilities quickly, leading to concerns from a group of Democrat lawmakers whether depopulation methods will be carried out humanely.
The pork industry is reeling after around a quarter of its production went offline when Smithfield Foods and Tyson Foods, among other companies, suspended operations due to sick workforces. The closures have caused huge back-ups in hog counts and farmers having to make tough choices on how to deal with the huge numbers of incoming animals.
The National Pork Producers Council (NPPC) says constrained harvest capacity poses a challenge for the industry, with pigs at every stage of the production cycle having nowhere to go. Overcrowding impacts the pigs' ability to rest comfortably and can cause injuries, so farmers have to kill the animals to prevent suffering.
Representative Lloyd Doggett (D-TX), chair of the House Ways and Means Health Subcommittee, has written a letter, signed by 21 other Democrat lawmakers, to the Department of Agriculture (USDA) raising concerns about how the animals are disposed of.
It cited NPPC figures suggesting a lack of processing could mean the industry would have to cull 700,000 pigs a week. The letter also raised concerns about the depopulation of poultry.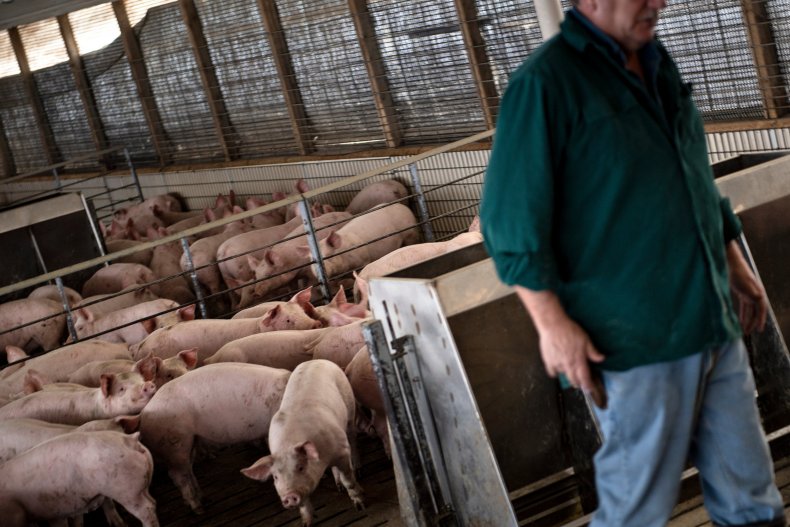 It said: "While remaining acutely focused on the safety of meat processing industry workers, I am also alarmed by the use of heat exposure, mass suffocation, and drowning, which cause animals unnecessary suffering.
"If depopulation of these farm animals is necessary, the USDA should act promptly to prevent the use of these most inhumane methods. When executed with heat, ventilation shutdown for poultry and pigs causes animals to die by hyperthermia. "
"However, ventilation systems often fail, instead causing animals to slowly die from suffocation caused by the high levels of carbon dioxide and other gases that quickly accumulate in the barns," the letter said, calling the process, if it is drawn out, "inhumane, distressing, and painful."
NPPC's chief veterinarian, Dr. Liz Wagstrom, said that depopulation was a last resort and the methods followed American Veterinary Medical Association (AVMA) guidelines, whose aim, she said, was to ensure "a quick and painless demise of that animal."
"I understand there is a lot of concern about what is termed 'suffocation.' That is not a preferred method. I don't know of any producers considering it as their first option," she told Newsweek, adding that it was only used "when there are constraints preventing the use of other methods."
"It is a tragedy, it's a waste of that animal's life when it was being raised to produce food and so that we don't want to amplify that tragedy by disposing of them, or euthanizing them, in an inhumane manner."
The NPPC is seeking additional federal funds for the depopulation and disposal of the hogs, as well as more compensation for the animals they have to euthanize, which it says is critical for pork producers facing financial crisis.
"We have really tried to bring a lot of resources to bear so that it is not just a farmer having to address this by themselves and do whatever they can do as a single person. We are trying to work as an industry together," Dr. Wagstrom added.
Dena Jones, farm animal program director for the Animal Welfare Institute (AWI), says closed slaughter plants could be used to ensure the humane disposal of animals.
"If humane euthanasia methods cannot be employed on the farm, we recommend transporting the animals to the closest closed slaughter plant and using a small number of workers that are equipped with proper protective gear under humane slaughter conditions," she told Newsweek.
The USDA announced a coronavirus relief package last month including $3 billion in planned agricultural product purchases and $1.6 billion in direct payments to hog farmers.
In a statement to Newsweek, a USDA spokesperson said that its incident coordination center was available to advise state veterinarians and producers.
"While USDA is not directly responsible for the depopulation of these animals, the department has always held the health and safety of employees and humane treatment of animals as top priorities and strongly supports producers following AVMA guidelines," the statement said.
While not happy with the level of compensation, the NPPC is seeking additional federal funds for the depopulation and disposal of the hogs, as well as more compensation for the animals they have to euthanize. It has also wants more help from the USDA to coordinate a response with pork producers.
Meanwhile, pork producers have welcomed the move by President Donald Trump to invoke the Defense Production Act which deems slaughterhouses critical infrastructure that must stay operating.
Measures to mitigate the coronavirus, such as social distancing measures, are likely to mean that the slaughterhouses will not be operating at the capacity they were beforehand, and producers, in turn, will have to breed fewer animals and right-size their herds.
Pat McGonegle, CEO of the Iowa Pork Producers Association, told Newsweek the coronavirus had caused his members "significant disruption in their ability to market pigs in a timely fashion" and that many "are making some very difficult decisions."
"It's a very positive step forward to start to move forward to get plants opened up. The sidebar to that is we can't do it in a way that risks the health or safety of the food worker. The processing companies are doing everything they can to make it more safe for the workers," McGonegle told Newsweek.
The infographic below, provided by Statista, shows the states with the most COVID-19 cases throughout the U.S. as of May 5.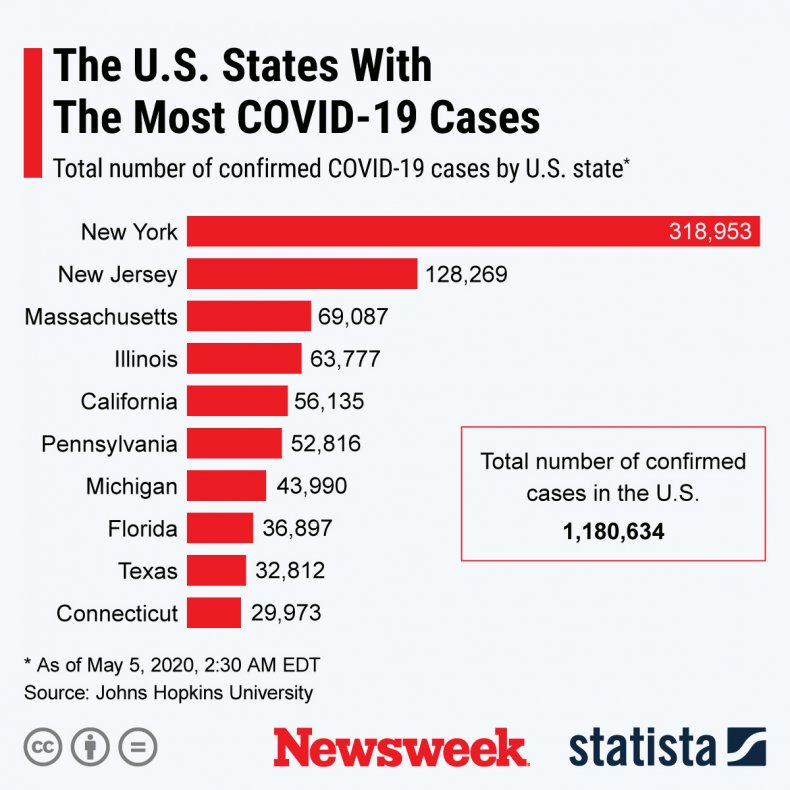 This story has been updated to include a statement to Newsweek from the USDA.