Lawsuit Alleging Election Integrity Group Violated KKK Act Advances
A federal judge has cleared the way for a lawsuit accusing a Colorado-based group of waging a door-to-door voter intimidation campaign by sending armed "agents" to people's homes to accuse them of fraudulently casting ballots.
U.S. District Judge Philip A. Brimmer late last month dismissed a motion from lawyers for U.S. Election Integrity Plan (USEIP) to dismiss the lawsuit brought against it by three voting rights groups. The lawsuit alleges that USEIP's attempts to sniff out votes it believes were cast illegally ran afoul of federal voting rights protections. The legal battle is one of many playing out nationally following claims of widespread voter fraud in the 2020 election.
The Colorado Montana Wyoming State Area Conference of the NAACP, the League of Women Voters of Colorado and Mi Familia Vota brought the lawsuit in March against USEIP, alleging the group violated the Voting Rights Act and the Ku Klux Klan Act.
Following the 2020 election, people affiliated with USEIP showed up on Colorado residents' doorsteps wearing badges and identified themselves with official-sounding groups, such as the "Voter Integrity Committee," according to the lawsuit.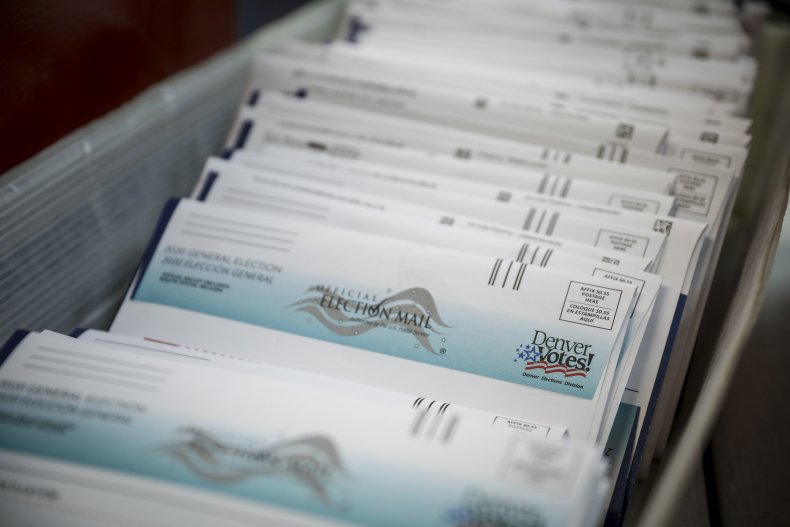 The lawsuit states that USEIP has encouraged gun-carrying members to accompany unarmed agents. Agents with the group have asked residents about their address, participation in the 2020 election, method of voting and if they cast a fraudulent ballot, according to the lawsuit.
"By planning to, threatening to, and actually deploying armed agents to knock on doors throughout the state of Colorado, USEIP is engaging in voter intimidation," reads the filing. "USEIP's actions not only intimidate voters who cast ballots in the November 2020 election, but also intimidate future eligible voters, dissuading both groups from exercising their constitutional right to vote."
Scott Reisch, attorney for USEIP, told Newsweek that although the judge hasn't dismissed the lawsuit his side has scored significant wins.
Earlier in April, the judge denied a motion from the three voting rights groups for a temporary restraining order preventing USEIP from going to voters' homes. The judge determined that the groups had based their arguments on months-old articles published in the Colorado Times Recorder that didn't prove there was any imminent harm.
"When all is said and done, our clients are going to prevail," Reisch. "They have done nothing wrong."
The three voting rights groups on Thursday withdrew their motion for a preliminary injunction. Last week, the judge also denied the three groups' motion for expedited discovery, which would compel USEIP to hand over internal documents.
USEIP details on its website what it says are efforts by Colorado election officials to cover up irregularities in the 2020 election. A report on the group's website states that it canvassed four Colorado counties in 2021. It concluded that between 5 percent and 8 percent of voters in those counties were "affected by unexplained irregularities in Colorado's voter rolls and voting records."
Colorado Secretary of State Jena Griswold has insisted the 2020 election was secure. Jason Dunn, Colorado's U.S. attorney appointed by former President Donald Trump, is also confident the election was secure.
"For anyone to claim there was any question about the results in Colorado is really not being honest with the public," he told The Colorado Sun last year.
Portia Prescott, president of the regional NAACP, wrote in a declaration that the canvassing was "extremely threatening to Black Coloradans," given America's long history of racial discrimination.
The three voting rights groups have asked for a restraining order against USEIP.
The lawyer representing USEIP moved to have the lawsuit dismissed, arguing that the groups didn't have legal standing and could not prove harm had been inflicted. The groups argued that they had to divert resources away from their missions to respond to USEIP's actions.
However, the judge ruled the groups have standing to advance their suit.
Updated 05/12/2022, 5:50 p.m. ET: This story has been updated with comments from attorney Scott Reisch and additional information.