County Clerks Facing Death Threats Amid Push for 'Sham' Election Audits, Says Colorado SOS
Some county clerks in Colorado have received death threats as supporters of former President Donald Trump call for election audits, according to the secretary of state there.
President Joe Biden handily won Colorado over former President Donald Trump by a double-digit margin of more than 13 points. But Trump supporters in the western state appear to have been misled by the former president's baseless claims that the 2020 election was "rigged" or "stolen" by Democrats—leading some to demand audits and recounts.
"Some clerks are getting death threats," Colorado's Secretary of State Jena Griswold, a Democrat, told The Colorado Sun newspaper for an article published Friday. "Some counties are being called to do these third-party, unsecure sham audits."
Griswold adopted an emergency rule this week limiting access to voting equipment in Colorado to officials who have passed background checks. In addition to passing a background check, the new rule only allows employees of a county's elections office, the secretary of state's office or a voting system vendor to access the equipment, as well as appointed election judges.
The rule came as conservative groups are pushing for audits in the state and across the country.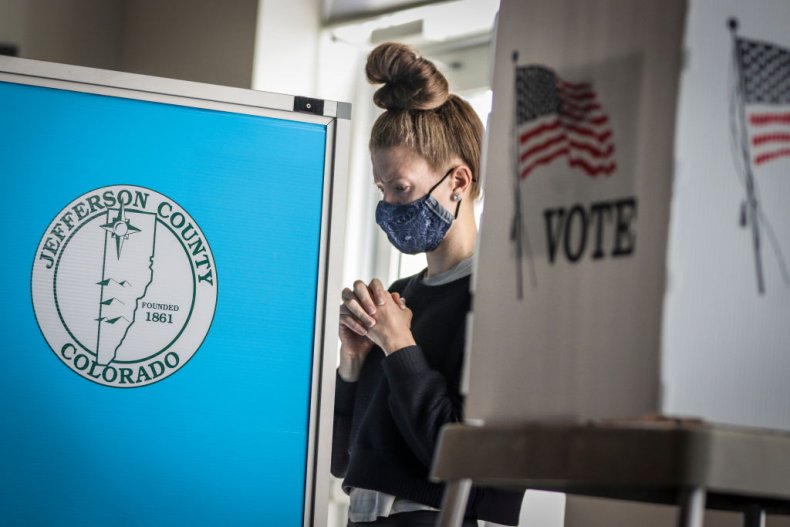 "We know that here in Colorado and across the country there are groups reaching out to local election jurisdictions, bypassing the state level, trying to solicit audits," Matt Crane, executive director of the Colorado County Clerks Association, told the Sun. "There's a lot of disinformation out there. A lot of people unfortunately believe that and they act on it."
Trump and key supporters such as MyPillow CEO Mike Lindell and attorney Sidney Powell continue to promote baseless conspiracy theories about the 2020 election. These often bizarre allegations have been thoroughly litigated and discredited. Dozens of election challenge lawsuits filed by the former president and his supporters have failed in state and federal courts, with judges appointed by Trump and other Republicans rejecting the claims.
Audits and hand recounts in key battleground states—including in places where Republicans who voted for Trump oversaw the election—have reaffirmed Biden's November victory. Former U.S. Attorney General William Barr, who was widely viewed as one of Trump's most effective Cabinet officials, said in December that there was "no evidence" of widespread fraud that would change the election's outcome.
Additionally, the Cybersecurity and Infrastructure Security Agency at the Department of Homeland Security described the 2020 election as the "most secure in American history."
Griswold pointed out in an interview with MSNBC that Colorado already conducted an audit, asserting that the western state's elections are exceptionally secure.
"Here in Colorado we are considered the safest state in which to cast a ballot, in no small part because we already do a risk-limiting audit. That's the premiere type of election audit. It was already conducted on the 2020 election. What that audit shows us in a secure way is that the election results are correct," she explained.
Trump's lies about the 2020 election have resonated with a majority of Republican voters. Polling by Reuters and Ipsos in May found that only 25 percent of GOP voters view the 2020 election as "legitimate and accurate." Meanwhile, 56 percent of Republican voters said Biden's victory was the result of "illegal voting or election rigging."
Newsweek reached out to Griswold's office for further comment.