Mike Lindell Cites 'Divine Appointments,' Prophet's Words to Explain Affinity for Trump
MyPillow CEO Mike Lindell believes his connection to former President Donald Trump came through "divine appointments," suggesting that he is on a mission supported by God to overturn the 2020 election results.
The staunch Trump loyalist and conspiracy theorist, has spent the past several months releasing videos touting debunked claims and baseless allegations about President Joe Biden's victory over Trump in November. Lindell has traveled across the country speaking at pro-Trump events, claiming he has evidence to support his claims.
During a Friday speech at the Health and Freedom Conference in Tampa, Florida, the controversial businessman touted the "divine" manner he was introduced to the former president.
"Divine things started happening to me ... I was picked out of 12 people to pray with [former 2016 Republican presidential candidate and Trump's former Secretary of Housing and Urban Development] Ben Carson in a room at the National Prayer Breakfast," Lindell explained.
He remarked that "this one prophet guy, he said, 'A couple of you in this room are going to become great friends and change—and help change the course of history.'"
Lindell said that this took place when Carson was still running for president. "Anyway, these divine appointments kept happening all the way up to where I met Donald Trump in the summer of 2016." The audience began to cheer when the MyPillow CEO made this remark.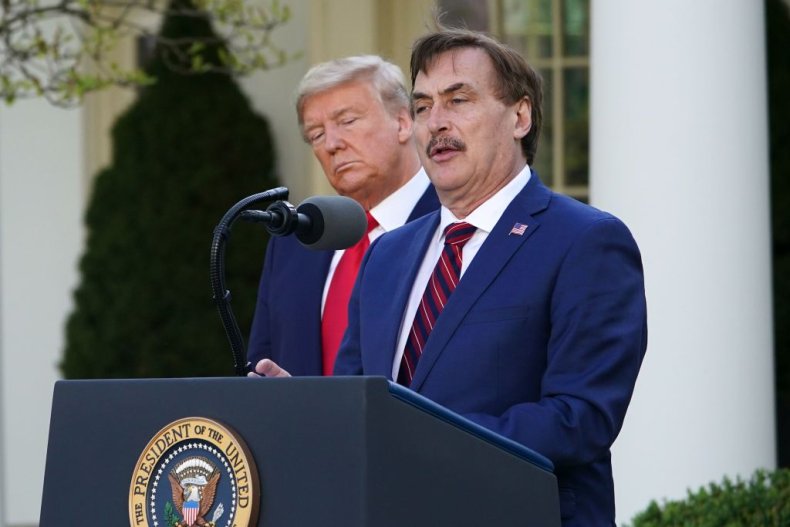 Jumping ahead in his story, Lindell said that he had a "divine appointment" on August 15, 2016 when he met Trump one-on-one. "It was just him and I," the businessman recalled.
He said he left the meeting believing Trump would be "the greatest president in history." The audience then cheered loudly.
During the Friday event, Lindell again claimed that he has evidence of how votes were flipped during the 2020 election—a claim that has already been debunked by audits and hand recounts in key battleground states. The Trump loyalist said that he plans to hold a "cyber symposium" in late July that will clearly show how the election was rigged. He asserted that the Supreme Court would then overturn the election in a unanimous decision and that Trump "will be in office by this fall."
Although Trump, Lindell and other supporters of the former president continue to claim that the 2020 election was "rigged" or "stolen," there is no evidence to corroborate this extraordinary allegation. Dozens of election challenge lawsuits filed by Trump and his allies failed in state and federal courts. Even judges appointed by Trump and other Republicans rejected the often bizarre allegations.
Meanwhile, audits and recounts in battleground states—including in places where the election was overseen by pro-Trump Republicans—have reaffirmed Biden's win. Former U.S. Attorney General William Barr, who was widely viewed as one of Trump's most loyal Cabinet officials, said in December that there was "no evidence" to corroborate the claims of widespread fraud.
Additionally, the Cybersecurity and Infrastructure Security Agency at the Department of Homeland Security described the 2020 election as "the most secure in American history."
But Lindell, as well as pro-Trump attorney Sidney Powell, continues to claim the election was stolen, suggesting falsely that Trump can simply be "reinstated" as president. According to The New York Times, Trump has told associates that he believes he could be reinstated later this year. This is not legally possible and the claims of widespread fraud are baseless.
Conservative evangelical Christians—like Lindell—were a key base of support for Trump. Exit polls from the 2016 and 2020 elections showed that approximately 8 in 10 white evangelical Christians voted in favor of the former president. Numerous self-described Christian "prophets" continue to promote groundless conspiracy theories about the 2020 election—with many suggesting that Trump will somehow return to power later this year.
Newsweek reached out to Trump's press office for comment, but did not immediately receive a response.