MyPillow CEO Mike Lindell said that he's "hopeful" that baseless speculation that Trump could be "reinstated" in August is "correct."
Lindell, a staunch supporter of Trump, has been a key promoter of the former president's baseless conspiracy theories about the 2020 election. The conservative businessman suggested to The Daily Beast in an interview on Wednesday that he "probably" inspired Trump to tout an August deadline for him to return to the White House, despite there being no realistic possibility of this happening.
"If Trump is saying August, that is probably because he heard me say it publicly," Lindell told The Daily Beast
"It is my hope that Donald Trump is reinstated, after all the proof comes out, by the end of August, but I don't know if it'll be that month, specifically," Lindell said. "That was my estimation. I spoke about it with my lawyers who said that they should have something ready for us to bring before the U.S. Supreme Court by July. So, in my mind, I hope that means that we could have Donald Trump back in the White House by August. That's how I landed on August, and I'm hopeful that that is correct."
The prominent conspiracy theorist's remarks came after journalist Maggie Haberman of The New York Times reported this week that Trump has been telling confidants that "he expects he will get reinstated by August." Lindell first made the baseless prediction about an August reinstatement in March on former Trump adviser Steve Bannon's podcast. "Donald Trump will be back in office in August," Lindell proclaimed at the time. However, he told The Daily Beast on Wednesday that this timeline was "subjective."
Other prominent Trump loyalists—such as attorney Sidney Powell and retired General Michael Flynn—continue to push groundless conspiracy theories about the 2020 election as well. During a conference in Dallas last weekend, Powell—who filed multiple unsuccessful election lawsuits in favor of Trump—said Trump could "simply be reinstated." The assessment is false and not possible.
During the same conference, Flynn voiced his support for a violent military coup to overthrow the U.S. government. The former Trump administration official, who was pardoned by the former president after he pleaded guilty to lying to the FBI, was asked by an attendee: "I want to know why what happened in Myanmar can't happen here?"
Flynn responded quickly, saying: "No reason. I mean, it should happen here." Myanmar's military carried out a violent coup in February, resulting in the deaths of at least 800 civilians. The Asian nation's civilian leaders have been detained and the military has cracked down violently on demonstrators. Flynn has claimed that his remarks about the coup have been misrepresented by the media.
Despite Trump's and his supporters' continued claims that the 2020 election was "rigged" or "stolen" by President Joe Biden and the Democrats, they have not provided evidence to substantiate the extraordinary allegation. On the contrary, dozens of election challenges filed by Trump and his allies have been unsuccessful in state and federal courts. Even judges appointed by Trump and other Republicans have rejected the often bizarre claims.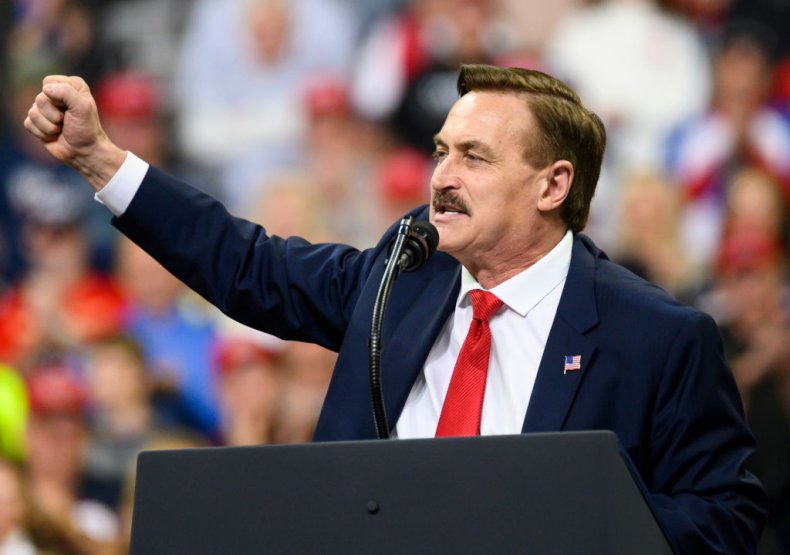 Multiple audits and recounts in key battleground states—including in states where the election was overseen by pro-Trump Republicans—have reaffirmed Biden's victory. Furthermore, former Attorney General William Barr, who was widely viewed as one of Trump's most loyal and effective Cabinet members, said in December that there was "no evidence" of fraud that would change the election's outcome.
Following the election, the Cybersecurity and Infrastructure Security Agency at the Department of Homeland Security, which was led by a Trump appointee at the time, asserted that there was "no evidence that any voting system deleted or lost votes, changed votes, or was in any way compromised."
Meanwhile, polling has shown that a significant majority of Republicans appear to believe Trump's and his allies' conspiracy theories about the election. A May poll by Quinnipiac showed that two-thirds (66 percent) of GOP voters do not believe Biden legitimately won the election. Another survey released by Reuters and Ipsos last month showed that 53 percent of Republicans believe Trump is still the rightful president.
Newsweek reached out to Trump's office for comment but did not immediately receive a response.