MyPillow CEO Mike Lindell Signs QAnon Quilt That Sold for Thousands at 'Patriot' Conference
MyPillow CEO Mike Lindell signed a QAnon quilt that sold for thousands of dollars in an auction at the For God & Country Patriot Roundup, a three-day QAnon-themed conference held during the Memorial Day holiday weekend in Dallas, Texas.
Lindell signed the quilt along with Lin Wood, a conspiracy theorist and lawyer who is supportive of Republican former President Donald Trump. The quilt was also signed by Michael Flynn, Trump's former national security adviser pardoned by Trump for lying to the FBI.
The item was sold along with hundreds of other items, including artwork of the modern-day Republicans repainted as the country's 18th-century founders, a red stuffed elephant toy and a box of toffee candies labeled "Armadillo Poo."
Lindell didn't attend the three-day conference, which reportedly cost $500 and more to attend. Though the event's organizer, John Sabal, claimed that it was not a QAnon conference, the event's cowboy hat logo included the initialism "WWG1WGA" a QAnon slogan that stands for "Where we go one, we go all."
Lindell rose to prominence among QAnon believers for repeatedly making public statements backing up Trump's baseless claim that an unprecedented nationwide conspiracy of voter fraud "stole" the 2020 election from the former president.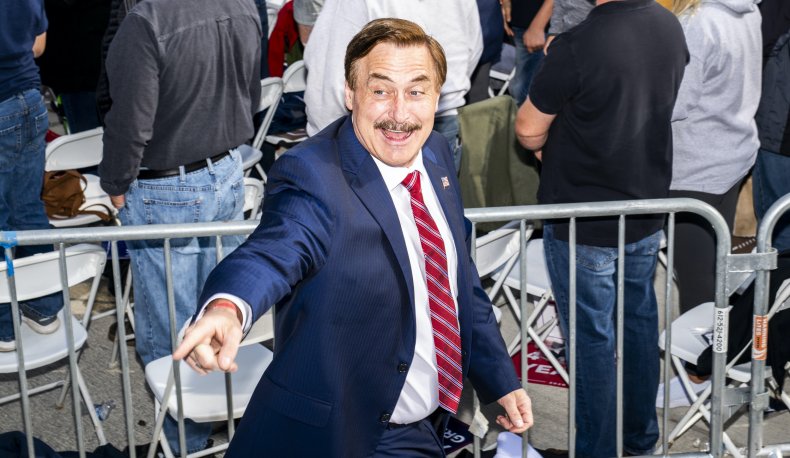 QAnon supporters believe that Trump is meant to uncover and destroy an international satanic and cannibalistic child sex trafficking ring that is run by liberal Hollywood elites and Democratic political leaders.
The conspiracy also believes that multiple "Deep State" federal agencies—with the assistance of the media and "Big Tech" social media companies—have repeatedly tried to stop Trump, including by helping "steal" the election from him.
Lindell claims that voting machines helped rig the election have compelled Dominion Voting Systems to sue him in a $1.3 billion defamation lawsuit. Lindell has countersued the company for $1.6 billion, claiming the company violated his Constitutional rights to free speech.
Late last week, Lindell announced a "deep investigation" of Georgia Governor Brian Kemp and Arizona Governor Doug Ducey. He blamed the Republican governors for his ejection from a Republican Governors Association (RGA) conference earlier in the week.
Before the RGA conference, Lindell said Kemp and Ducey might "be a little compromised," adding, "Maybe they're tied into the, I don't know, the corruption, the deep state, maybe China?"
At other points in the conference, former Trump campaign lawyer Sidney Powell claimed that Trump "can simply be reinstated" as president. During a Q&A, Flynn expressed support for a violent military coup to overthrow the U.S. government.
Flynn, Powell, Lindell and Wood have all echoed Trump's baseless claim about the "stolen" election and other views that align with QAnon beliefs. Trump lost the election by over seven million popular votes and 74 electoral votes. Trump has claimed that election fraud only occurred in the states that he lost.
At the QAnon conference, Republican Texas Rep. Louie Gohmert gave a speech on stage in front of the event's logo.
In his speech, Gohmert said that the January 6 insurrection, in which Trump supporters tried to stop Congress from certifying Democratic now-President Joe Biden's 2020 election win, was small when compared to the September 11, 2001 terrorist attacks and the 1941 attack at Pearl Harbor.
Later at the conference, Gohmert took a picture with Zak Paine, the host of QAnon show RedPill78 who admitted to participating in the January 6 insurrection.
Approximately 40 QAnon believers have been arrested for participating in the January 6 insurrection, according to a report from the Domestic Radicalization Project at the University of Maryland.
Newsweek contacted Lindell for comment.