Pastor Hank Kunneman, a self-described "prophet," claimed that former President Donald Trump has not yet been restored to the White House because God wants to make it look like the prophets are wrong.
Kunneman, and a number of other Christian leaders, predicted that Trump would win reelection in 2020. When that did not happen, they supported his baseless claims of widespread voter fraud—expecting him to take office in January. After that failed to materialize, many have said the former president will still be reinstated.
"People have been saying, 'Why is the Lord taking so long? Why are the prophets missing it?'" Kunneman, the senior pastor of the Lord of Hosts Church in Nebraska, said during a Thursday episode of The Elijah List online program. "No, listen to me. It's to make it look like the prophets miss it and for them to have petitions. And it's to expose, but it's to bring forth something at the exact time that will be part of the fulfillment of God." Right Wing Watch first reported the pastor's remarks.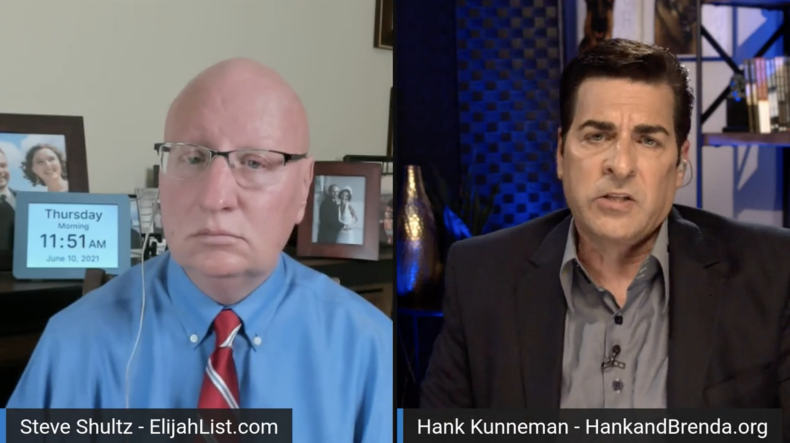 During the episode, Kunneman recounted a dream he claimed to have had on Nov. 4. In the dream, he said that President Joe Biden was declaring victory but then he saw what he believed to be the Devil. The pastor went on to say that God was working out the situation in his own time.
"This has been a game. And God's had enough of it. He's allowed it to play out but it's gonna be the season of fulfillment now," Kunneman said, predicting that there would be "a shift" on July 4.
Conservative Christians, and particularly white evangelicals, have long been supportive of Republicans and former President Donald Trump. In 2016 and again in 2020, white evangelicals voted overwhelmingly in favor of the former president. Exit polls showed that about eight in 10 voters from the religious demographic voted for Trump in both elections.
Like Trump, many Christian leaders continue to falsely claim that President Joe Biden won the 2020 election fraudulently. These allegations have been thoroughly litigated and wholly debunked. Dozens of election challenge lawsuits filed by Trump and his supporters have been dismissed in state and federal courts. Even judges appointed by Trump and other Republicans have rejected the allegations.
Audits and full recounts in key battleground states—including in places where the election was overseen by pro-Trump Republicans—have reaffirmed Biden's victory. Former Attorney General William Barr, who was widely viewed as one of Trump's most loyal cabinet members, said in December that there was "no evidence" of widespread fraud as Trump claimed.
The Cybersecurity and Infrastructure Security Agency at the Department of Homeland Security said after the election that it was the "most secure in American history." The agency explained that there was "no evidence that any voting system deleted or lost votes, changed votes, or was in any way compromised."
Regardless of these facts, many Christian pastors—like Kunneman—as well as conspiracy theorists such as MyPillow CEO Mike Lindell, attorney Sidney Powell and retired General Michael Flynn continue to promote groundless claims that the election was fraudulent. Powell and Lindell have claimed that Trump can be "reinstated," and The New York Times reported that Trump has told associates that he expects this to happen in August.
Newsweek reached out to Kunneman's church for further comment but did not immediately receive a response.