HUD Accused of Systematically Removing LGBT People From Homeless and Housing Decisions: Lawsuit
A lawsuit was filed against the U.S. Department of Housing and Urban Development (HUD) by activist groups who want to know why the agency removed a guide from its website involving the LGBT community.
People For the American Way and Right Wing Watch, which filed the suit, claim that Trump administration officials are directing federal agencies to undermine policies and efforts to protect LGBT Americans. The suit aims to find documents that secure those claims.
In 2017, HUD removed a guidebook from its website which provided training on how to provide transgender people equal access in homeless shelters. After President Donald Trump was inaugurated, the department also canceled a survey of pilot programs to reduce LGBT homelessness in two cities and dissociated itself from a study on LGBT housing discrimination.
"Our assumption was that this was directed in some way by some political folks," Elliot Mincberg, a senior fellow at People for the American Way, said of the removal of information about LGBT homeless persons. Since the agencies know that they are allowed to remove such information, he said, there needs to be some transparency.
People For the American Way and Right Wing Watch filed a Freedom of Information Act (FOIA) request with the U.S. Department of Health and Human services to obtain similar directives about LGBT health. The FOIA requests were filed based on several news reports from The New York Times, New York Magazine and Politico, but HUD and the Department of Justice let the requests expire.
"That's what FOIA is meant to do...We believe that secret orders in federal agencies is wrong." Mincberg told Newsweek.
HUD told Newsweek it would not be able to provide comment on the litigation. The agency did not return request for comment on training guide's removal from its website in time for publication of this article.
While the equal access training guidelines for homeless shelters have been removed from the site, HUD has not removed web pages on housing discrimination and LGBT homelessness.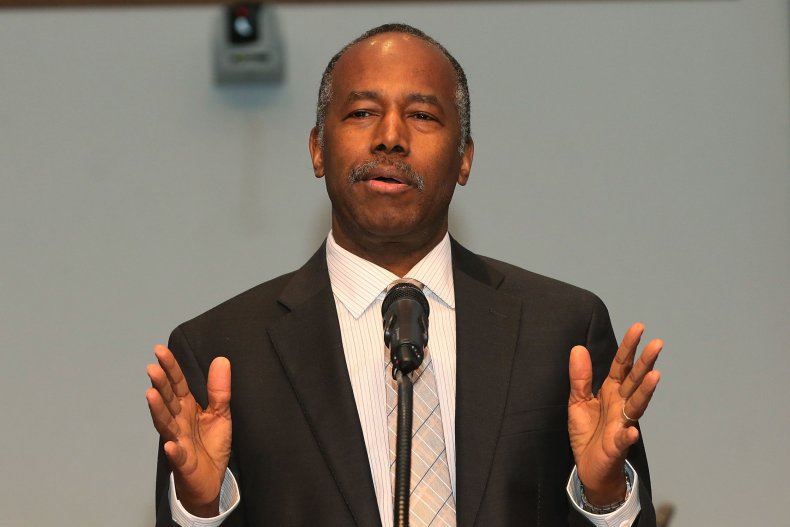 The lawsuit to obtain HUD documents was filed as the department faces criticism for spending on furnishings for Secretary Ben Carson's office, including a $31,000 dining set that Carson later said he wanted returned. In January 2018, HUD said it would delay the implementation of an Obama-era anti-discrimination rule that aims to offer low-income families opportunities in high-income areas.
"The LGBT training information removal is happening in this larger context," Maria Foscarinis, the founder and executive director of the National Law Center on Homelessness and Poverty, told Newsweek. "We have to see what, if any rationale there is to this. That's what the FOIA requests were trying to get at."
LGBT youth in America are 120 percent more likely to experience homelessness, November 2017 study revealed. Foscarinis added that the National Law Center on Homelessness and Poverty also wants information that HUD has made difficult to obtain.
The Trump administration has taken significant steps to break down policies put in place to protect the rights of LGBT Americans. In January, the Department of Health and Human services created the Conscience and Religious Freedom Division meant to protect religious health care workers. Liberal politicians and activists expressed fear that such policies would allow medical professionals to refuse care to LGBT patients.