Energy Company PG&E Facing Lawsuit for Starting Wildfires in California
Pacific Gas & Electric (PG&E) has been filed a lawsuit by the United States Forest Service (USFS) over the Mosquito fire, the biggest wildfire California has seen this year.
The USFS said a PG&E-owned transmission pole and power line started the fire in the Sierra Nevada mountain range, with the equipment being confiscated by federal investigators on September 24. PG&E has been previously involved in a host of fires across California.
"PG&E is an existential threat to those communities in California that are literally in the utility's line of fire," said Ken Cook, president of non-profit environmental group Environmental Working Group (EWG), in a statement. "There is no other company in the state that poses such serious, dangerous and even deadly risks to millions of people."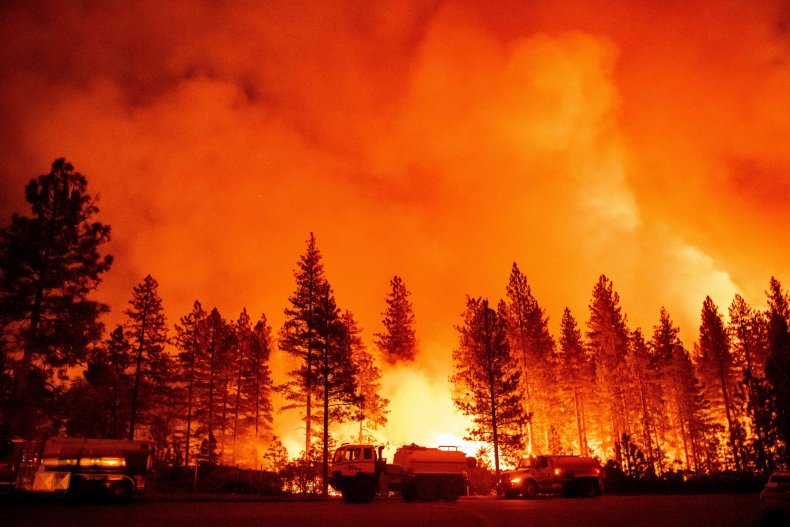 The lawsuit, claiming that the Mosquito fire was ignited by PG&E's poorly maintained utility infrastructure, was filed in San Francisco Superior Court on September 23. This lawsuit comes as the Mosquito fire, which started on September 6, continues to blaze across 76,775 acres of land west of Lake Tahoe. As of September 28, the inferno is 85 percent contained.
California is infamous for its wildfires, which have been getting worse as the drought gripping the western states dries out all the vegetation. While wildfires are natural, only around 10 to 15 percent of California's wildfires are not human-caused. In the case of PG&E, their power lines are accused of being unsafe, sparking and catching the tinderbox-like vegetation ablaze.
Multiple people have died this year so far from wildfires in California, two of which perished earlier in September in the Mill and Mountain fires, and another four died in August in the McKinney fire. Nine civilians are estimated to have died in total this year so far. In 2020 alone, at least 30 people died in California wildfires.
According to a Wall Street Journal report in 2019, PG&E equipment was responsible for igniting at least 1,500 fires in California.
"The damage done to several counties by PG&E was entirely avoidable with their knowledge and expertise as electrical service providers," attorney Gerald Singleton said in a statement.
"PG&E continues to act negligently and has been responsible for more than 1,500 fires across the states leading to deaths, property destruction, financial burdens, and ruined lives because of their poorly maintained utility equipment."
Outside of damage to human life, wildfires are incredibly expensive. In 2020 wildfires in the U.S. caused $16.5 billion in damages. In 2022 so far, 357,278 acres are estimated to have burned, with 101 structures damaged and 764 destroyed.
PG&E filed for bankruptcy in 2019 in the aftermath of the Butte County fire being blamed on the company.
"These fires are the result of decades of criminal neglect on the part of PG&E, which is now asking ratepayers to shell out billions for damages and to bury power lines that will only serve to extend the company's monopoly control of the Northern California grid," Cook said. "This dangerous infrastructure should be replaced to the maximum extent possible by distributed energy generation and transmission—community-based and owned solar and storage resources."
Newsweek has contacted PG&E for comment.
California's wildfire problem is expected to only worsen with the effects of climate change. Extreme weather events like droughts are forecasted to get more common and more severe, further drying out the land and plants. Over half of the 20 largest fires in California history all took place in the last four years, with some models estimating that the area of land burned by wildfire could increase by 30 percent by 2060 compared to 2011 levels.