What It Was Like to Be Jailed in Baltimore After the Riots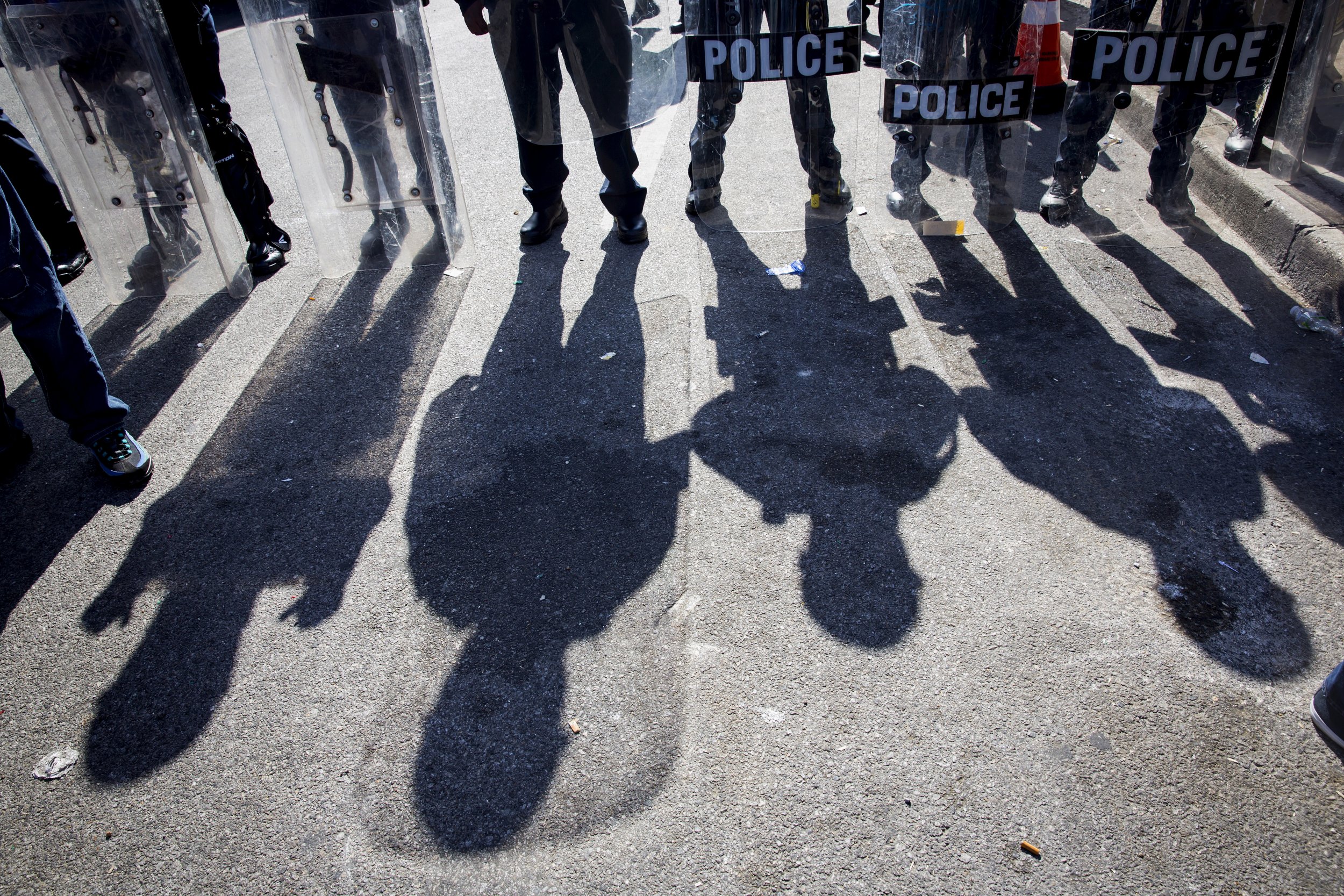 Updated | Since the arrest and death of Freddie Gray and the peaceful protests and violence that followed in Baltimore--with stores looted, multiple buildings burned and 98 police officers injured, mostly by thrown rocks and bricks--authorities have arrested 201 people, 106 of whom have now been released because the 48-hour deadline to file criminal charges has passed, police spokesman Eric Kowalczyk told reporters.
Even though they weren't charged with crimes, many of those 106 who had to endure 48 hours in Baltimore jails had an unpleasant, and very confusing, experience. In some cases, the jails were overloaded, resulting in the charging paperwork not being processed correctly or at all.
"We received a lot of reports of overcrowded conditions. There is not enough food each day," said Nicole Lee, a human rights lawyer with Arch City Defenders currently working with Bmore United, a justice coalition of citizens in Baltimore. "The situation is really untenable. That really concerns us. We are pushing for hearings."
Public defender Marci Tarrant Johnson also reported poor conditions and a lack of due process. In a public Facebook post, Johnson wrote that more than 10 people were put in a single 10- by 10-foot holding cell with only one sink and toilet. In the women's holding area, she found 15 women in one cell. Medical attention, clean water and bedding were not readily provided. Meals were limited to several pieces of bread, one slice of cheese and a few cookies, she wrote.
"The worst thing," Johnson wrote in her post: "Not only had these women been held for two days and two nights without any sort of formal booking, but almost none of them had actually been charged with anything.… No offense reports. No statements of probable cause. A few women had a vague idea what they might be charged with, some because of what they had actually been involved in, and some because of what the officer said, but quite a few had no idea why they were even there."
Speaking to Newsweek by phone, Johnson added: "They had not only been arrested on Monday but they had been in these horrific conditions of confinement without seeing anyone. It was very difficult to get in the jail and see people on Tuesday."
The lack of medical attention was a particularly pressing issue. "Some women did receive medication if it was for high blood pressure or something of that nature. But there were some folks, especially folks that take anti-depressants and psychiatric medication, they were not receiving any of their medication," Johnson said on the call. Some of the women in jail were exposed to mace: "There was an incident in the jail on Tuesday where an officer had sprayed mace in the men's section. It seeped over to the women's section. Women were having side effects, including one major asthma attack that was not treated."
It is unclear why paperwork was not filed more rapidly for those being held. Johnson wrote that only two commissioners were in the central booking area to help with processing. "Holding people without charges. Most of these people, from what I can tell, didn't commit any crimes. The charges weren't filed because there wasn't anything to file," Johnson told Newsweek.
"We got reports that the commissioners were sitting around eating cake, not doing anything," Lee said. "They were in the office not doing anything. I have a difficult time believing it was a staffing issue."
"It is not the issue that there isn't enough staff," Lee told Newsweek. "They're denying due process to people. The public defenders office had to file writs of habeas corpus to have their basic rights met yesterday. This is not an issue of staffing, this is an issue of the City of Baltimore having to respect their citizens."
Although 106 people have been released, law enforcement officials told reporters they are continuing to review video footage to match faces to names of those involved in illegal activity, mainly looting. Baltimore police say those they can identify some who will be charged, though many of the crimes will be classified as misdemeanors.
Newsweek reached out to Baltimore City Hall for comment, who deferred to the police department. The police department deferred to the department of corrections. The department of corrections told Newsweek a media relations representative was unavailable and declined to provide an alternative means of communication at which such a representative could be reached. Another representative of the department of corrections took a message and did not return request for comment. On Friday afternoon, a third representative told Newsweek they would not comment on any on jail conditions.