Jean-Marie Le Pen to Sue Madonna's Ex-Boyfriend Over Unflattering Selfie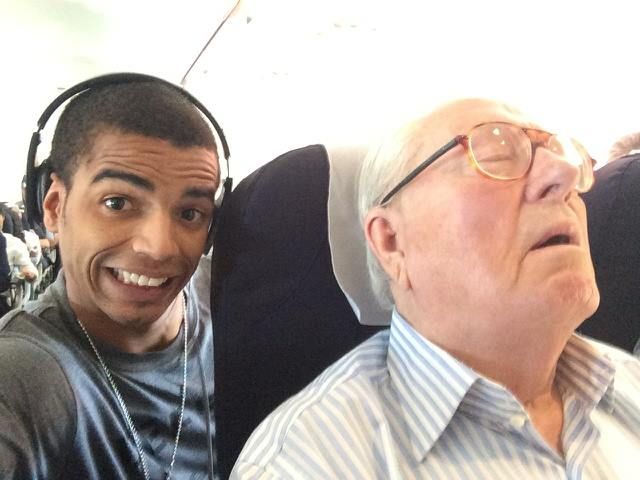 The man who snapped a sneaky selfie with Jean-Marie Le Pen is being sued by the founder and former leader of the French right-wing National Front over the photo, which he believes contributed to the party's defeat in regional elections last month, French magazine Public reported.
Brahim Zaibat, 29, a French choreographer and professional dancer, posted a selfie with a sleeping Le Pen while on board a plane in December. Next to Le Pen's open-mouthed, restful face, a grinning Zaibat posted the caption: "Knockout the [National Front] tomorrow by going to vote. To preserve our fraternal France!" He finished with the hashtag #Jadore ça or #Iloveit.
Since Zaibat—who has been identified by a number of media outlets as Madonna's ex-boyfriend—posted the photo on December 12, it has been shared more than 32,880 times and has received 195,434 likes. Crucially, the picture was taken one day before the second round of French regional elections in which the National Front, led by Marine Le Pen, Jean-Marie Le Pen's daughter, hoped to win big.
Coincidentally, Madonna faced her own lawsuit from the Le Pen family in 2012 after a video shown at one of her concerts depicted Marine Le Pen with a swastika on her forehead. Last March, the National Front leader agreed to sit down with the singer over a drink to discuss their differing points of view.
French magazine Public reported on Sunday that Jean-Marie Le Pen is seeking $54,248 (50,000 euros) in damages, claiming that the photo harmed the image of the party and led to electoral defeat. Public adds that the first hearing is set for January 22 and that Le Pen wants a written apology from Zaibat directed to his social media users. Zaibat has not publicly responded to the reports of a lawsuit.
Article 9 of France's civil code states that "taking a person's picture whether the person is living or dead is prohibited without the prior permission of those persons who are entitled to give it, since the protection of privacy extends beyond death." It also says that "everyone has the right to respect for his private life," although the code states that a balance must be struck "between what can be publicized...and what has to be safeguarded from excessive public curiosity" when it comes to public figures, which Jean-Marie Le Pen arguably is.
Rue 89, a French news website, reported that Jean-Marie Le Pen is suing for a breach of privacy.
"If [Zaibat] had kept this picture in his little heart, it would have been something else," Jean-Marie Le Pen told Rue 89.
The National Front was defeated in the second round of polling in last month's elections and failed to win a single region, despite leading in six out of France's 13 regions when the first round of voting was held one week before. Le Pen was expected to win the northern Nord-Pas-de-Calais region, but lost to Xavier Bertrand, a Republican. There is no concrete proof that the photo was responsible for the party's misfortune.