Lea Michele Reading-Related Line Gets Laugh at 'Funny Girl' Debut
Glee's Lea Michele seemingly wasn't able to shake the reading rumors during the opening performance of Funny Girl on Broadway.
While many have praised her debut performance overall on Tuesday, one spectator has gone viral for saying some in the August Wilson Theatre audience gasped and laughed when she made a reference to reading books.
The reaction within the venue was due to a rumor that 36-year-old Michele is unable to read. Michele recently refuted the rumor calling it "sad" and suggested the rumor wouldn't follow her about if she was a man, reported The New York Times.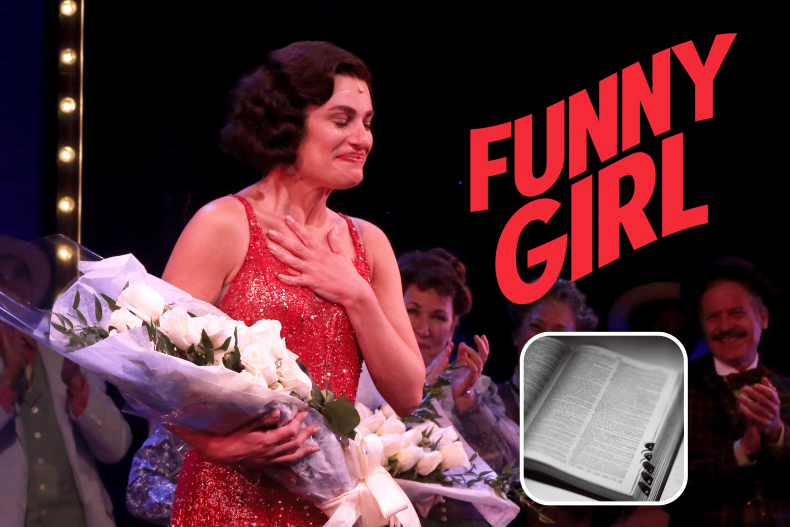 As the reactions to Michele's performance came rolling in online, one person's account stood out.
"At Lea Michele's FUNNY GIRL debut and the audience LAUGHED and GASPED when she delivered the like 'I haven't read many books.'" wrote Twitter user @bequietjoe. Their account of the events inside the theater was shared across Twitter and Instagram, with hundreds of thousands of people liking and commenting on the story.
Twitter user @davibroui had the same account from inside the theater. They said that the audience "guffawed" after she gave her book-related line.
An audio recording of the moment has surfaced online. Michele, playing the lead character Fanny Brice in Funny Girl can just be heard saying "I haven't read so many books," to which a couple of audience members laugh, before more people join in and others start whooping. The audio recording was shared by @plantsackey on Twitter.
As people rushed to comment on the reported incident within the August Wilson Theatre, Michele received a mixture of support and criticism. "This is evil" some wrote while others enjoyed it more: "This is killing me."
"Did you literally tweet this during act 1 wtf" @Spiltmilk asked @bequietjoe. RuPaul's Drag Race contestant Eve 6000 shut the user down though and joked: "It's okay she will never know what it says."
Michele took over the lead role in the Broadway production of Funny Girl after Beanie Feldstein prematurely stepped away from the role. The Booksmart actress had received mixed-to-negative reviews for her performance in the role of Fanny.
The reports of Michele's debut performance in the role have been more positive as she received four standing ovations before the intermission, according to Deadline. She was reportedly watched on by fellow Broadway star and Glee castmate Jonathan Groff, Glee creator Ryan Murphy, and stage legend Harvey Fierstein.
Newsweek has reached out to Michele for further comment.
While Michele's first performance in the show was deemed a success, it didn't stop the internet from having fun at her expense with multiple memes shared relating to her alleged, but refuted, illiteracy.
Michele is a divisive figure on social media as many Glee actors have spoken out about her alleged negative behavior during her time on the show. Recently, actress Lindsay Pearce said she was too nervous to look Michele in the eyes. In previous years, multiple actors from the show have discussed Michele's behavior.
Update 09/07/2022, 5:00 a.m. ET: This article was updated to indicate that Newsweek has reached out to Lea Michele for comment.
Update 09/07/2022, 6:00 a.m. ET: This article was updated to modify the headline.