Beanie Feldstein 'Funny Girl' Reviews Spawn Wave of Lea Michele Memes
Beanie Feldstein's Funny Girl debut has received mixed reviews, prompting a wave of memes about her would-be rival Lea Michele.
When Booksmart star Feldstein was cast Fanny Brice in the first revival of Funny Girl on Broadway, musical theater fans immediately commiserated Michele, as the Glee star made it known throughout her career how much she coveted the role that shot Barbra Streisand to stardom.
She famously sang "Don't Rain on My Parade" in the Glee season one finale, and then at the 2010 Tony Awards, which at the time was interpreted as her audition for the Broadway revival.
Michele is well known for playing overachiever Rachel Berry in Glee, while Feldstein's other notable roles include Booksmart, Lady Bird and as Monica Lewinsky in Impeachment: American Crime Story.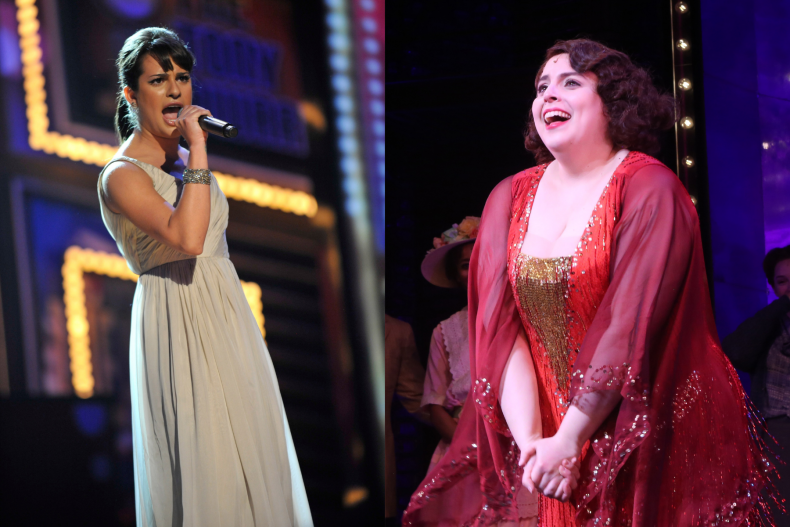 On Broadway, Feldstein made her debut in 2017 as Minnie Fay in Hello, Dolly! While Michele played Wendla Bergmann in the rock musical Spring Awakening from 2006 to 2008.
As a child actress, she appeared in Les Misérables as Young Cosette and the Broadway revival of Ragtime as the Little Girl.
Feldstein has received mixed reviews for her Funny Girl debut so far with The Guardian writing that she failed to pull off "Don't Rain on My Parade," saying the song "requires a power singer. Feldstein simply isn't one."
Meanwhile, Variety describes her performance as "underpowered" while The New York Times writes: "Feldstein is not stupendous."
These less than favorable reviews have unsurprisingly prompted social media users to joke about Michele possibly getting some sense of satisfaction out of this.
Michele has not enjoyed a positive reputation since she was accused by her Glee co-star Samantha Marie Ware of making her time on the show a "living hell" back in 2020.
Also bizarrely, a wild fan theory that Michele is illiterate, that has been circulating on social media for a number of years, has also been revived in light of her trending this week.
"Lea michele is somewhere chuckling to herself," reads one tweet.
"Can't believe Lea Michele got the last laugh this is a nightmare," reads one viral tweet.
"If you're tired of so much lea michele news in one day just think how tired her assistant is of having to read it to her," joked another.
"Not the funny girl revival, with a miscast lead, coinciding with the hbo doc on the spring awakening reunion, thereby creating the perfect storm for a lea michele redemption arc? oh this is deep dark satanic magic," said another.
The stage musical and subsequent movie of Funny Girl launched the career of Streisand. In her role as Brice, Streisand got a Tony Award nomination, a Grammy Award nomination, and she also went on to win the Academy Award for Best Actress in 1969.
The real-life Brice was an American comedian born in 1891, and died in 1951. She made numerous radio, theater, television and movie appearances.
After her death she received a posthumous star on the Hollywood Walk of Fame and was inducted into the Grammy Hall of Fame Award for her 1921 recording of "My Man."