Leading California Recall Candidate Larry Elder said the government has "no role" in teaching sexual education in schools while speaking to a megachurch outside of Sacramento on Sunday.
When pastor Greg Fairrington asked Elder's opinion on comprehensive sexual education and LGBTQ+ rights, Elder said "all the things that you mentioned are going to stop," he said, according to video posted online by Destiny Christian Church.
"I don't think government has any role for sex education in our schools at all," Elder said.
Current California law mandates that students are taught comprehensive sexual education—along with information about preventing HIV—at least once in high school and once in middle school. It allows districts to offer "age-appropriate" sexual health education in earlier grades if they choose so, according to the California Department of Education.
Parents are also allowed to opt their children out of comprehensive sexual health education, according to the education department.
During the appearance, he touched on several social issues asked about by Fairrington. He said it is "outrageous" that bakers should be required to bake cakes for same-sex weddings and that he would not allow transgender people to play on sports teams or use the bathroom of the gender they identify as, policies supported by Newsom and LGBTQ+ groups.
Destiny Christian Church is a Pentecostal church in Rocklin, which is northeast of California's capital, Sacramento. The church made news last summer after Fairrington pledged to defy a lockdown order issued by Governor Gavin Newsom amid the COVID-19 pandemic.
"I believe my mandate as a pastor is to obey the word of God. Worship is a part of what we do together as a church corporately and we need to do this. This is important that we do this," Fairrington said in a video in July 2020.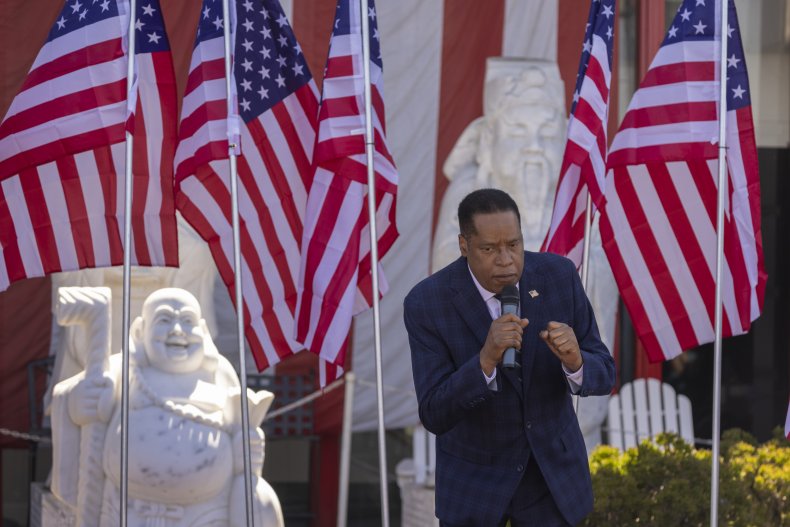 During the recall election on September 14, California voters are being asked two questions at the ballot box. The first asks if they want to recall Newsom. The second asks that if Newsom were to be recalled, who voters would pick to replace him.
For months, the race appeared closer than one might expect given California's status as solidly Democratic state. Polls showed Newsom with a narrow but consistent single-point edge in the first question.
However, several recent polls point to better news for the governor, .
A poll conducted by the Public Policy Institute of California in late August found that 58 percent of voters wanted Newsom to stay, while 39 percent would vote in favor of the recall. Another late-August poll by Change Research showed that 57 percent of voters planned to keep Newsom in office, while 42 percent said they would vote against him.
Elder has long been considered the frontrunner in the question to replace Newsom. A Trafalgar poll conducted from September 2 to September 4 found that 32 percent of voters would pick Elder. In second place was Democrat Kevin Paffrath. Still, 29 percent of voters were undecided.
Newsom was elected in 2018 with 61.9 percent of the vote, compared to Republican John Cox's 38.1 percent.
Newsweek reached out to the Elder and Newsom campaigns for comment Monday evening but had not heard back by publication. This story will be updated with any response.