Fury As Leaked Applebee's Email Suggests High Gas Prices Mean Cheap Labor
A leaked email from a regional manager for casual dining restaurant chain Applebee's has been greeted with shock and disapproval after it was shared on popular Reddit forum r/antiwork.
The post by Wayne Pankratz, the executive director of operations for Applebee's franchise Apple Central LLC, has received more than 75,000 upvotes and has been shared around the internet where it has received a mass backlash.
Reported to have been leaked by employees at the Lawrence branch of Applebee's in St. Lawrence, Kansas, an image of the leaked email was originally shared on the Facebook group Anti-Work on March 23 by local resident Mariah Sanford.
In the email, Pankratz wrote: "Everyone has heard that gas prices continue to rise. The advantage this has for us is that it will increase application flow and has the potential to lower our average wage."
He goes on to explain that most of the Applebee's employee base live "paycheck to paycheck," and that an increase in gas prices will automatically cut their disposable income.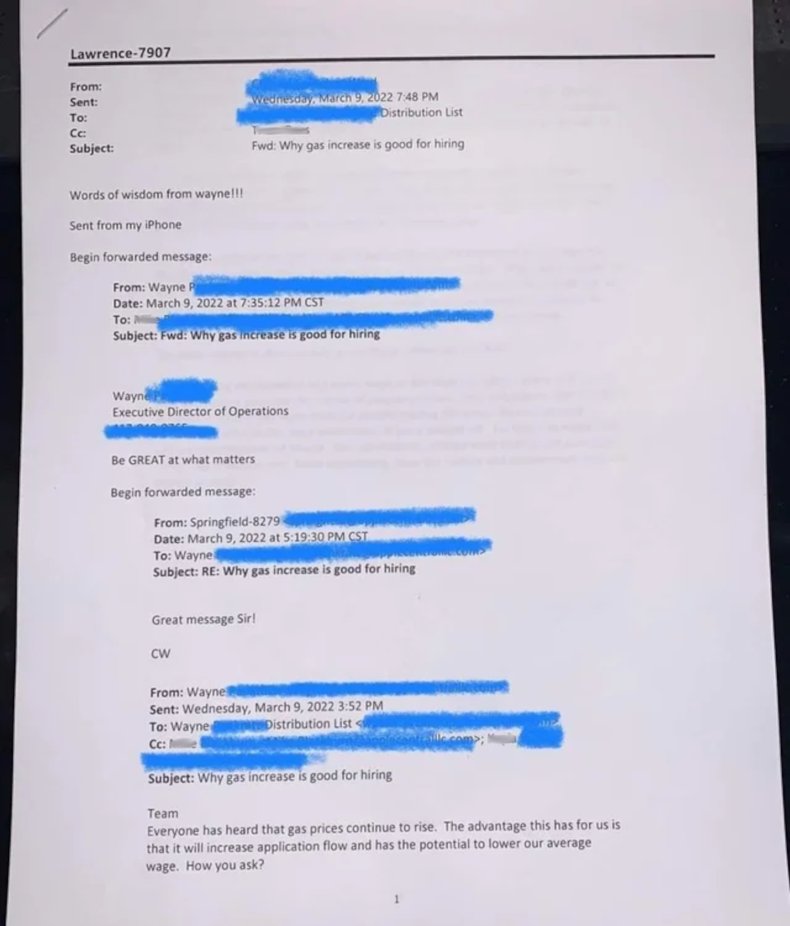 "As inflation continues to climb and gas prices continue to go up, that means more hours employees will need to work to maintain their current level of living," wrote Pankratz.
He suggested the change means that Applebee's is "no longer competing with the government when it comes to hiring. Stimulus money is no more, supplemental unemployment is no more." He concludes that this "will force people back into the workforce."
According to Dine Brands Global Form 10-K 2020, Applebee's had 1,642 restaurants worldwide as of December 31, 2020, 1,531 of which were in the U.S. Franchised Applebee's restaurants are owned and operated by local entrepreneurs, while the company owns and operates 69 restaurants itself.
The email—which Newsweek has seen an un-redacted version of—was forwarded multiple times, with added comments from respondents including: "Words of wisdom from Wayne," and "Great message, sir."
Kevin Carroll, Chief Operations Officer at Applebee's told Newsweek: "This is the opinion of an individual, not Applebee's. This issue is being addressed internally by the franchisee who employs this individual and who owns and operates the restaurants in this market. Our team members are the lifeblood of our restaurants, and our franchisees are always looking to reward and incentivize team members, new and current, to remain within the Applebee's family."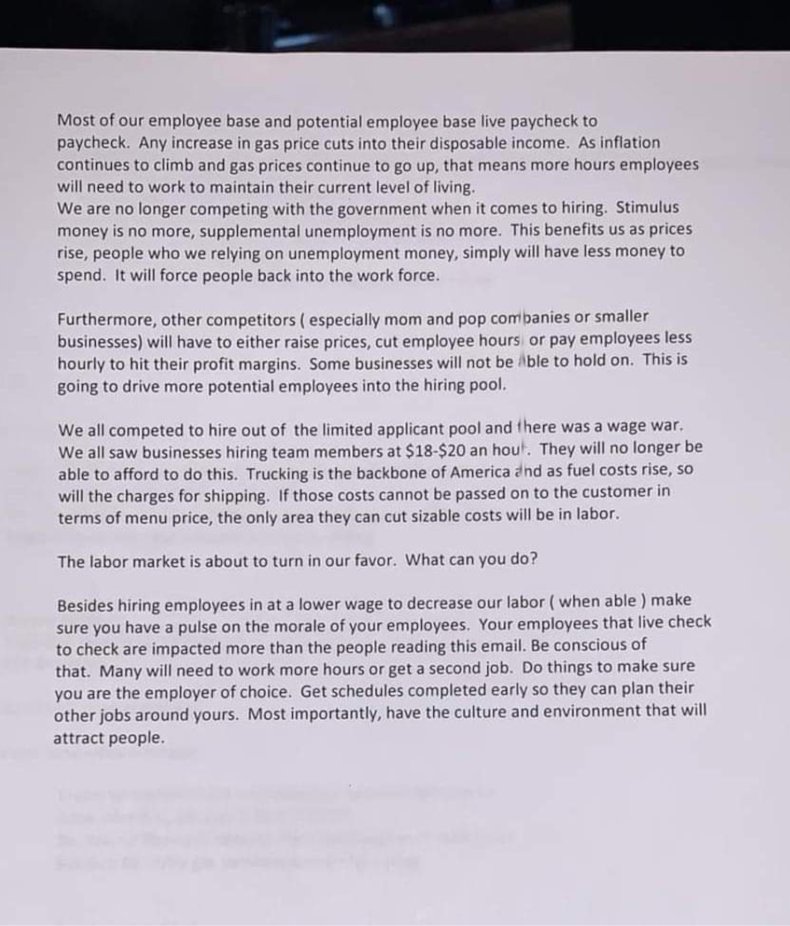 Local news site Lawrence Journal-World said the Lawrence branch at 2520 Iowa St. was closed on Tuesday and quoted a spokesperson for Apple Central LLC who said it had re-opened on Wednesday.
The site quoted Jake Holcomb, said to be one of the managers at the branch, who told Journal-World: "I was just stunned and disgusted.
"The fact that people are going to be forced to take a second job, and since they basically have no choice we should go ahead and pay them lower wages, really bothered me," Holcomb said.
The average gas price has risen to over $4 per gallon for the first time since 2008. While prices have been increasing for over a year, the recent spike has been attributed to Western sanctions on Russian oil in response to the invasion of Ukraine.
A recent Newsweek analysis found that it now costs minimum wage workers more than $5 just to get to their jobs. In states where the minimum wage is set to the federal rate of $7.25 per hour, this means many are spending almost an hour of pay just to get to work.
But Pankratz's email suggested that this meant the labor market was about to be transformed in favor of employers.
"Trucking is the backbone of America and as fuel costs rise, so will the charges for shipping," wrote Pankratz: "If those costs cannot be passed on to the customer in terms of menu price, the only area they can cut sizeable costs will be in labor."
The comments have been met with shock online, with many people calling for a boycott of the restaurant chain and condemning the leaked email.
"And just like that, I never ate at Applebee's again," wrote one Redditor. Another commented: "I'm sickened by this (and by their s***** food). I shall enjoy sharing this on Twitter."
An outraged Redditor said: "Why can't those costs be passed to the consumer? They literally have been since, forever? Plus this is the restaurant industry, you don't even pay your servers with what the customer pays you for but require the consumer to already subsidize your wages by tipping."
On Twitter, thousands of users also rushed to condemn the leaked email.
"Corporate greed at its finest," said one user, while another tweet said: "Has there ever been a more contemptible, callous way to discuss your employee's struggles to make a living? Read the room Wayne."
Newsweek has reached out to Wayne Pankratz for comment.