Lebanon Hit By Another Explosion As Insecurity Haunts Country Besieged by Crises
A large explosion rocked southern Lebanon on Tuesday, exacerbating the insecurity of a country still reeling from a devastating blast in the capital last month and other ongoing hardships.
News of the blast in the Nabatiyeh province town of Ain Qana first began circulating throughout WhatsApp groups, where citizens speculated on potential sources from a gas station mishap to an attack on a party headquarters of the Shiite Muslim Hezbollah movement. Videos showed a massive column of smoke rising from the general area of Ain Qana and Kfar Fila.
A Hezbollah spokesperson told Newsweek that the explosion was not the result of an Israeli strike, but extracted mines that had been planted in the ground during the group's 2006 war with Israel.
Israel targets Iran-tied forces such as Hezbollah in neighboring Syria and beyond and has fought the powerful militia in two wars against Lebanon.
The official National News Agency did not provide a cause for the blast, nor details regarding possible casualties, but did note that it coincided with the flight of Israeli fighter jets overhead.
The Lebanese Armed Forces later said they had immediately dispatched forces to investigate the situation. They too recorded multiple airspace violations of Israeli warplanes circling over the country's south—a daily occurrence, as the United Nations Interim Force in Lebanon (UNIFIL) recently told Newsweek.
A UNIFIL spokesperson told Newsweek that Tuesday's incident occurred outside of the peacekeeping contingent's area of operations but that the circumstances were being looked into.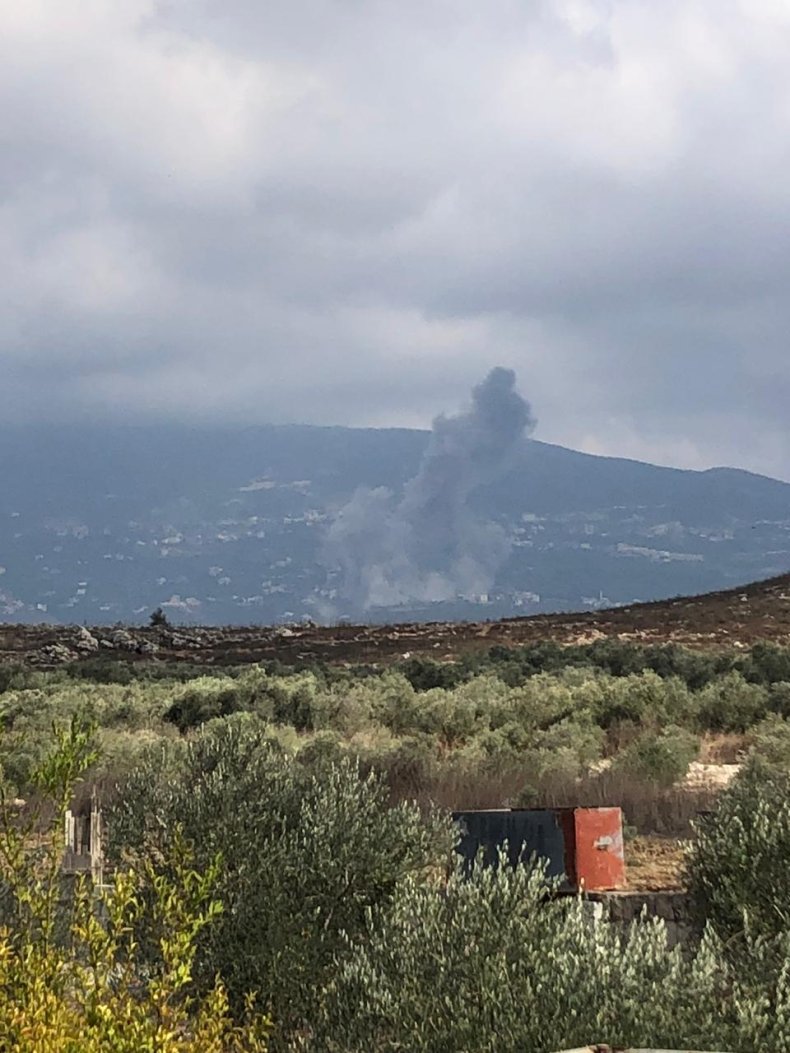 The latest blast hits as the country has yet to recover from the massive eruption of Beirut's port early last month, a disaster fueled by nearly 3,000 tons of ammonium nitrate reportedly ignited by fireworks and welding in a catastrophic combination that destroyed portions of the city, killed around 200 people, injured thousands and left hundreds of thousands homeless.
The economic damage is in the billions, a high price for a country already in the throes of a financial crisis compounded by the effects of the coronavirus pandemic.
The Lebanese cabinet, then headed by Prime Minister Hassan Diab, resigned shortly after the explosion but frustrations over worsening living conditions were compounded by the discovery about a month later of several more tons of ammonium nitrate at Beirut port, another fire there and yet another blaze last week that struck a nearby downtown shopping center designed by the famous late architect Zaha Hadid.
Diab's successor, former ambassador to Germany Mustapha Adib, has so far struggled to form a new government through Lebanon's tightly-sectarian system.
As international aid efforts pour into Lebanon, French President Emmanuel Macron has sought to assist the country in political reforms as well. He too, however, has expressed regret as infighting thwarted efforts to appoint new positions.
Asked by a journalist Monday where the country was headed should parties fail to come to an agreement on key posts, Lebanese President Michel Aoun responded frankly: "To hell, of course."
The United States has welcomed Macron's efforts but has so far rejected sending a comprehensive aid package to Lebanon due to the continued influence of Hezbollah and its Iranian ally. President Donald Trump has sought to isolate Tehran, though support for his "maximum pressure" strategy has been largely limited to Israel and the Arab Sunni Muslim monarchies of the Persian Gulf, with even European allies pushing back.
"Everyone wants Lebanon to get better," U.S. Secretary of State Mike Pompeo told Fox News on Sunday. "President Macron is leading an effort there, and yet the Europeans have not joined us in stopping arms trafficking."
"Those weapons—those weapons that Iran will sell—will end up in the hands of Hezbollah and make life tragically worse for the people of Lebanon," he added.
Pompeo has announced new sanctions targeting two former Lebanese ministers associated with Hezbollah. The group has vowed to resist such measures, calling such designations "a badge of honor" coming from the Trump administration.