Lebanon Says 'No Indication' of Attack After Trump Claims Beirut Explosion Was Bomb
Lebanon is pushing back against President Donald Trump's claims that the massive blast that devastated Beirut on Tuesday appeared to have been caused by enemy action rather than an industrial incident.
The earth-shattering explosion has killed at least dozens and injured thousands, causing destruction throughout the city and sending shockwaves throughout the tiny Mediterranean country already beset by multiple economic, security and health crises. As Lebanese officials began to identify the cause of the blast as the result of fireworks improperly-stored ammonium nitrate, grain silos or some combination of these factors at Beirut's port, President Donald Trump went against the grain by describing the event as "some kind of terrible attack."
The remarks have left Lebanese officials puzzled, however.
"As far as the Lebanese government is concerned, we have no indication thus far that this was in any way caused by a deliberate attack or bombing of any kind," Lebanese ambassador to the United States Gabriel Issa said in a statement sent to Newsweek.
"Initial indications are of a chemical storage massive explosion and investigations are ongoing to determine the cause," he added.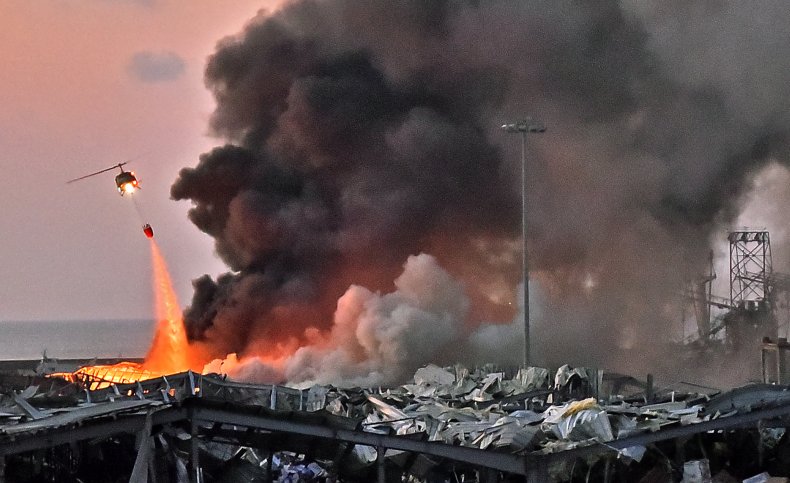 Trump had told reporters that his remarks were based on discussions with defense officials who shared his assessment.
"It would seem like it based on the explosion. I met with some of our great generals and they just seemed to feel that it was, that this was not some sort of a manufacturing explosion type of event," Trump told a Tuesday evening press conference hours after the blast. "They would know better than I would, they seem to think it was an attack, it was a bomb of some kind."
One senior Pentagon official earlier told Newsweek that "initial reports are a fireworks explosion initially but secondary due to chemical storage and grain silos."
Amid mounting speculation of an Israeli raid, potentially against a weapons depot of Iran-backed Lebanese Shiite Muslim movement Hezbollah, the officials said there were "no indications of a strike at this time." Rather, "the explosion's characteristics indicate it was an internal explosion—not an external strike."
Reached for remarks, the Pentagon referred Newsweek to the White House, which declined to comment.
Newsweek also earlier spoke with two former CIA officers who worked in the region, both of whom did not immediately see any evidence of an Israeli attack. In a statement sent to Newsweek, the Israeli military said it did "not comment on reports in the foreign media."
Israel, which technically remains at war with Lebanon and neighboring Syria, has threatened to strike Hezbollah positions associated with the group's attempts to acquire precision-guided munitions and other weapons capabilities in both countries. Israeli forces shelled Lebanon last week and conducted strikes Monday on military sites in southern Syrian in response to what it said were attempts to infiltrate its borders.
Israeli Prime Minister Benjamin Netanyahu said earlier Tuesday his country "will do what is necessary in order to defend ourselves" in a warning to enemies that includes Hezbollah by name. Hours after the explosion in Beirut, the Israeli military offered to send humanitarian and medical aid to Lebanon, arguing: "This is the time to transcend conflict."
Iranian Foreign Minister Mohammad Javad Zarif earlier too said his country would " render assistance in any way necessary," conveying thoughts and prayers. Secretary of State Mike Pompeo also extended his condolences, saying U.S. officials are "closely monitoring and stand ready to assist the people of Lebanon as they recover from this tragedy" in a statement.
"We understand that the Government of Lebanon continues to investigate its cause and look forward to the outcome of those efforts," the statement said.
The White House on Wednesday extended a 13-year national emergency with respect to Lebanon, laying the ground for sanctions against those involved with Hezbollah, Syria and Iran.
"Certain ongoing activities, such as Iran's continuing arms transfers to Hizballah — which include increasingly sophisticated weapons systems — serve to undermine Lebanese sovereignty, contribute to political and economic instability in the region, and continue to constitute an unusual and extraordinary threat to the national security and foreign policy of the United States," the executive order read.