LeBron James Praises Stacey Abrams as He Ramps up Georgia Senate Runoffs Involvement
LeBron James has vowed his voting rights organization will "tackle" the upcoming Georgia Senate runoffs as part of its ongoing effort to usher in changes in "communities all over America."
The four-time NBA champion launched More Than A Vote alongside former first lady Michelle Obama to address misinformation targeted towards Black voters and to ensure Black Americans were registered to vote in last month's presidential election.
The organization will resume its efforts ahead of the Georgia Senate runoffs, which are scheduled for January 5.
"We're trying to figure out ways, right now, that we can continue to implement change in the communities," James said during an appearance on the Uninterrupted podcast on Wednesday night.
"Not only in my home community of Akron, Ohio, but communities all over America, and hopefully, create change in the world, as well.
"So we're looking for opportunities—there's a huge Senate race that's going on in Georgia coming up in January, so we're tackling that."
James also praised former Georgia House minority leader Stacey Abrams, who has been credited for helping register almost 800,000 new voters in minority communities through her New Georgia Project.
"Stacey Abrams who is down there, is a monster," James added. "Shoutout Stacey, you're unbelievable."
Speaking to The New York Times in October, James explained he wanted to use his platform to address the feeling of disenchantment among the Black community, which he suggested stemmed from years of misinformation.
"We believe that Black people, our community, we've been pushed away from our civic duty," the four-time NBA Finals MVP explained. "We've been fed misinformation for many years.
"And I'm in a position where I can educate people and, through More Than a Vote, educate people on how important this movement is, and how important their civic duty is. Not only to empower themselves, but to give back to their community as well."
His efforts paid off, as More Than A Vote estimates to have helped almost 300,000 Americans vote across the country, while recruiting over 42,000 poll workers.
The organization worked closely with the Atlanta Hawks, who were among the 23 NBA teams that used their arenas or training facilities as registration site, polling or voting center for the presidential election in November.
The Hawks opened State Farm Arena for early voting on October 12, the earliest of any NBA team. Atlanta was also one of 18 NBA franchises to use their arena as polling site on Election Day, as it turned State Farm Arena into a voting precinct in Fulton County, Georgia.
Last month, the Hawks confirmed they would use the arena for the crucial runoffs, which will decide the balance of power in the Senate.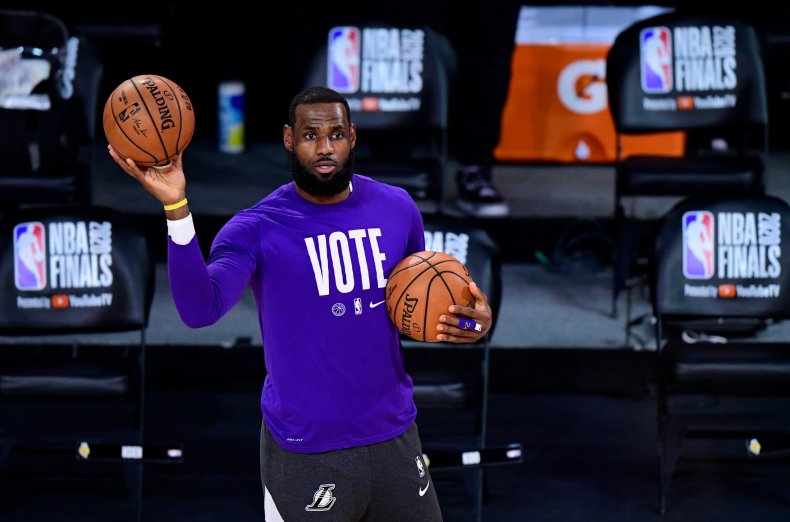 Georgia ran two senatorial races last month, with incumbent Republican Senator David Perdue against Democrat Jon Ossoff and Republican Kelly Loeffler against Democrat Raphael Warnock.
However, with neither candidate in each race securing more than 50 percent of the vote, state law requires the races to be decided by a runoff.
Along with the Golden State Warriors and the Detroit Pistons, the Hawks were one of the NBA teams that told Newsweek they would consider using their arena as a voting site for future elections.
"With COVID-19, franchise CEO Steve Koonin knew there was an opportunity to provide quick, safe voting at the arena," Garin Narain, the Hawks VP of Public Relations, said.
"It [serving as voting site] is definitely something we would consider pending potential scheduling issues."
The efforts of Abrams and More Than A Vote delivered tangible results in November as turnout increased sharply.
According to data from the National Election Pool and Edison Research, just over 518,000 votes were cast in Fulton County this year, up from just under 415,000 in 2016.
While Hillary Clinton barely got past 297,000 votes four years ago in Fulton County, President-elect Joe Biden won just over 381,000 votes this year as he became the first Democrat to win Georgia since 1992.
James explained More Than A Vote hoped to ride the wave ahead of next month's runoffs.
"We're gonna get behind that and hopefully create change," he said.