Did the NBA Help Biden Win the Election? Team Arenas Played Pivotal Role Increasing Voter Turnout in Swing States
From LeBron James to Stephen Curry, throughout his presidency Donald Trump repeatedly clashed with some of the NBA's biggest stars.
Only last month, wheeling out a familiar refrain, the president suggested the NBA Finals TV ratings had plummeted by over 70 percent because fans had grown tired with the league's social justice stance.
Ironically for Trump, the NBA could have a played a significant role in Democratic presidential candidate Joe Biden winning the race to the White House.
Some 62 percent of eligible voters cast their vote in this year's presidential election, the highest turnout in 50 years from percentage standpoint, exceeding even the 61.6 percent figure recorded when Barack Obama first became president in 2008.
While three of the four most recent presidential elections recorded a turnout above 60 percent, this year's election is only the ninth time in 18 presidential elections since the end of World War II in which voter turnout has exceeded the threshold.
The NBA deserves some credit for such a high turnout, as the arenas of 23 of the league's 30 franchises were used as polling and voting centers for the 2020 election—half of the NFL's 32 teams also made their venues available in some capacity.
Several NBA players, meanwhile, supported the More Than A Vote campaign, which was launched by James and former first lady Michelle Obama to address misinformation targeted towards Black voters and ensure Black Americans were registered to vote.
In two crucial battlegrounds Biden won—Michigan and Wisconsin—both turnout and votes won by the Democratic candidate increased significantly from four years ago in counties where an NBA arena served either as a voting site, as ballot drop location for early voters or for other election-related activities.
The pattern also extends to Arizona and Georgia.
FOX News and the Associated Press have declared the President-elect the winner in the former, but several other networks have been reluctant to follow suit. The Trump campaign, meanwhile, has requested a recount in Georgia, where Biden leads by just over 12,000 votes according to data from the National Election Pool and Edison Research.
In at least two counties—Wayne County in Michigan and Maricopa County in Arizona—which used NBA arenas as voting sites or as ballot drop box sites, the difference between the votes Biden received this year and those Democratic candidate Hillary Clinton won four years ago was enough to flip the respective states to blue.
Biden won Michigan by just under 135,000 votes, turning the Great Lake State Democrat after Trump had won it by just over 10,000 votes in the 2016 presidential election. The President-elect won 567,846 votes in Wayne County, where the Detroit Pistons's practice facility, the Henry Ford Performance Center, was used as drop-off sites for early voting ballots.
Four years ago, Clinton won 519,444 votes, securing 66.4 percent of total votes, compared to Biden's 67.6 percent.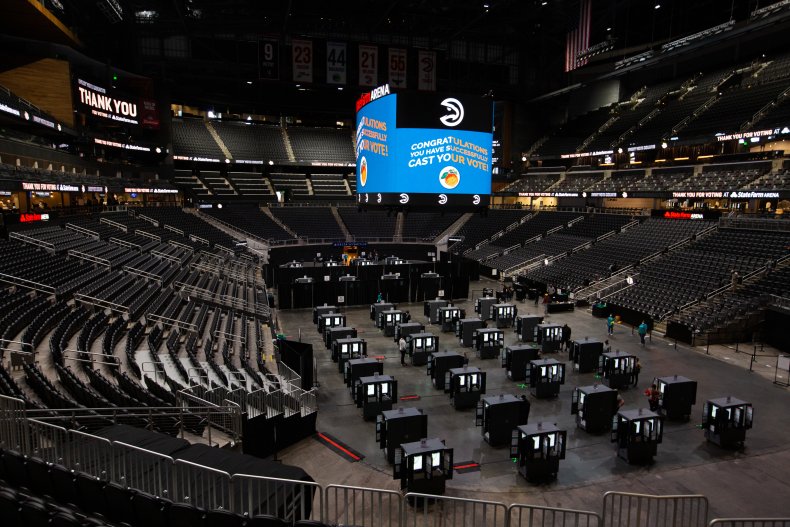 Approximately 60,000 more votes were cast in Wayne County this year, compared to 2016.
In Fulton County, Georgia, where the Atlanta Hawks made State Farm Arena available as a voting site, just under 516,000 votes were cast in the current presidential election, up from just under 415,000 in 2016.
The Hawks told Newsweek that franchise and county officials were "pleased" with the turnout, even though neither had set numerical expectations.
"We were able to service approximately 40,000 voters, which was more than two times the amount of the second largest location in Fulton County," a spokesperson for the franchise said.
Biden won just over 379,000 votes in Fulton County, while Clinton barely got past 297,000. The difference could well prove significant to flip Georgia blue for the first time since 1992, as Biden currently holds a 12,000-vote advantage, while Trump carried the Peach State by just over 200,000 votes in 2016.
Similarly, in Maricopa County, where the Phoenix Suns' Veteran Memorial Coliseum was used as both voting center and drop-off location for early voting ballots, turnout rose from 1.45 million votes four years ago to 2.01 million this year.
Clinton secured 702,800 votes in Maricopa County in 2016, ultimately losing Arizona by 91,000 votes. Biden, meanwhile, has received 1.03 million votes and currently leads Trump by approximately 15,000 votes.
Wisconsin was one of the few states where voters did not cast their votes in an NBA arena. The Milwaukee Bucks had offered to use Fiserv Forum as voting site, before last month the Milwaukee Election Commission opted against it.
Biden, however, carried the crucial swing state which Trump had flipped red four years ago, a result which former Bucks head coach George Karl attributed to the team's social efforts.
The Bucks took social protests further than any other NBA team after the season restarted following a three-month hiatus due to the coronavirus pandemic. On August 26, the team boycotted Game 5 of their first-round playoff series against the Orlando Magic, following the shooting of Jacob Blake in Kenosha, Wisconsin.
A Black man, Blake was left paralyzed after being shot in the back at point-blank range seven times by a police officer as he opened the door of his car, with his three children in the back seat.
Turnout in Milwaukee County rose from 428,500 votes in 2016 to just over 451,500 this year and Biden received 317,000 votes in the state's most populous county, while Clinton won just under 289,000 votes.
The difference alone could have been enough to swing Wisconsin for Biden, who carried the state by 20,000 votes after Clinton had lost it by just under 23,000 votes four years ago.
Pennsylvania, another of the crucial swing states Biden secured en route to the White House, was the notable exception. While turnout in Philadelphia County, where the Philadelphia 76ers' Wells Fargo Center was dedicated to general election activities, rose from just under 693,000 votes to just over 698,000, Biden secured fewer votes than Clinton.
The President-elect received just over 570,400 votes in Pennsylvania's most populous county, down from the 584,000 votes Clinton secured four years ago.
Ultimately, however, it did not matter as Biden flipped they Keystone State by a margin of just 15,000 votes after Clinton had lost it by 44,000 votes in 2016.
NBA franchises offered their arenas to be used as voting sites to mitigate the impact of the COVID-19 pandemic and the venues could be used again in the future.
"It is definitely something we would consider pending potential scheduling issues," a spokesperson for the Hawks told Newsweek.
Kathy Behrens, NBA President of Social Responsibility & Player Programs, added: "While most elections fall during a typical NBA season, all of our teams are committed to being a trusted partner in their communities and figuring out how they can be most impactful, whether around census issues, voter registration, poll worker recruitment or providing facilities to vote safely."
Newsweek has contacted the Detroit Pistons and Phoenix Suns for comment.