LeBron James Slammed for Criticizing U.S. Response to Brittney Griner
Los Angeles Lakers star LeBron James faced a backlash Tuesday after he was heard in a video clip criticizing the U.S. response to Brittney Griner's detainment in Russia.
On Tuesday, a trailer for a new episode HBO's The Shop: Uninterrupted was released, and in the clip James and others can be heard speaking about Griner's situation.
"How can she feel like America has her back?" James says in the trailer, which was edited and did not show his full comments. "I would be feeling like 'Do I even wanna go back to America?'"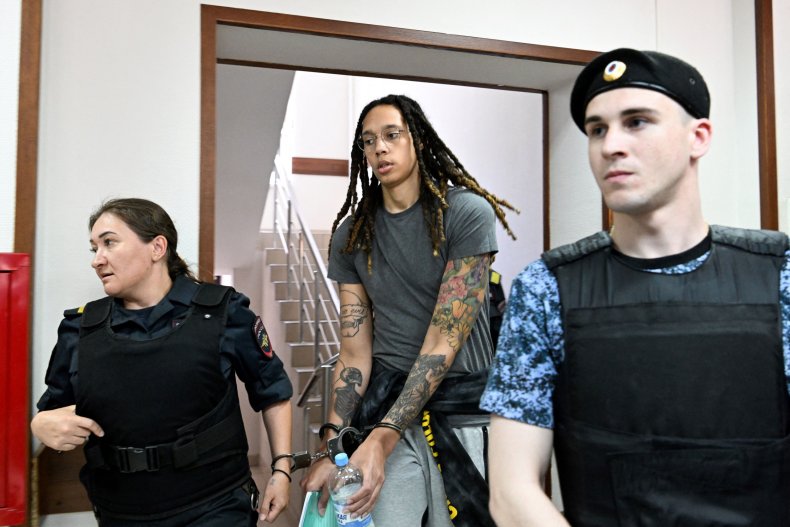 James' comments on Griner's situation came as she remains detained in Russia after she was caught with a hashish oil vape cartridge. Last week, Griner appeared before a Russian court and pleaded guilty to drug charges, as the vape cartridge contained substances that are illegal in Russia.
Shortly after the trailer was released, dozens of social media users chimed in with their own responses, many of which were critical of James.
"LeBron James thinks America is so bad Brittney Griner might prefer to just stay in a Russian prison for a decade. People on ESPN act like this clown is a genius. In reality, LeBron is incredibly stupid," Twitter user David Hookstead of the Daily Caller wrote.
Nick Adams, an author endorsed by former President Donald Trump, wrote, "LeBron James should join Brittney Griner in her Russian jail cell."
Twitter user Nick Young, a columnist for The Washington Times wrote, "LeBron James says if he were Brittney Griner, he'd question returning to the United States. 2 things: 1. He's free to leave at any point... Why not China since he loves the CCP? 2. There's no rush to decide now. She's got 10 years to think about it."
On the other hand, Twitter user Sana Saeed wrote, "People dragging LeBron aren't reading what he said.… The Biden admin has absolutely ignored her incarceration; LeBron is criticizing that response."
Twitter user Paul Ziese wrote, "Do these idiots understand that Putin will do what Putin wants no matter how much "'the US has her back' Good lord."
Former Arkansas Governor Mike Huckabee also criticized James, writing, "Maybe 'Mr. China made me rich!' Lebron ought to relocate to the country that enriches him by slave labor. If you hate America, you don't have to stay. LeBron James Says He'd Question Returning To America If He Were Brittney Griner."
Before her guilty plea last week, Griner, a two-time gold medalist at the Olympics, wrote a letter to President Joe Biden, pleading for his support and help.
"As I sit here in a Russian prison, alone with my thoughts and without the protection of my wife, family, friends, Olympic jersey, or any accomplishments, I'm terrified I might be here forever," Griner wrote. "I realize you are dealing with so much, but please don't forget about me and the other detainees. Please do all you can to bring us home."
During a news conference last week, White House press secretary Karine Jean-Pierre confirmed that Biden had read Griner's letter and said, "This is very personal to him."
In a tweet Tuesday night, James responded to some of the backlash he has received. He wrote, "My comments on 'The Shop' regarding Brittney Griner wasn't knocking our beautiful country. I was simply saying how she's probably feeling emotionally along with so many other emotions, thoughts, etc inside that cage she's been in for over 100+ days! Long story short #BringHerHome."
Newsweek reached out to the White House for comment, as well as Klutch Sports, which represents James.
Update 7/13/22, 9:12 a.m. ET: This story was updated with a tweet from LeBron James.