Legal Experts Say Rudy Giuliani, Mo Brooks Can Still Face Criminal Charges for Capitol Riots
As Donald Trump's second impeachment trial continues, questions have surfaced surrounding whether the former president's allies who also spoke during the January 6 "Save America" rally could be charged for inciting a riot at the U.S. Capitol.
Legal experts told Newsweek that individuals who were a part of the rally – including Trump's lawyer Rudy Giuliani, Alabama GOP Representative Mo Brooks, and Donald Trump Jr. – could face criminal charges at both the state and federal level for using language that encouraged Trump supporters to storm the Capitol.
Before the violent insurrection took place, both Trumps urged the crowd to fight the election results, while Giuliani called for "trial by combat."
In his speech, Brooks told the crowd that, "today is the day American patriots start taking down names and kicking ass," and asked if they were "willing" to sacrifice their "blood," and "lives" as their ancestors had done before.
National security law expert and professor of law at the University of Pennsylvania, Claire Finkelstein, told Newsweek that those individuals could "unquestionably" be charged by federal or state prosecutors.
"Rudy Giuliani and everybody else that was involved in planning this event, and assisted [Donald Trump] or assisted the rioters in any way, or encouraged them, could be implicated."
Finkelstein explained that charges against those who participated in the rally could be based on multiple accusations, including soliciting violence or conspiring to incite an insurrection.
Finkelstein added that she believes criminal investigations into Trump and his allies will persist even after the impeachment proceedings end.
"The evidence that we're going to see in the next few days in the impeachment trial will very relevant to prosecutors, but also to whether or not there's any appetite to appoint a special prosecutor to investigate this," she said.
"I think the prosecutions will go on. Now the question is, will there be investigations or prosecutions at the next level up? Will there be investigations of the people who helped to plan this on the ground?," she added.
Former federal prosecutor Peter Zeidenberg said that he believes there should be an investigation into individuals who spoke at the rally in order to determine if Trump and his allies had planned ahead for the violence.
"I would be very very curious about seeing the text messaging between these various people, and anyone else involved in the activities in ransacking the capitol," Zeidenberg told Newsweek.
"That could be devastating evidence," he added.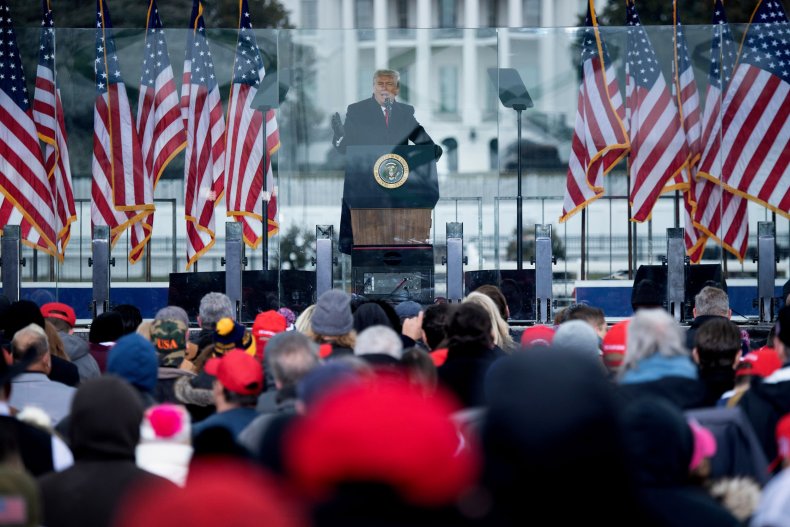 Last month, Washington D.C. Attorney General Karl Racine said he was looking into charging those individuals with inciting the invasion as part of an ongoing investigation.
"Clearly the crowd was hyped up, juiced up, focused on the Capitol and rather than calm them down or at least emphasize the peaceful nature of what protests need to be, they really did encourage these folks and riled them up," Racine said during an interview on MSNBC.
On Wednesday, a spokesperson for Racine's office confirmed to Newsweek that the "Office of the Attorney General is still examining potential charges for inciting violence related to January 6."
The office said they are looking into these charges under a Washington D.C. law that states "it is unlawful for a person to incite or provoke violence where there is a likelihood that such violence will ensue."
However, Racine enforces local codes for the city, and does not have as substantial of a criminal jurisdiction as the U.S. Department of Justice, which handles prosecuting federal crimes and major crimes committed in Washington, D.C.
"The federal charge carries far more jail time," Racine said in January, adding that his office is "collaborating at a high level with the federal prosecutors."
If charged criminally by federal prosecutors, Finkelstein told Newsweek that the punishment for Trump's allies involved in inciting the riot could include up to 10 years in prison.
Both Finkelstein and Zeidenberg said they were unsure if charges will be taken up federally, but both experts said that the individuals who were on stage on January 6 "should be worried."
"If I were Giuliani, I would hire a lawyer. I would be concerned," Finkelstein said. "Saying 'trial by combat?' That's soliciting people to engage in violence directly. He should be very worried about that," she added.
Giuliani, Brooks and Donald Trump Jr., have each condemned the violence at the U.S. Capitol and attacked this week's impeachment proceedings as "unconstitutional."
A spokesperson for Brooks referred Newsweek to a statement he made last month in which he referred to criticisms made against him as a "smear campaign" focused on "intimidating, censoring and suppressing the ability of American citizens to fight at the ballot box."
Newsweek contacted representatives for Donald Trump and Donald Trump Jr., as well as Rudy Giuliani, but did not hear back in time for publication.