Is Lenovo's ThinkPad X1 Fold a Mini-PC or Foldable Tablet?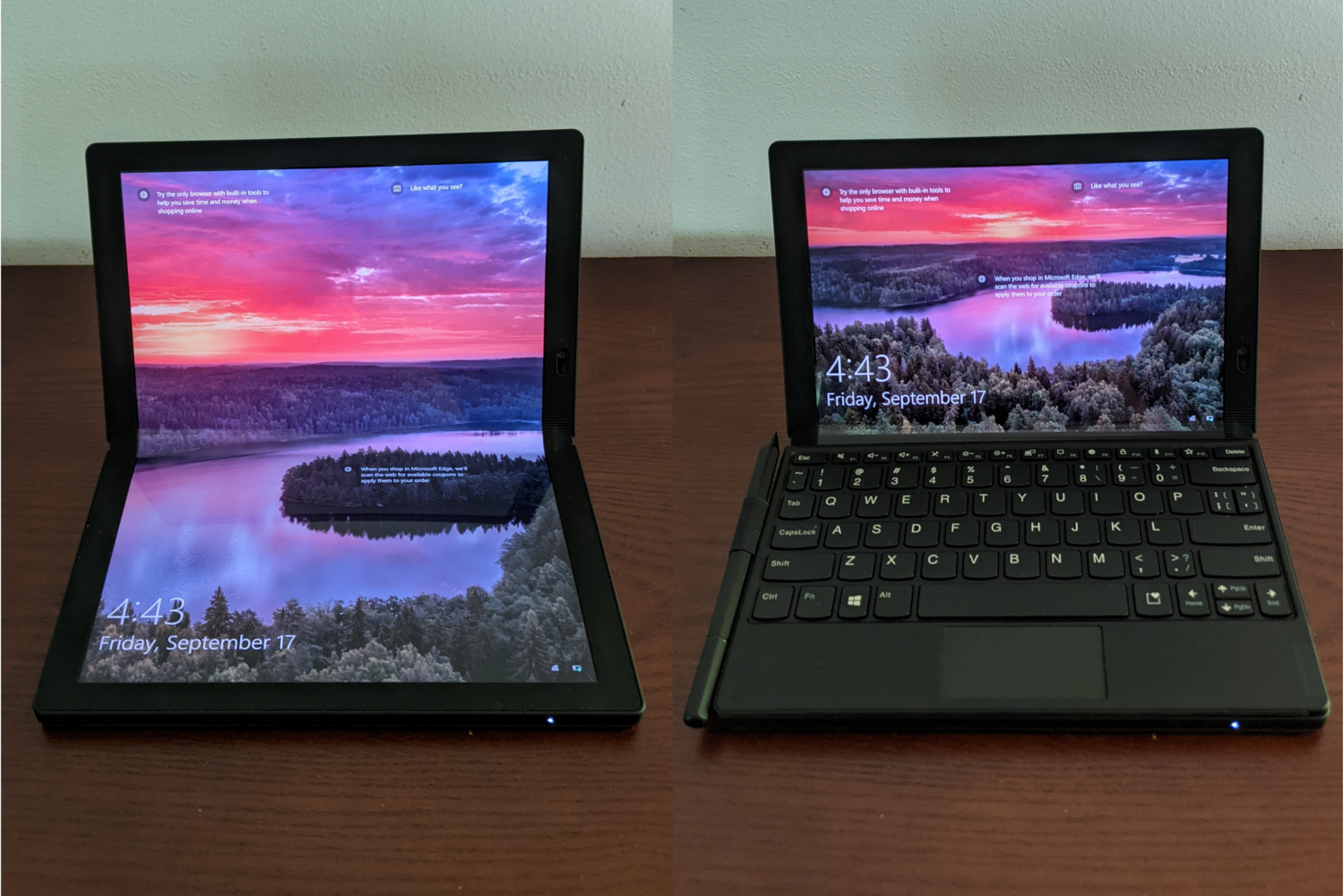 Computers are supposed to make our lives easier. And yet choosing the right PC seems to be getting exceedingly complex. All-in-one computers are more powerful and efficient workhorses than their bulky desktop predecessors yet by definition remain stationary. Conversely, touch-screen tablets are highly portable and great for entertainment purposes but less adept when it comes to hard-core productivity.
In striving to strike a balance between the two, the venerable laptop category has evolved into a growing number of variations that are light, fast and versatile. Some of them bend, swivel and/or detach from their monitor and keyboard, attempting to morph into whatever form factor the user needs whenever and wherever they need it. In this way, Lenovo's ThinkPad X1 Fold, the world's first folding personal computer, may be the most versatile of the bunch. I spent some time with one to determine what it does well, what it doesn't and who might actually need one.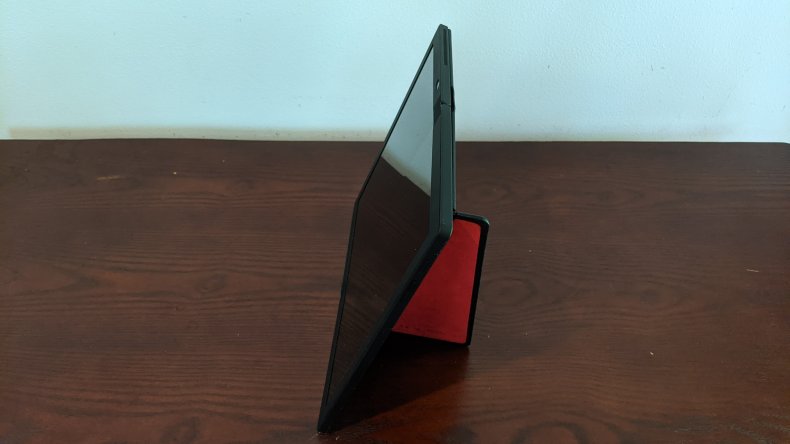 Form Following Function
Neatly folded, this 2.2-pound Windows 10 computer is about the size of a hardcover book (roughly 6 1/4 inches by 9 1/4 inches by 1 inch), a notion reinforced by the classy look and feel of its black leather folio cover. It unfurls into a large rectangular tablet (about 11 3/4 inches by 9 1/4 inches by 1/2 inch), with a brilliant 13.3-inch 2K OLED display sporting 300 nits of brightness. Definitely a huge upgrade from the airplane seat-back monitor and—especially with its built-in foldout kickstand—easy to prop up on a tray table, without the perennial laptop keyboard poking you in the gut.
Partially folded, you could hold it (or rest it on its long, bent edge) as a book. In that mode, it's like having two adjoined 9-inch tablets side by side. Or you could turn the angled screen and rest it on one side, so that it resembles a laptop (as in the top photo, on the left). In that mode, the image expands vertically to fill the display. But if you attach the optional Fold Mini Keyboard (more on that accessory, below), the display automatically reverts to just the upper half (as in the top photo, on the right).
When I had the proper space to spread out a bit, my favorite formation was with the tablet unfolded, oriented in landscape, with the Bluetooth keyboard at the ready (as shown in the bottom image). To me, this seemed like the best of all worlds. I could play a game or watch a movie on the biggest display it's capable of, use the Mod Pen to scribble quick notes and type from the wireless keyboard as needed.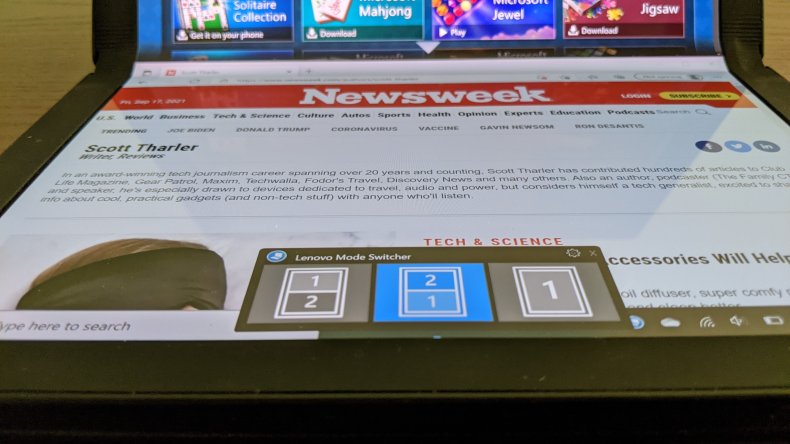 Multiple Multitasking Options
The ability to multitask is one of this computer's big selling points. In tablet, book or laptop mode (but not with the keyboard physically attached), it was cool being able to tap the Mode Switcher icon on the task bar to choose whether to see one larger screen-filling frame or two smaller frames. (The frames get split into upper and lower when the display is vertical, and left and right frames when it's horizontal.) With two windows snapped into place, the one in Position 2 stays the same, while alt-tabbing swaps other open windows into Position 1.
With a little practice, it was fairly simple to assign each of the two positions and switch them back and forth. But it would be nice to have easier and more options here. For example, why not be able to click a little thumbnail to select Pin to Top (or to Bottom)? And why only two panels? Especially if I were to connect this to an external monitor, I could picture wanting to see three or four panels at the same time. And in that case, I'd want to be able to arrange them in whatever configuration made sense, like one on the left half and the other two stacked on the right half, or a two-by-two grid. Hopefully, the next iteration will be more advanced in this way.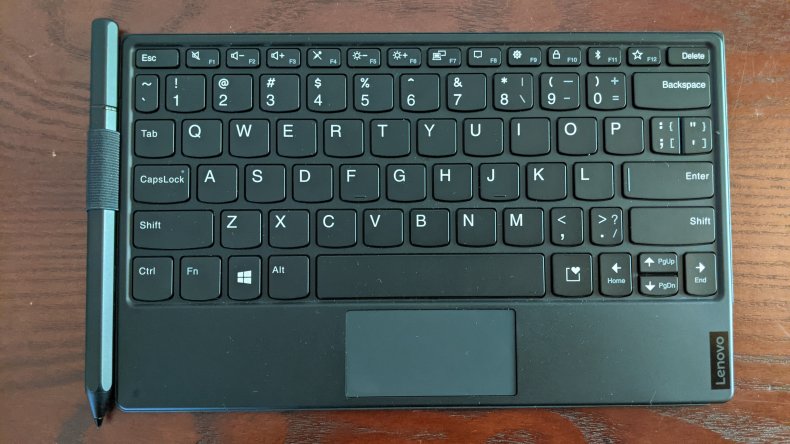 The Cool Yet Quirky Keyboard
For some folks, this accessory might make or break the deal. The most striking thing that's cool about this companion keyboard is that it's super compact. In fact, it's so thin that it fits perfectly inside the tablet when fully folded. The keyboard's magnetic attachment to the tablet serves a dual purpose both for keeping it in place and charging it. The typing action is pretty decent, given how flat this keyboard is. And the trackpad area was surprisingly responsive and accurate considering how tiny it is. But I hesitated to use the keyboard physically attached to the display for a couple of key reasons.
First, as a touch typist, the Enter key was where the semicolon and apostrophe keys normally would be on a full-size keyboard. So that threw me off, both when I wanted to type one of those (or several other relocated) characters or more frequently, when I went to hit Enter. Overall the keyboard was still a nice, tactile upgrade from an on-screen keyboard experience—but still not nearly the same as using a regular laptop. So its compactness is nice, but it loses points for its counterintuitive key placement.
The other pain point with the keyboard attached is that the computer's task bar becomes overcrowded. That made it tricky to see at a glance what programs were open. (Also remember, in this mode, you can't split the screen.) So everything felt cramped. But in a pinch, I still might choose attaching the physical keyboard over thumbing on my phone's screen or not having enough room to open and use a bigger machine (i.e., when commuting and/or traveling).
Also worth noting, the configuration that includes the proprietary keyboard and pen accessories bumps the cost by more than $250 to almost $2,100. In all fairness, that's comparable to similar accessories from competitors. And either way, that price increase doesn't seem like it would dissuade the kind of early adopter who would potentially snatch up one of these devices. In fact, since the X1 Fold is compatible with other Bluetooth keypads, such a user might even purchase a stylish second, more full-size wireless keyboard for home, only choosing to bring along the flat one when traveling.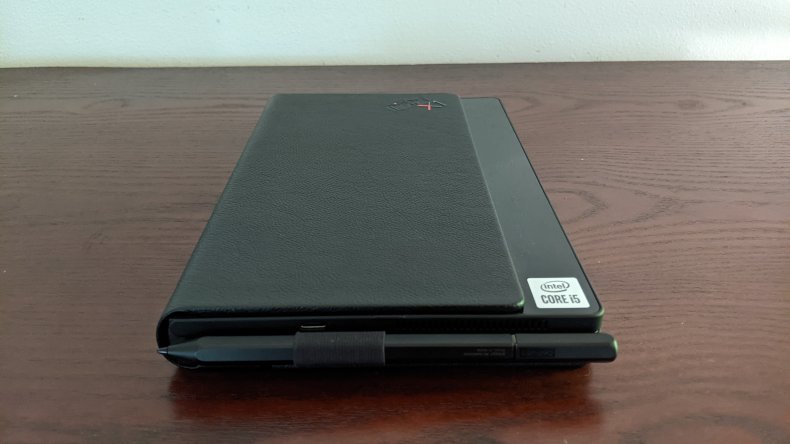 Versus the Competition
Given how contentious the mobile computing category is, anyone looking at the X1 Fold should consider a couple of alternatives.
Most notably, a 12.9-inch iPad Pro decked out with an Apple Pencil and a Magic Keyboard is actually a few hundred bucks cheaper than the comparable Lenovo bundle. While you'd lose the ability to fold, the iPad Pro is 1/3 lighter, boasts a brighter screen and a much better camera.
Speaking of which, the X1 Fold's single camera is a weakness. It's placed in a way that's awkward in any orientation: down and to the right (for up-the-nose shots) when in laptop mode, and off to the left when in landscape tablet mode. Either way, the camera feels unnatural during video calls. Also, it's only 5 megapixels, while the iPad Pro sports multiple cameras each offering at least twice that resolution.
Microsoft's Surface is the other obvious competitor. The recently announced Duo 2 model folds, but it's only an 8.3-inch screen (half the size of the Lenovo's), and there's a big hinge in the middle. So while it's a fancy, fun 5G phablet that would easily beat the X1 Fold on weight and price, realistically the new Surface Pro X is a more viable contender. Similar to the iPad Pro, it's considerably thinner, lighter and less expensive. It has very strong features and specs for a 2-in-1 laptop, including a free upgrade to Windows 11, as soon as that's released. But it can't fold.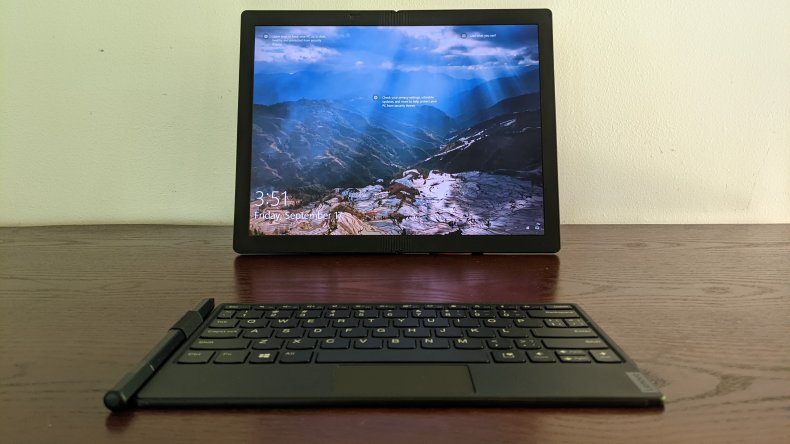 Should You Buy the Lenovo ThinkPad X1 Fold?
While plenty of other computers can beat the ThinkPad X1 Fold on price or particular specifications, nothing else does exactly what this clever device does—folding a nice, big, beautiful display without a visible hinge. So if that form factor's accompanying versatility sings to you and the price doesn't make you flinch, you might just be the ideal candidate for whom this was designed. The production model that's shipping now is certainly way more solid than the version that was first shown by Lenovo a couple of years ago as a concept. And it will be interesting to see where the foldable computing market goes in the next couple of years.
Newsweek may earn a commission from links on this page, but we only recommend products we back. We participate in various affiliate marketing programs, which means we may get paid commissions on editorially chosen products purchased through our links to retailer sites.